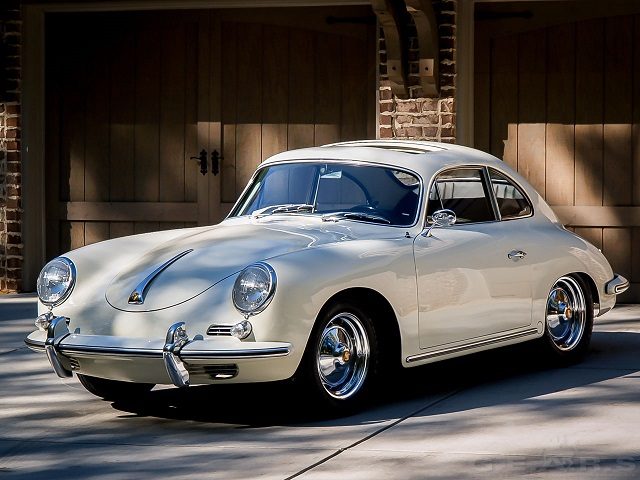 In truth, when I first came across this Heron Grey 1961 Porsche 356B Sunroof Coupe I wasn't entirely sure I wanted to feature it. All vintage cars are somewhat niche vehicles and the 356 is no different. An early 911 attracts attention because of the long history of the model. With the 356 sometimes people notice, sometimes they don't. Their relationship to the 911 is easy to see, but still they remain separate and possessive of their own admirers.
The more I looked at this one the more impressed I became and the more I loved the subtlety of the color palette. I've said before that subtly different shades of familiar colors are always interesting to me because it is in those little differences that we really begin to appreciate a particular color. I have never seen Heron Grey before. At first I thought it was Ivory; it isn't very different from Ivory. But it isn't Ivory as it has a slight tint of grey that gives it its name. The interior perhaps is even more interesting: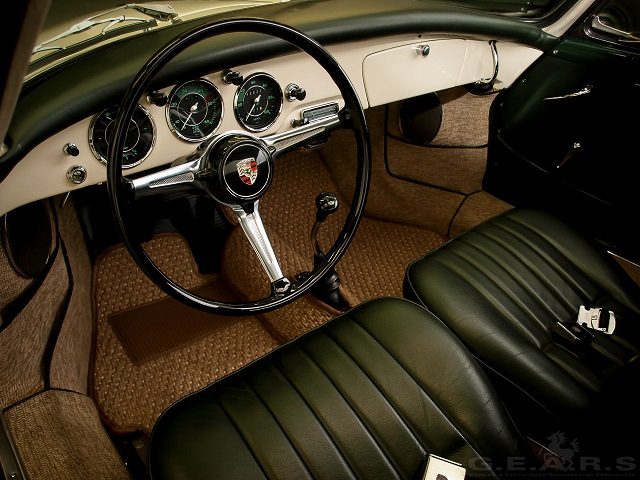 Year: 1961
Model: 356B
Engine: 1.6 liter flat-4
Transmission: 4-speed manual
Mileage: 92,036 mi
Price: $169,900 Buy It Now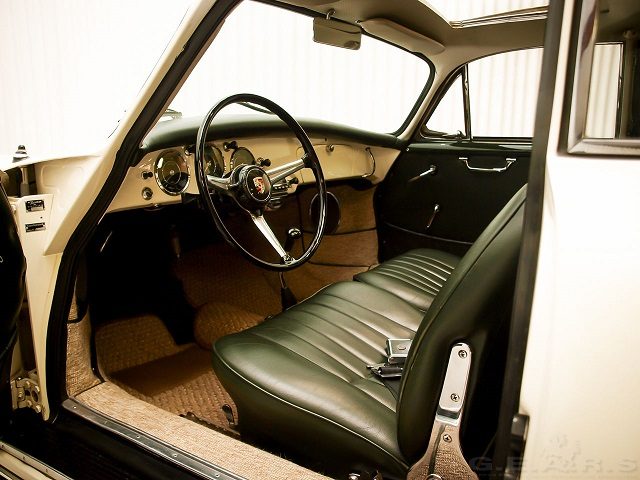 1961 Porsche 356 Sunroof Coupe'
VIN: 115159
Exterior Color: Reutter#739 Heron Grey
Part of private collection – Matching Numbers – Truly Breathtaking car

Hundreds of photos available. Call (770) 460-1300 for more information and details – Facility Hours 11AM-7PM Mon-Sat – or via email: Sales@GearsMotorsports.com Many detailed images including the longitudal areas, radio serial number, windshield decal, inner sunroof latch etc . . . . eBay limits images to 24 thus if you require such images please request accordingly

This is a pristine California survivor which was, in addition, completely restored in 94-95. Stored in a climate controlled environment and to our knowledge, having loving owners, has not been in the rain since restoration. The car has a history of Concour's or event wins including "Best Closed 356" , "Best Overall 356" and "First Place" wins both prior to and during more recent ownership . The engine bay metal and even the fuel tank have mirror black finishes.

As we develop our new store/service center, the car is on display at one of our interim Atlanta dealership locations showroom. Due to security this store is not open to the public outside of appointment. She of course gets far more attention than any of the exotics on display . . . regardless of make or price point.

Records and receipts include 1995 restoration documentation at considerable cost as well as a letter of Affidavit re complete restoration to include, but not limited to: Complete body restoration – to bare metal, All new: Rubber, Chrome, Full leather interior (advised made in Germany specifically for the car), original German Carpets, Complete mechanical restoration of Engine, Transmission, full brake and suspension. She's exudes perfection right down to the decals on the shocks.

Documents also include maintenance records back to 90's Restoration as well as over 22k in recent (time mandated) maintenance/services including a complete engine rebuild/reseal inclusive of Nikasil cylinders, new fuel lines/filters electronics and more as well as complete service of braking system, new wheel cylinders, master cylinder, suspension/sway bar bushings gaskets and more.

The carburetors mounted are currently Delort'e (maintenance free ) having custom spun aluminum plates fitted to mount OEM Knecht's. While included are the original Solex carbs/Black OEM standard Knechts (Included with sale), owner(s) have maintained the current configuration as the car cranks instantly without the need of choke and the power and response is nothing short of perfection. Included in the Buy-it-now price is an additional set of OEM mesh Knechts (pics) which were reserved for concour's use only.

Prior Owner(s) have addressed a few minor details during ownership. At considerable cost a near perfect original Blaupunkt Frankfurt E-Series Radio (1961) was secured, rebuilt with any needed tubes etc. It is fully functional. Additionally, there is also a very tasteful stealth mounted Nakamichi head unit in the glove-box with Infinity Premium speakers behind the early covers/grills. The removable audio system is powered by equipment trayed inside/under the passenger footboard which was professionally engineered/designed for this specific purpose. (This may be removed for shows / Concours events and sale includes the original fittings i.e. glove-box liner original footboard). The system is very impressive and can be reviewed by contacting the store accordingly. Other small touches include, Custom fit Coco Mats, luggage straps, inner windshield shift pattern decal, period correct valve caps etc. . .

Of course, while she resides in a climate controlled bay and rarely driven the basic maintenance has always been addressed bi-annually. G.E.A.R.S® typically runs Brad Penn Green Oil in early Porsche's as it has the Zinc/ Phosphorus needed by these early engines. The oil/filter are, of course, new. Additionally, the wires/cap etc are always kept brand new for shows.

There are many extras as the icing on the cake for the new owner much of which is listed below. The tool kit is complete, pristine and is maintained sealed in plastic.

There are no issues with this rare 356. Yes, the engine bay is that clean. This being said, a couple of ground rules are merited here . . . please, our staff is not in need of a history lesson, directives re authenticity, someone to "market" her for us nor will the staff entertain car bashers. If you want to flip it to your "customer in Europe" then buy it and add your fee . . . please dont ask us to facilitate your profit margin nor draw up falsified documents to circumvent VAT/Taxes. Additionally, If you have "0", unpaid buyer or no feedback please contact the store before buying. If you are an international customer we have solid relationships re shipping facilitation and the process will not only be safe it will be cost effective.

Car includes the following additional items only at the Buy-It-Now listed price.

• Both sets of wheels*:
5 ½" Wheels with Pirelli Tires mounted (Currently Mounted – As Pictured)
4 ½" Wheels with (then new) Kléber tires mounted (see images)
• Additional set Knecht Air Cleaners (period correct – with no upper return hose ports)
• Assortment of new small extra parts i.e. small rubber seals , amber/solid red (US/Euro) lenses etc
• Fitted High Quality Soft Car Cover
• Pristine Tool Kit, Towel and Tire Gauge
• Vintage Set of Marcal Period Correct Driving Lights and Brackets
• The Second Passenger Foot Board As Well As The Original Glove Liner For Concours
• Complete Records Since Bare Metal Restoration in 1995
• Affidavit Of Bare Metal Complete Restoration
• Porsche Certificate of Authenticity
• Recently Re-chromed Luggage Rack As Pictured Mounted In Indoor Both Photos
• Vintage Luggage Rack Belts As Well As Newer Aged "wide" Luggage Rack Straps
• All Keys / Cases / Books
• California Historic Plates 59' With 61' Decal
* The wheels currently mounted were custom made from early 5½" wheels, disassembled, chromed and welded back together in CA then matched to Perelli P3000's (NOA-The store purchased several sets prior to discontinuance) which have always been one of our first choices for the driving application for 356's.

Buy in confidence – Safe & Secure G.E.A.R.S® – German & Exotic Auto Remarketing Specialists® is a Licensed / Bonded Wholesale/Retail Exotic Dealer – An industry leader in Porsche, European and Exotic Remarketing.

Detailed High Resolution IMAGES, DETAILS of This Reserve Collection Listing Available

Shipping: G.E.A.R.S® provides prompt shipping / transportation solutions via several trusted vendors throughout the US and overseas. Solid relationships with these premier carriers insure our customer's quality service at a excellent rate. Unlike many entities we ship units COD at "cost" and do not add surcharges to these rates.

Financing: G.E.A.R.S® has recently partnered with an investment group providing long term extended finance options for collectible European and or Exotic Cars. Please contact us for complete details.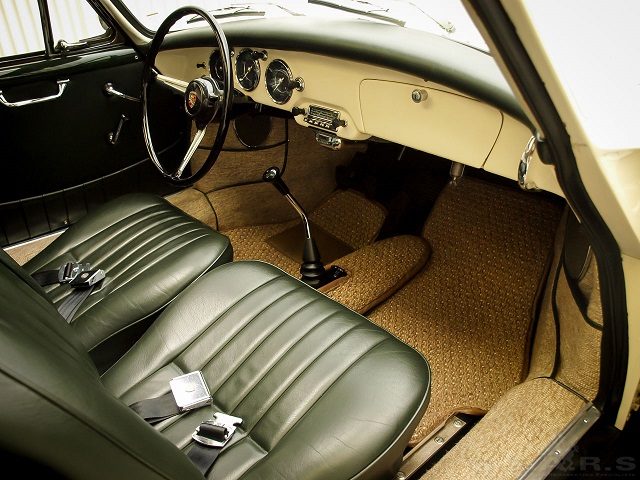 Like with any 356 that lovely Heron Grey paint adorns the painted dash and provides an excellent contrast to the rest of the interior. At first glance, I thought the seating was black. Again, a fairly standard color. Looking further I realized that was incorrect: the leather is a dark green, specifically Jade. Combined with the painted dash and the tan carpets the whole interior is simply fantastic. An Ivory over Black 356 in nice shape would be a pretty car, but I don't think I'd give it too much notice. Heron Grey over Jade. That's something else entirely.
In addition, the condition looks phenomenal. Everything is clean and crisp with no apparent wear. The restoration must have been top notch and its care since restoration on an equally high level. The sellers haven't provided us with the documentation to verify the originality of what we see, but a CoA is said to be available along with complete records since its restoration more than 20 years ago. The asking price is very high, there is no question about that. You can find plenty of 356 coupes for a lot less money. But those won't be in this condition and the colors may not be as nice. I still don't know if it will sell at this price, but I'm sure it will be worth whatever high price it does receive.
-Rob