I enjoyed Aaron's GTI earlier this week, but agreed that it was a bit of a wildcard. While today's 110k-miles are more than the claimed 30k of Aaron's, they're legit. The rest of the car is legit as well, most of it looking like it had just rolled off the showroom floor. Clean inside and out and with modest mileage, this is the kind of Mk1 GTI to buy.
1984 Volkswagen GTI for sale on eBay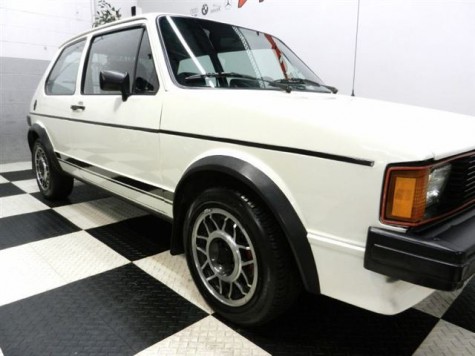 An asterisk-happy but otherwise modest description:
***The Original "Hot Hatch" That Started It All

***Only 2 Owners Since New

***We Purchased The Car From The Second Owner Who Also Worked At The VW Assembly Plant

***Original Assembly Line Build Manifest Included

***Only 110k Original Miles

***Immaculate & Original Blue Cloth Cockpit

***Original AM/FM Cassette Radio Still Intact

***Air Conditioning

***Original Rabbit Floor Mats

***The Tires Are Almost New

***100% Stock & Unmodified Adult Owned Car

***No Known Accidents, But It Has Been Repainted. The Paint Job Is Good, But Not Great

***Super Clean Body With Minimal Rust Issues

***Fires Right Up & Runs Strong
What scares me is knowing how rare GTIs this clean are going to become over the next bit of time. I sure hope there are some left when I have a stable big enough for all my wants. Being over 100k miles, I'd maybe look for this price to be a little closer to $5k than its $5900 asking price, but it's not out of the question. Wherever it lands, it's an all-original example one of the greatest cars ever made.
-NR