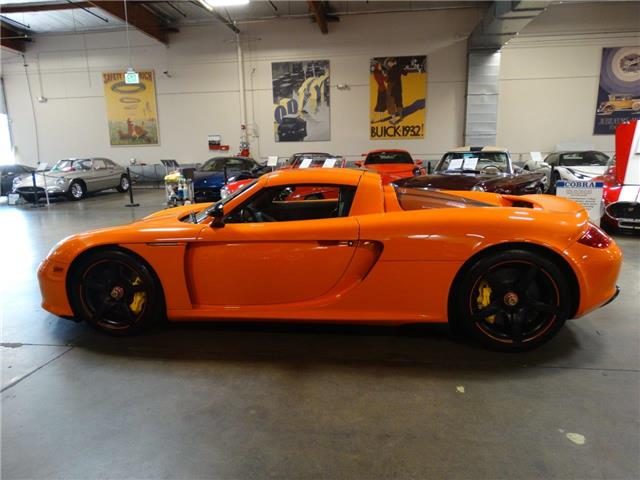 This won't be the first orange Carrera GT we've featured, but I do think it'll be the brightest. The Arancio Borealis Carrera GT we featured last year appeared softer, thanks in large part to its metallic orange paint. It still was incredibly eye-catching no matter how much softer its appearance might have been. The Carrera GT we see here isn't soft at all. It's bright and showy and makes no apologies for blinding you. It also has a brown leather interior that I can't say I've come across on any other Carrera GT. On colors alone, this is a pretty unique specimen. I'd love to see these two orange GTs next to one another just for a comparison of shades. Helping to further distinguish them: unlike the Arancio Borealis car and its nearly $2M asking price this one almost seems reasonable at $670,000.
<
Year: 2004
Model: Carrera GT
Engine: 5.7 liter V10
Transmission: 6-speed manual
Mileage: 3,181 mi
Price: $670,000 Buy It Now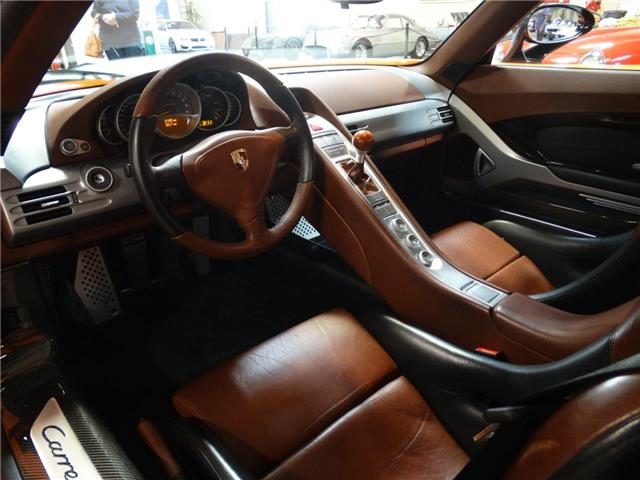 Crevier Classic Cars is pleased to offer our 2004 Porsche Carerra GT. #53 of 1270.
One private owner from new; 3,181 actual miles
Complete with books
Recent Porsche dealer service
Incredibly desirable modern Porsche supercar
Clean and detailed Carfax report

The story of Porsche's Carrera GT starts five years before the first production model left Porsche's facilities in Leipzig, Germany. Porsche sought to develop a new Le Mans prototype to replace the venerable GT1, which was powered by a 5.5-liter V-10 engine. However, a change in FIA rules quickly shelved their racing plans while the model was in development, but Porsche remained undeterred and continued forward with plans to make the platform suitable for road use. To attract attention to their stand at the Paris Motor Show in 2000, Porsche displayed a road-going concept of the car alongside their other production models. With the amount of attention that the concept received combined with additional revenue from the Cayenne, Porsche decided to go ahead and produce the car. The Carrera GT was first offered for sale in 2004, alongside the Ferrari Enzo, Ford GT, and Mercedes-Benz SLR McLaren, and it more than held its own in what proved to be an incredible year for supercars.

The materials that went into the construction of the Carrera GT were simply that of an engineer's dream. By utilizing a carbon-fiber monocoque and sub-frame, as well as carbon-ceramic brakes, Porsche's engineers pushed the envelope of what was mechanically possible in order to offer a car that was as light as it was strong. Porsche also designed a three-disc carbon-fiber racing clutch for the car, which measured 7.5 inches in diameter and was about a third the size of a normal clutch. Similar attention to detail was applied to nearly every facet of the car. The ultra-lightweight forged magnesium wheels had center-locking bolts that were color-coded for each side of the car, ensuring that wrong bolts were never put on the incorrect side of the car.

At the heart of the Carrera GT lies a monstrous 5.7-liter V-10 engine, the first V-10 produced for use in a Porsche. Performance was incredible, with 605 horsepower and 435 foot-pounds of torque, and the Carrera GT could rocket from 0–60 mph in 3.6 seconds, toward a top speed of 205 mph. The Carrera GT truly showed its racing roots when one piloted by Walter Röhrl lapped the July 2004 Nürburgring Nordschleife in 7:28, which was a record for a Porsche that was not broken until the release of the 911 GT2 RS in 2010.

Slip into the Carrera GT's carbon-fiber bucket seats and it is clear that Porsche's engineers did not limit the car's track-focused nature to just the exterior and mechanical components. Every surface within reach is either leather, aluminum, or carbon fiber, and nothing in the car, minus the requisite stereo with CD player and air conditioning, distracts the driver from the task at hand. Everything else in the cockpit is typical Porsche, from the instrument layout with the tachometer in the center to the left-hand placement of the ignition. Porsche topped the gear shifter, which was mated to a six-speed manual transmission, with a wooden shift knob, tying an organic link from past models into their technological tour de force, thereby showing that their most powerful creation to date indeed had a soul. By the time production ceased, 1,270 examples had been built.

The Carrera GT offered here has had only one private owner since new and presently records fewer than 3,181 actual miles. It has had a fresh service by Porsche of Newport Beach, at 3,080 miles. It is offered with its original books, and two keys, as well as a center-lock socket, an air compressor, and the Tire Mobility System. Additional options noted include manual air conditioning and the Porsche/Becker CD-radio.

When new, journalists hailed the Carrera GT as one of the greatest supercars of all time, as it featured incredible performance in a lightweight, race-ready package that had gorgeous bodywork. Even 10 years after the first car was produced, it is still remarkably exciting to drive, and ownership of a Carrera GT has become a life goal of many Porsche aficionados. Considering this example's low mileage and factory-fresh condition, it is an opportunity not to be missed. Please contact us at 714-426-0238 or mark@crevierclassiccars.com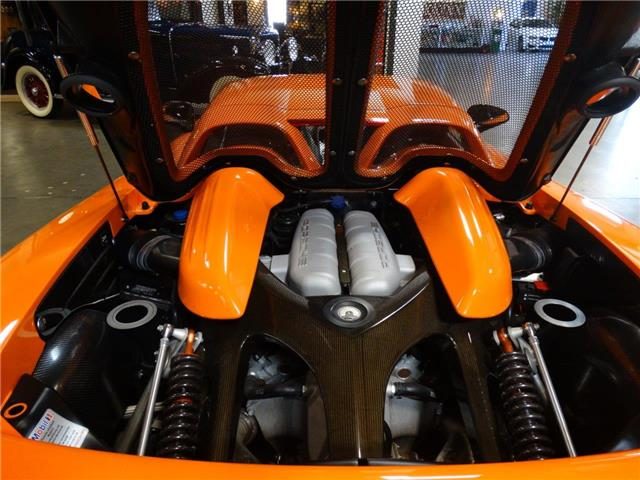 I suspect much of the reason behind the relatively lower asking price of this Carrera GT is that I think it's been painted, i.e. this orange was not its original color. Part of why I think it's unoriginal is because the seller somewhat shockingly makes no mention of the color in the ad text. That would seem an important detail, along with some documentation to support its originality (also not present). A trip over to the seller's website shows it listed as GT3 RS Orange (code: 8C6). Judging strictly by the photos that seems about right, and the GT3 RS from which that orange would be derived had not been produced during the Carrera GT's life, lending further credence to my assumption that it's been painted.
Ok, so it's probably non-original paint. The important question is why? If its previous owner simply wanted the color, then that's certainly no big deal, but if it had been banged around a bit and needed painting, that's a separate issue. Clarity on that point obviously would be very important. Otherwise, this is one heck of a Carrera GT that will surely elicit plenty of conversation among both Porsche die-hards and laymen alike. Screaming along with the wail from the Porsche V10 all cocooned in a pastel orange package would be an experience with few rivals. It certainly isn't for the faint of heart. And as I said above, the asking price (assuming no accidents) really doesn't seem that bad. If I'm mistaken and the color is original (perhaps Signal Orange, which isn't far off from GT3 RS Orange), then someone should snap this up immediately.
-Rob