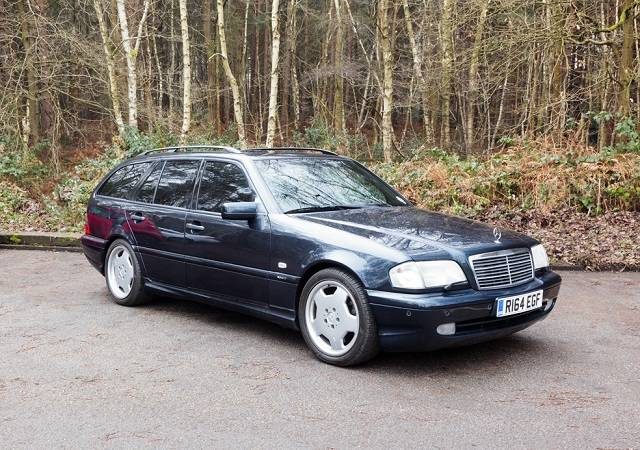 Long before the time of W211 E55 and E63 AMG wagons pinning your groceries to the back window as you leave the supermarket parking lot, there was the original AMG wagon you might not of known about. The C43 was the first official AMG offered from Mercedes-Benz in wagon form. Only around 800 of them were produced worldwide. Unfortunately, 'worldwide' in this case doesn't include North America – none were imported here, but we can still dream. This 1998 for sale outside of London, England gives you a chance to be extremely practical at less than half the price of the later AMG wagons.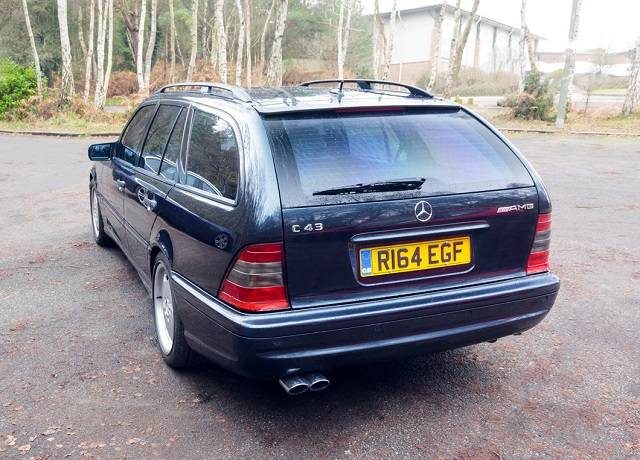 Year: 1998
Model: C43 AMG Estate
Engine: 4.3 liter V8
Transmission: 5-speed automatic
Mileage: 106,780 mi
Price: Auction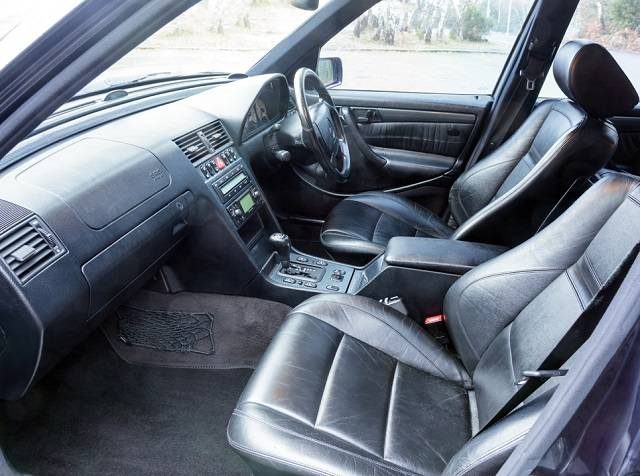 Seller's Description: The potent Mercedes-Benz C36 AMG was introduced in July 1994 as a flagship of the successful C-Class range. Unlike its C-Class stablemates, it was only offered in one pricey but complete package, including standard automatic gearbox, classy AMG alloy wheels, skirts and spoilers body kit plus a complete specification. Numbers were limited. A five-speed automatic gearbox and standard cruise control were added in August 1996 and the car was eventually run out with the C-class facelift in the summer of 1997. Mercedes super saloon fans then had to wait until the following year for the introduction of its replacement, the 4.3-litre V8-powered C43, which included all the refinements of the updated C-Class range. This car was also offered in estate form, a version which continued for six months when the saloon range was phased out in autumn 2000. This rare righthand drive Mercedes-Benz C43 AMG Estate was supplied new by Bradshaw Webb (Chelsea) Ltd with a large number of optional extras including green-black metallic paint, black leather interior, Parktronic system, auto tinting rear mirror, rain sensor wipers, auto pilot system, electric glass sunroof, folding mirrors, vanity mirrors, door lights, xenon headlights, Alpine CD autochanger and headlight wash / wipe. Recently repainted, this excellent AMG estate has a full-service history with a comprehensive file containing invoices and MoT test certificates. This Mercedes-Benz C43 is supplied with a V5C registration document, a new MoT test certificate, three sets of keys and is fitted with a Tracker system which could be reactivated. AMG are renowned for producing some of the best sports saloons and estates in the world and this model is certainly one of them. Definitely one of the rarest and fast appreciating Mercedes-Benz C 43 AMG's you can find in today's market. Price Guide £6,000 – £10,000 ?

Auction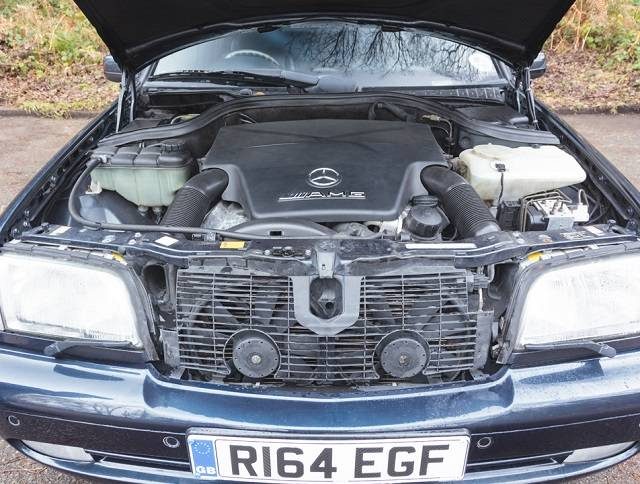 This C43 Estate sports the awesome 189 Green Black Metallic paint which is exactly how it sounds. In some lights it looks green, in others black, and in these photos it looks more like a navy blue. Either way, a great color if you are into darker tones. Having just over 66,000 miles, this AMG doesn't look like it's been overcome by the rust monster that W202s are infamous for which is a great thing. One thing to keep in mind when buying any C43 is to be wary of transmission issues – they are are notorious for needing rebuilds as they couldn't handle of the torque from the M113 4.3 liter. Otherwise, these are pretty stout cars that don't need a ton of attention if you stay on top of maintenance. One thing to note, it looks like this car has the parking sensors which is an extremely rare option on the W202.
As for price, it's anyone's guess since this is an auction in England. Usually these range from $7,500 to $12,500 depending on condition if converted to US dollars. The collectability of the W202 AMG cars are starting to rise, but I wouldn't call these a blue chip or must have for any collector just yet. But if you were looking for a rare wagon that is plenty fast, this one is tough to argue.
– Andrew