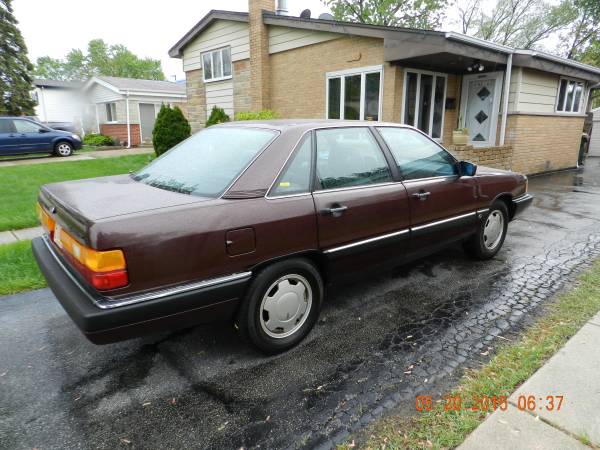 There are probably a few out there reading this who will remember Huey Lewis and the News, or perhaps you're a fan of Christian Bale and his performance in American Psycho which prominently featured a notoriously catchy song by the band, "It's Hip to be Square". While the song itself was a relative hit, for me it's Bale's character's critique of the band that is particularly poignant when considering Audis from the 1980s:
"You like Huey Lewis and the News? Their early work was a little too new wave for my taste, but when Sports came out in '83, I think they really came into their own, commercially and artistically. The whole album has a clear, crisp sound, and a new sheen of consummate professionalism that really gives the songs a big boost. He's been compared to Elvis Costello, but I think Huey has a far more bitter, cynical sense of humor. I think their undisputed masterpiece is "Hip to Be Square," a song so catchy, most people probably don't listen to the lyrics. But they should, because it's not just about the pleasures of conformity, and the importance of trends, it's also a personal statement about the band itself!"

Audi reinvented itself in the 1980s; with crisp, clean new designs that stood apart from their countrymen. They were boxy but aerodynamic, clean and economical – yet at the same time, they were really noticeable, looked expensive and have stood the test of time. Yet few people partook in these 1980s Audis compared to some more period marques. If Mercedes-Benz was the sign that you had made it to opulent wealth and still made good decisions, BMW was the sign that – well, you'd just made it to wealth. But Audis, though quite dear in price, were always a bit different; outsiders in their own land. Whilst everyone else took tried and true paths, Audi forged ahead through unusual means – small displacement, turbocharged motors feeding locking differentials and all-wheel drive, for example. Every model seemed to be a statement within itself that the company was different, and few embody that ethos quite as well as the 5000CS quattro and Coupe GT: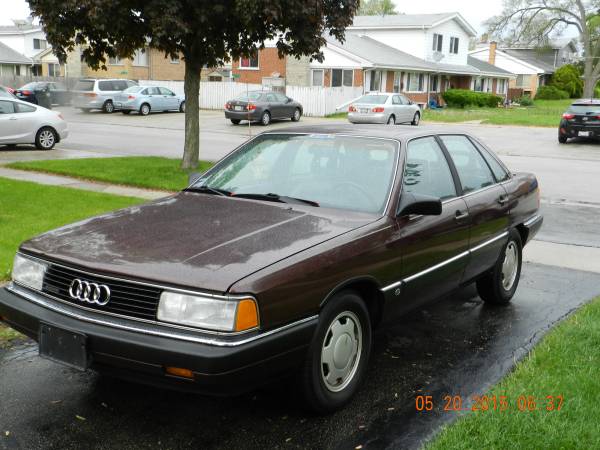 Year: 1987
Model: 5000CS quattro
Engine: 2.2 liter turbocharged inline-5
Transmission: 5-speed manual
Mileage: 36,000 mi
Price: $3,500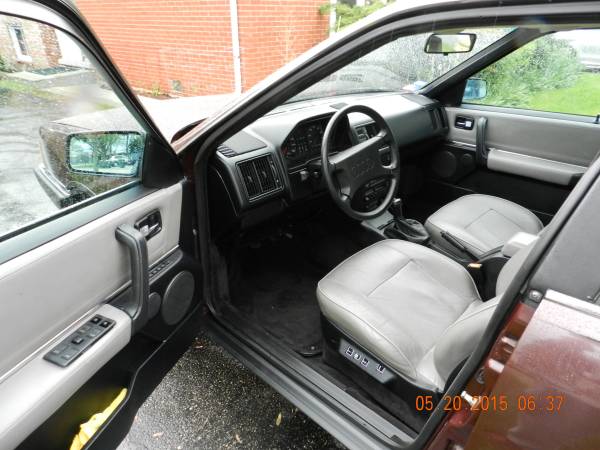 1987 AUDI 5000 CS TURBO QATTRO ONLY 36 K MILES ONE OWNER NO ACCIDENT CLEAN TITLE 100% ORIGINAL Up for sale is a beautiful 1987Audi 5000 CS MANUAL Quattro Turbo,
This is a VERY RARE car, with Very low miles. You will not find one anywhere else. It's a classic European luxury car that has is still in VERY GOOD CONDITION. ANTIQUE CAR 28 OLD NO RUST ALL SERVICES AUDI DEALER .WHIT THAT LOW MILEAGE.INTERIOR PERFECT CONDITION ALL POWER WORKS PAINT ORIGINAL.NO MECHANICAL PROBLEMS CAR DRIVES NICE PERFECT IN CHICAGO WINTER ,4 NEW TIRES ,NEW BATTERY,.CASH ONLY CALL 7 7 3 6 0 0 3 1 0 4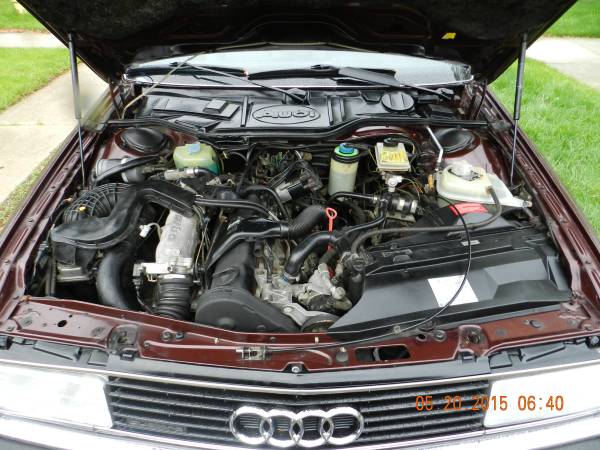 Here's a case where seller hyperbole may actually even be an understatement. You may actually not be able to find another Type 44 Audi quattro out there like this one. Presented in Maraschino Red Metallic with Platinum Grey leather, this was nearly as expensive as Audis got in 1987. Only a few options could be selected, and this car has one of the three – heated front seats were optional, but the other two – Pearlescent White Metallic paint and the optional Fuchs-made 15×7″ wheels would really make this quite desirable, and of course the Avant was a bit more money and today is more highly sought. Still, the dark red is a rare color and since we don't have the option to re-order the car, here's how it was preserved. The condition, outside of some driver's seat degradation and the de-silvering of the badges appears to be top notch. Under the hood looks remarkably fresh even taking into account what appears to be a healthy dose of Armor All on the MC1 turbo; the plastics and metals don't appear degraded at all and certainly aren't in keeping with a Midwestern life in the snow. Mechanically and electrically, these were more complicated cars than even their own stablemates; notably the hydraulics are prone to failure and it can be difficult to find parts for these 80s Audis today, much like Huey an enthusiastic fan base keeps them touring. For $3,500, you get a lot of classic Audi in a condition which it's contemporaries would demand 3-4 times the going rate for.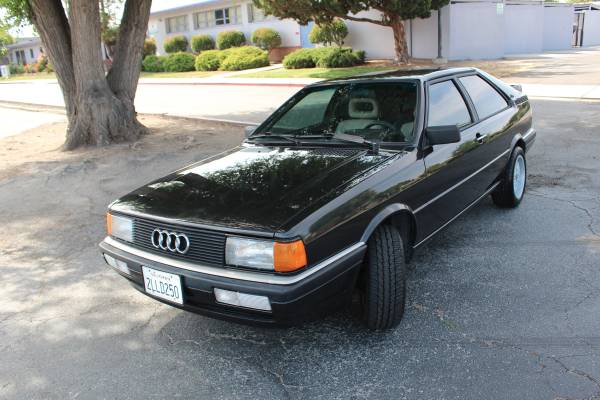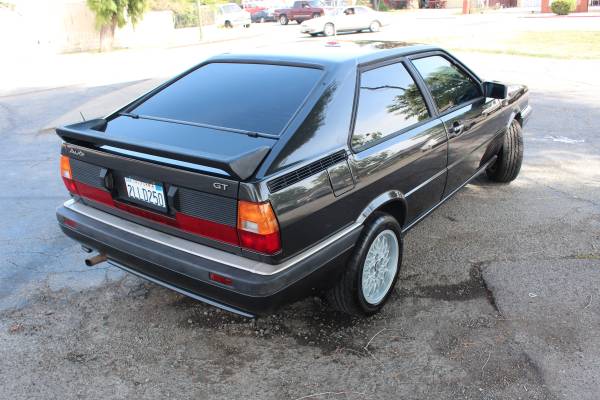 Year: 1986
Model: Coupe GT
Engine: 2.2 liter inline-5
Transmission: 5-speed manual
Mileage: 180,000 mi
Price: $5,000
I'm selling this rare 1986 Audi Coupe GT.180K, It's an excellent condition for daily drive. No leak, no body damage, rust free. The more important, it has clean tittle.
contact me for more information. Serious Buyer Please!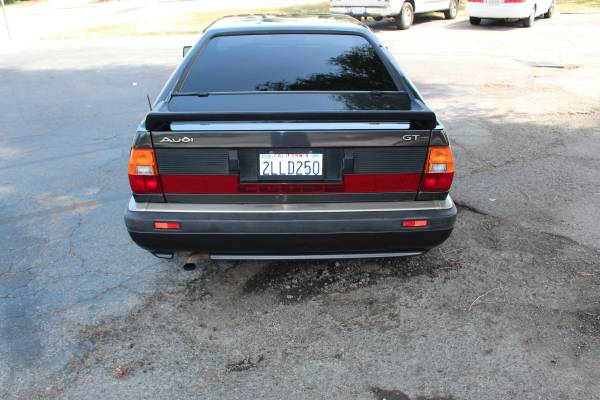 The Audi Coupe GT, since I write it up regularly and own one, should come as no surprise to you in its appearance here. What is surprising is the condition of this particular GT; presented in Graphite Metallic, it's a color that often suffers the all-too-often seen clearcoat failure of many 1980s and early 1990s Audi products. Yet this one appears to be fresh and clean, and at least visually free of major defects from the photographs. The real tell on the life these cars led is the front end; generally falling apart, this car not only sports the no longer available reflectors in good condition, but the turn signals, headlights, upper grill and complete compliment of 3 lower grill pieces point towards a life well kept. That's certainly a rarity amongst these unusual front drive GTs, a car with a majority of it's weight pressing those front wheels. Lift the hood and you'll discover that in order to maintain the layout for the quattro, the GT's rather large and rather unpowerful KX-code engine is fully head of the axle line. I've described this car before as a backwards 911; like the MIT bumblebee, on paper it shouldn't work, but get behind the wheel of one of these Coupes and you'll find nothing but smiles. Sure, the acceleration isn't staggering, yet at the same time the fuel economy isn't great. The promise of 'power of a 6, economy of a 4' was really the opposite from the inline-5 unit, but here's a car that I wouldn't hesitate to look at with over 200,000 miles – such is the longevity of the chassis and the generally good build quality. We don't get to see the interior, which odds would suggest is grey velour, and this example wears what I believe are some aftermarket Rial wheels. We also learn no mechanical history of this model, but honestly, there isn't much to go wrong in the grand scheme. By 1986, the Coupes came more or less fully loaded; power windows, mirrors and mechanical sunroofs are found on nearly all examples, leaving the only real options to be the limited edition models (Commemorative Design Edition of 1986), heated seats and leather. $5,000 is close to all the money for a 1986, but I don't think it's an outrageous ask for a car that appears to be in very good overall condition. If that paint is in good shape, most – if not all – of the asking price could be accounted for there, nevermind the NLA trim pieces you could spend ages trying to source to restore a lesser example.
In either of these cases, we have a neat but different base car. The 5000CS quattro took the route of adding technology to luxury, bringing a different dimension to the executive car market and one that's expected of all of the major manufacturers today. The Coupe, on the other hand, took a different look at a practical GT, and the result was – arguably – the best handling Audi out of the box in the 1980s. Today, either offer a unique take on the classic German car market – affordable and affable, the Audis may be an unusual choice but its one that devoted fans never regret. Put it this way; Bon Jovi sold many more albums in the 1980s than Huey Lewis, but I'd still rather go to a News concert any day.
-Carter