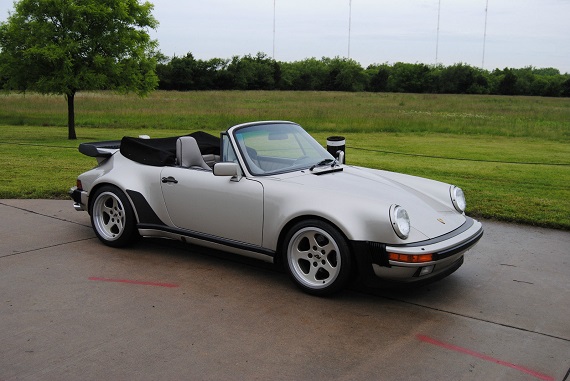 Attention Canadians and/or hockey fans! Here we have a fairly special car: a Linen Grey Porsche 930 Cabriolet, located in Kansas, said to have been originally purchased by the great Wayne Gretzky. Other than a picture of the signed sun visor, which is a pretty cool touch on such a car, the seller hasn't provided evidence of the necessary documentation to support Gretzky's ownership, but that documentation is said to be available to those making serious inquiries. The Gretzky ownership aside there is much to like about this Porsche anyway. It is a relatively low mileage example (currently 43,915 miles) from the only year the 930 came equipped with a 5-speed manual transmission and those points alone should garner plenty of attention. And while a former hockey great isn't the sort of famous owner that might make many people take notice within the car world it's still a excellent conversation piece added to what should already be a dynamite performer.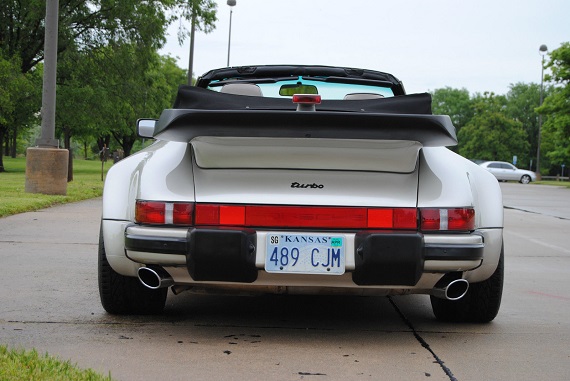 Year: 1989
Model: 911 Turbo
Engine: 3.3 liter turbocharged flat-6
Transmission: 5-speed manual
Mileage: 43,915 mi
Price: $109,950 Buy It Now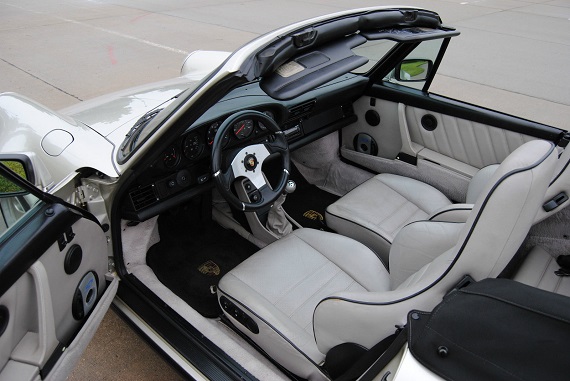 Summary: 1989 Porsche 911 Turbo (930) Cabriolet, WP0EB093XKS070531, 43,915 miles, L550 Linen Gray over YE Gray full leather interior, formerly owned by Wayne Gretzky with certificate of authenticity, nearly all original, excellent overall condition, 1 of 844 930 cabriolets built in 1989, and 1 of 244 RoW (original Canada registered). 1989 was the last year of the 930, and the only year that the G50 5-speed transmission was offered. This was a feature "dream car" at the 2008 Barrett-Jackson Scottsdale auction, and purchased by the current owner in 2009. Overall a very special car.

Options:

139 Seat Heating – Left

158 Radio "Monterey" – 86 "Reno" – 87

220 Locking differential

340 Seat heating – Right

383 Sport seat – left

387 Sport seat – right

494 2 speakers on back shelf

494 Amplifier system

975 Velour carpet in luggage compartment

C36 Canadian type car

Modifications:

Period correct Momo steering wheel and shift knob

Period correct Ruf wheels, 17×9 front and 17×10 rear.

Borla muffler

Upgraded audio system with Alpine head unit, Alpine CD changer, Sony and Alpine amplifier, Alpine components front and rear

In the following paragraphs I will describe this incredibly special car in excruciating detail. Please contact me with any questions. I have over 150 high resolution photos, an Excel file summarizing maintenance records, scans of the Gretzky certificate of authenticity, and scans from the Barrett Jackson Scottsdale sale in 2008. Please note that I am selling this car for a client, I will facilitate the final transaction between the buyer and seller.

Exterior: Exceptional condition, showing only light wear from being sparingly driven. This 930 presents as exactly what it is – a car that has been lovingly enthusiast maintained, garaged, and driven for pleasure only. Overall a very striking car, its aggressive stance set off by the color matched Ruf wheels. Paint is in exceptional condition and has been professionally detailed, overall beautiful and glossy with a deep shine. No signs of prior paintwork. No dents or dings, the body is very straight. All of the exterior black components are still fully black, including fade-prone items like the window trim, door handles, wiper arms, and bumper smile. Excellent glass with only light pitting in the windshield. The plastic convertible top rear window has no fogging and easily zips into place. The original full power top works correctly, is still fully black in color with no fade, and shows only light wear. Overall it is an exceptionally well loved 930.

Interior: Again consistent with the life of a pleasure car, the interior is very clean with light wear consistent with the mileage. Making this special car even more distinctive is the passenger side sunvisor, signed by the original owner, Wayne Gretzky. All documentation is included to substantiate this autograph including the original request letter, certificate of authenticity from Gretzky Enterprises, and hologram authenticity sticker on the sunvisor. All original with the exception of the steering wheel, shift knob, and audio. The sport seats are a fantastic option, far better bolstering than the standard seats while still remaining comfortable. Every feature works with the exception of one power seat motor, including the seats, mirrors, windows, radio, lights, HVAC fans, cigarette lighter, emergency flashers, power locks, wiper blades, washer pump, and convertible top. Overall clean original carpet with light wear to the nap. Leather is still soft and supple with light dye wear, as is common for light colored leather. No tears, splits, or cracking in the leather. Leather door panels are in excellent shape with only light wear on the arm rests, the door cubbies still open and close smoothly. Good latching glovebox and no puffy sun visors.

Mechanical: Driving this car is a good reminder of why the 930 is so prized, particularly the rare 1989 5-speed models. It is tame when desired but has fantastic power on tap, even by modern standards. The mechanical condition is superb, with a number of service records documenting major recent work like a new clutch, battery, full maintenance, brake and clutch master cylinders, and much more. Maintained with an open checkbook, this car needs nothing. The engine starts easily and smoothly with no smoke, idles smoothly, is strong under boost, and has absolutely no leaks. The hydraulic clutch is smooth and surprisingly light with no slippage. The legendary G50 5-speed transmission quickly shows why these cars are so prized, as it shifts smoothly and easily with no grinding, even when shifting into 1st at a roll. The suspension is very nice and tight without any signs of wear, no pulling, clunks, or signs of worn dampers. Steering is similarly tight and free of vibration, with the legendary feel and feedback that can only be provided by a classic 911. Brakes are strong with a firm pedal, no vibration, and no squeaks. Tires are 9/32" tread front BF Goodrich G-Force T/A and 7/32" tread rear Toyo Proxes S4. Overall it is a nearly flawless package that is fully capable of being driven anywhere.

Flaws: I firmly believe in full disclosure when selling cars. I am an enthusiast and have bought a number of cars online, I model my selling on my own buying experiences. I am also incredibly particular about cars, most of the noted flaws are not immediately obvious. On the outside: two very light scratches on the left front fender, both too slight to show up in pictures. Very light rock chips on the hood, front bumper, mirrors, and rear fender flares. One small chip in the front lower spoiler. Crack in the left front foglight lens. The top has several light abrasions on the right side, one slight tear on the left side adjacent to the hinge point, and light fold marks. One missing fastener on the top boot. On the inside: the A/C is no longer blowing cold, it has required periodic charges and is likely due for another. Left seat rear height adjustment motor is not working. Interior carpet overall shows light wear to nap, with light stains on the rear seatbacks and left front mat. Light leather wear to the dye, the leather is still 100% solid and supple. Convertible top headliner has been removed. Front left and rear floor mats show wear. There is a dash cap that has been in place since the purchase.

Informed shoppers will know how special this car is. The 1989 930 not only the best of the breed with the 5-speed transmission, but also the last. Making the car even more unique is the documented ownership history by the greatest hockey player of all time. This is an exceptionally well loved and unmolested car, suitable for both driving and investment purposes. As is cliché in collector cars circles, they are only original once. The 930 has been appreciating at an incredible rate, this one checks all the right boxes for an investment grade car. Please contact me for over 150 high resolution DSLR photos, an Excel maintenance document, and scans of the Barrett-Jackson and Gretzky documents. I will be happy to answer any questions that you may have.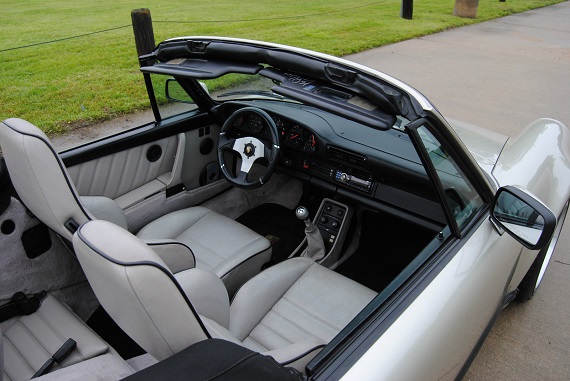 Linen Grey is a color I cannot recalling coming across as an exterior color. We see it very frequently as an interior color, and the interior of this Linen Grey 930 even comes in a similarly colored hue, but as an exterior color this is a little more rare. Linen Grey isn't a thrilling color by any means, but it does break away slightly from the norm with respect to the variety of greys and whites out there so for that it should garner some appeal among fans of this sort of color palette. The overall condition here appears quite good, though there are a number of modifications, mostly to the interior, that any collector may need to reckon with. Also, as absolutely wonderful as the RUF wheels are (and they do look great here!) a set of the original Fuchs likely will need to be sourced. All of that said, compared with the prices we typically see for a final-year 930 Cabriolet with comparable mileage, the asking price here certainly sits on the reasonable end. With the added bonus of the famous ownership there is at least some pedigree to this car to add to what already should be significant collector status. And, hey, how often do hockey players sign a car?
-Rob