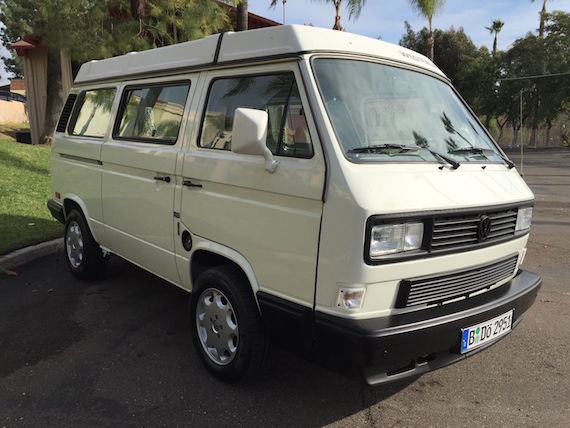 The strong market for Westfalias should surprise no one by now. What is surprising, however, is finding two ridiculously low-mileage Westies for sale at the same time, in nearly the exact same spec. They're both late-model, white on grey Vanagons that are looking for high-$30ks. That's starting to get into decent Syncro Westy territory – are they worth it?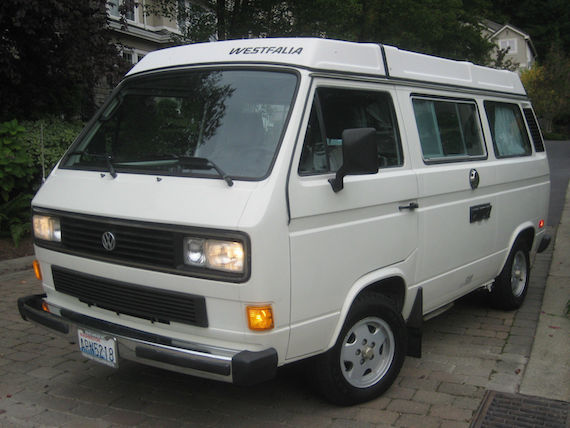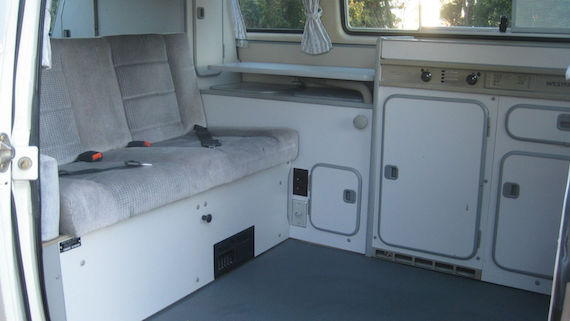 Year: 1987
Model: Vanagon Westfalia
Engine: 2.1 liter flat-4
Transmission: 4-speed automatic
Mileage: 20,382 mi
Price: $35,888 OBO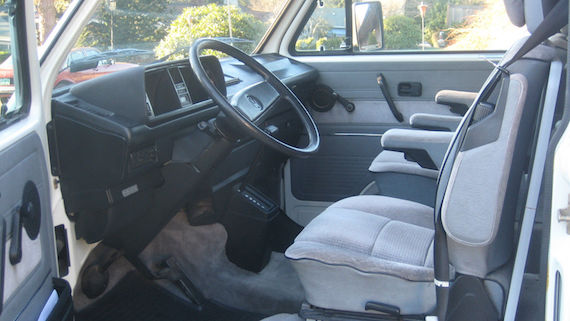 This Vanagon was purchased new in Arizona at Berge Volkswagen Mazda in June of 1987. The original owner used it for camping only from 1987 to 1998, racking up just 19,000 miles. At that point his health began failing and the camper sat in the garage. He would start it up and drive it around the block to keep it running and take it for its emissions inspection every couple of years. From 1990 until his passing in 2013 he accrued just 79 (seventy nine) additional miles on it. I acquired it from his estate in November 2013 with 19,079 original miles. Note: the trustee of his estate transferred title to facilitate the sale in November 2013. I am the second owner of the vehicle, having registered it in WA state in August 2014. I do have the original Arizona Licence Plates in which it was issued.

"RARE" 1987 Volkswagen Vanagon Westfalia Type 216-103 H-30342 Finished in Original "Pastel White" with Gray Westfalia Interior. This is an Original Van with Only 20,382 Oringal Miles as Documented on Car Fax. Purchased New in Arizona at Berge Volkswagen Mazda. Have Original Arizona Plates and License Plate Frames. This Rare Vanagon is one you will probably never see again with mileage this low.

Exterior: Rust Free and as Nice as it can get for a 29 Year OId Vanagon. Small blemishes are to be expected. All Window Seals, Sky Light / Seals; Including a New Factory Volkswagen Windshield have been installed. Updated Window Moldings were installed. Has Updated Carat Wheels with New Properly Load Rated Tires; Maxxus UE-168 205-70-15. These are the Best \Tires for a Vanagon and with these, it Drives Solid. Original Steel Wheels, Hub Caps, and Tires Included if Desired. Pop Top works Perfect and Canvas is Original. Van appears to have never been damaged or repaired / repainted, Undercarriage is totally clean as are all wheel wells, etc. White Original Paint Shines Beautifully. All Original Westfalia Stickers are in Tact.

Interior: Grey Cloth with Original Westfalia Top Canvas and Complete Camping Interior. All Equiptment is Functional and Works. The Stove Still is Wrapped in the Factory Original Blue Plastic. Has all Westfalia Camping Components; such as Tables, and Bug Screens, Etc. Interior has a blemish on the refrigerator cabinet door and cabinet door in rear at engine area, but otherwise perfect.. Rear Bug Screen Never Used and Still Folded Up. All Curtains are as New as Well and Are Not Faded. Refigerator was never used and is all original.

Mechanical: Completely Serviced at Autohaus Vick in Bellevue, Washingtion. All Fluids Changed, Fuel Lines Replaced, Front Fan Blower Motor Replaced and does not need anything for the new owner that I can think of. But you never know, someoene can always think of something that I may not have.

Options: Factory Air Conditioning that Blows Cold & Automatic Transmission. New Rubber Front Floor Mats and New CD / Stereo / Bluetooth Installed. Original Speakers are perfect.

You will more than likely never find an Original Low Mileage Vanagon Westfalia. Remember this is not a new van – but the nicest your will see with the Original Low Mileage.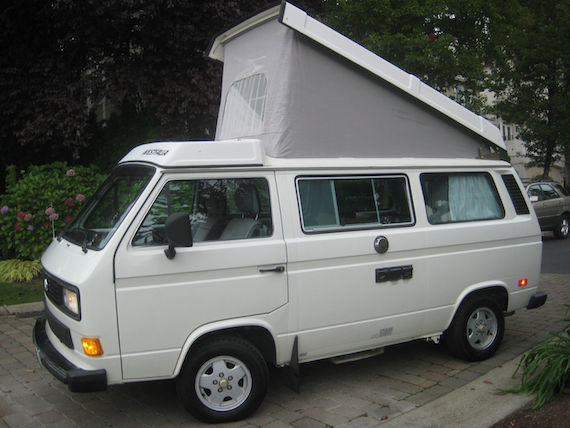 Twenty thousand miles! That's crazy! What a nice estate-sale find. After gaining just 79 miles in 23 years, the current seller has put about a grand on it in the last two, meaning everything should be pretty well sorted and worries of oversitting can be alleviated. Just 20k miles seems like a good starting point for a long and adventurous future. Almost $36k is huge money for a completely stock Vanagon, but they are coveted so intensely that I won't be surprised when it sells.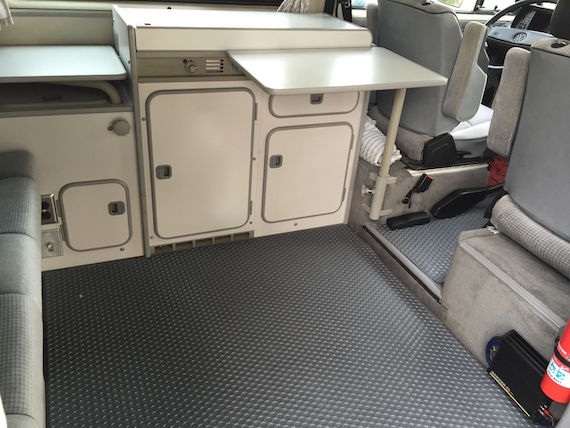 Year: 1990
Model: Vanagon Westfalia
Engine: 2.1 liter flat-4
Transmission: 4-speed automatic
Mileage: 37,218 mi
Price: $39,600 OBO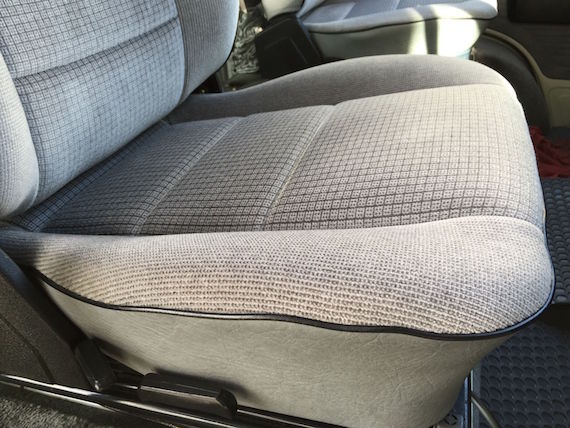 1990 Westfalia California Camper with Only 37K Original Miles Fully Loaded and With Lots of Upgrades.Carfax Certified and Miles Documented.

1990 VW Vanagon GL Westfalia Full Camper Fully loaded Automatic.
This is the…the One…the Holy Grail. Very likely one of the lowest mile VW Vanagon Westfalia campers in the entire USA, NOW is your once in a lifetime opportunity to purchase such a low mileage rare Westfalia. Every detail has been addressed and you should have no concerns whether driving this beauty across town or across the country. 100% road ready.

This is a late 1990 production Vanagon with the rear hatch lever of the 1991 models, making this van ALMOST a 1991 model. I have been selling high grade top quality California Westfalias for a long time and I can assure you this is one of the finest examples of a meticulously maintained and Low Mile Vanagon that you will find. Overall condition is amazing inside and out. This Vanagon has spent Its entire Life in dry Southern California, unrestored and unmolested this rare Vans are getting harder to find.

Factory Options***
2.1 Original Engine with only 37k miles
Factory 3 speed automatic transmission
Power windows
Power mirrors
Power locks
Air conditioning
Full Camper

Extras ***UPGRADES***
Extra auxiliary battery
Aftermarket alarm
$1500 Alpine sound system Cd Alpine Unit, Kicker speakers, amplifier, subwoofer and high definition Focal speakers in front.
NEW Go Westy 16″ wheels and new Pirrelli tires $1450
NEW Go Westy rubber front mats Gray with rear area carpet $220
NEW Go Westy Euro clear lights with yellow bulbs (Original turn signals included)
New German Euro license plate
New German radio antenna
New Go Westy skylight kit with all parts
New Go Westy stainless steel coolant pipe set
New radiator flushed and correct phosphate free coolant
Serviced and retrofitted AC to 134a
Go Westy solar trickle charger
Genuine VW keychain
LED hand crank emergency light
VW factory tool set and jack
Full set of interior curtains including front curtain
All original books and manuals
Front and rear tables with legs

This van has no issues of any kind. NO leaks. No issues. No problems.
Compression is strong in all 4 cylinders, as you should expect.
Oil is fresh and clean, belts are great too.
There is not much more to say – it has 37k and it purrs like a kitten.

This is one of the best examples you will find, and a great investment. Use it for your enjoyment or keep as your Garage Queen, its value will only rise.
All interior is 100% original and in mint condition
undercarriage is rust free.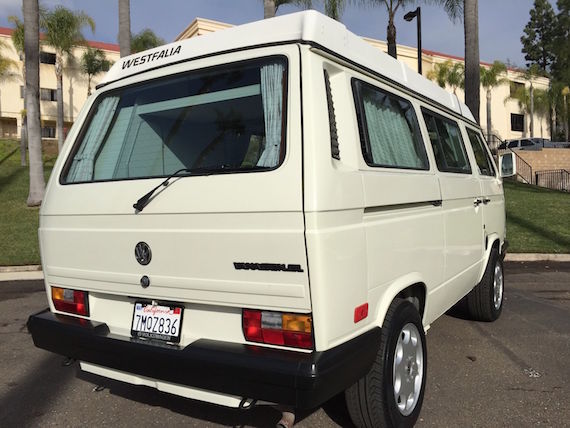 This Westy has the benefit of being three years newer and receiving a host of GoWesty upgrades, most notably the 16″ wheels and the Skylight kit. The 1990 black bumpers are also a big step over the chromes on the 1987, and it doesn't seem like the extra 17k miles have had any adverse effects. If anything, this Vanagon seems a little more well-prepared and evenly used. Typically the lower mileage cars command higher money, so can this 37k-mile Westy get the $39,600 he's asking?
I think both Vans could be worked down on price a little bit, but if I had to choose one I'd go for the 1990. All-original is cool, but Westfalias are for using. Both seem like they are perfectly turnkey, but the looks and GoWesty bits on the later model do it for me. It seems like more of the total package as opposed to a blank-slate estate find. But if you're looking for a museum-quality, all-original Vanagon, go get the 1987 and keep it as a historical artifact. While it's in storage, I'll be on the road!
-NR