This seller out in Washington State has listed on Seattle's Craigslist a pair of classic BMWs that look like they belong together. While nearly a decade spans these two cars you almost get the sense that splitting them up would be like separating out two kitties from the same litter. With both cars finished in a great navy color.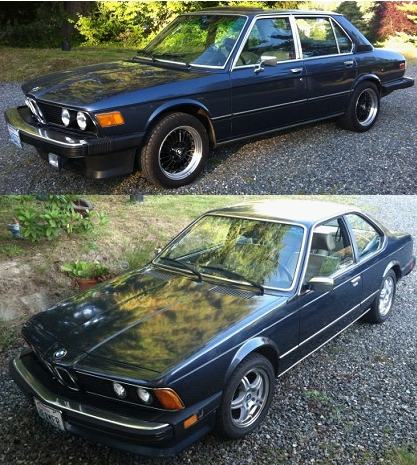 The elder brother is a 1976 530i with 105,000 miles. The car features authentic Hardy and Beck 3 piece 16″ rims and some suspension parts, springs and swaybars from Alpina. It has a complimentary blue leather interior. Judging by the sheepskins on the front seats there is probably some hidden wear, but the rears look to be in great shape.
The seller mentions that the car has had an exhaust header added and an older high end audio system. The intake manifold has also been polished for a somewhat odd look since it stands out on an otherwise fairly subdued car. It doesn't look bad, just different. The car's automatic will keep interest a little lower I'm afraid. It is interesting to see the rear mount fog light on the U.S. bumper. The ask price is $6,950.
The other car from the seller is this matching 1985 635csi with 122,000 miles. Unfortunate also saddled with the autobox. The seller says the car runs perfect and it comes with new wheels and tires. The ask here is $5,950. It is unclear if the Beamer vanity plate will also be made available to a new owner.
The ads don't tell a whole lot about various condition issues so you'll want to do a bit more digging, but the cars look clean. I suspect that a deal could be had if you bought these both. Sitting them next to each other in your garage will look pretty classy.
~Evan