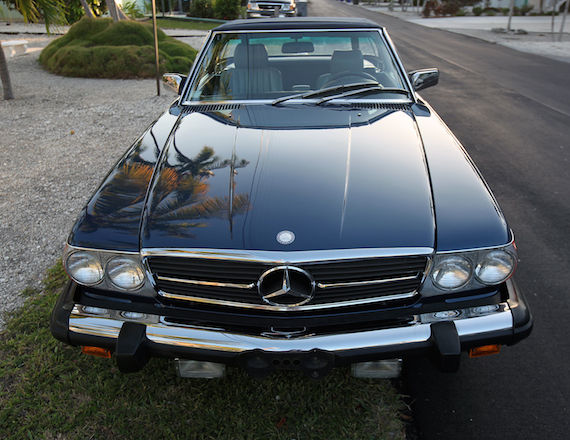 It's no secret that the Mercedes-Benz R107 SL is riding a popularity wave at the present time. With an almost 20 year production run, there's a version for pretty much everyone. But which to choose? Today we'll look at four very different R107s, from a mid-seventies example right up to the final 560SL that appeared on these shores. We'll start with this low mileage 560SL for sale in Florida.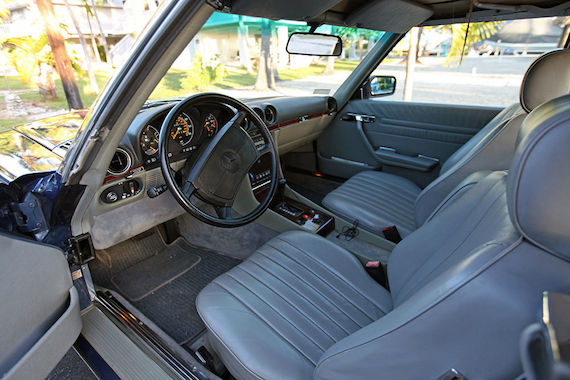 Year: 1986
Model: 560SL
Engine: 5.6 liter V8
Transmission: 4-speed automatic
Mileage: 24,010 mi
Price: No reserve auction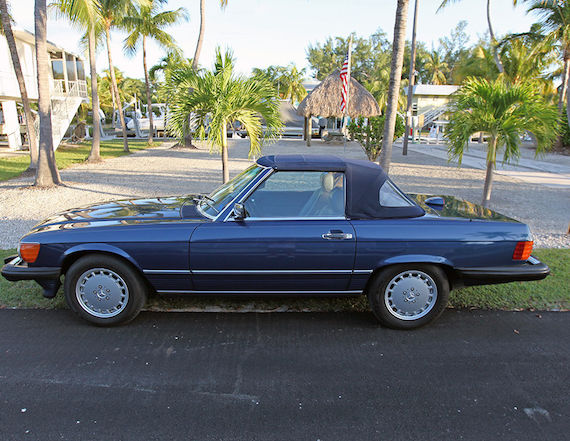 1986 Mercedes 560SL Nautical Blue, Grey interior, Navy blue soft top, Nautical blue Hard top. Cold A/C This 2 owner car all original car has been garage kept its entire life under a cover. This is a beautiful 1986 example of a low mileage car you will see. No Rust. Rare color combination.

Please review all the photos carefully and do all of your homework in due diligence in regard to this vehicle before auction ends. Please do not assume anything and do ask any questions you might have in regard to this car, and ask for any additional photos that you may want to see. I have all my service records since I purchased the car. Original first aid kit, tools and manuals,keys

Be advised this is a 25 year old car in exceptional condition but there are a couple of minor scratches. This vehicle is being sold AS IS, WHERE IS, AND WITHOUGHT ANY WARRANTY expressed, written, or implied. Also please be advised that I have the right to terminate this auction at any time, as the vehicle is offered for sale locally.

Payment Terms

$500.00 NON REFUNDABLE DEPOSITE via pay pal is due within 24 hrs after end of auction, and winning bidder must Contact Me with in this period to arrange payment and shipping details. Buyer is responsible of all shipping charges and all arraignments I will be as helpful as possible. Balance due Via wire transfer within 7 days after end of auction. ALL FINANTIAL TRANSACTIONS MUST BE COMPLETED BEFORE DELIVERY!

Call with questions

305 481 5561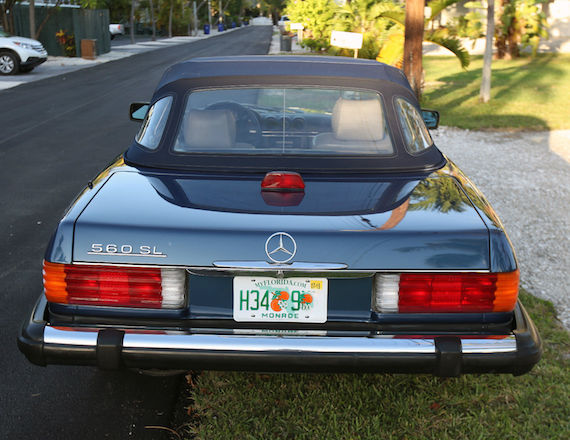 I'm a big fan of this color combination. For a car you'd expect to see near the seaside, Nautical Blue with the light gray leather interior is a perfect combination. We just saw a low mileage 1989 560SL sell for $40,000. That's close to the ceiling for an R107 of that vintage, so I'd expect this example to bring somewhere in the low to mid $30,000 territory.
Next up, we'll dial back to the 1970s and take a look at this 1976 450SL with a stunning red interior accenting it's silver metallic paintwork.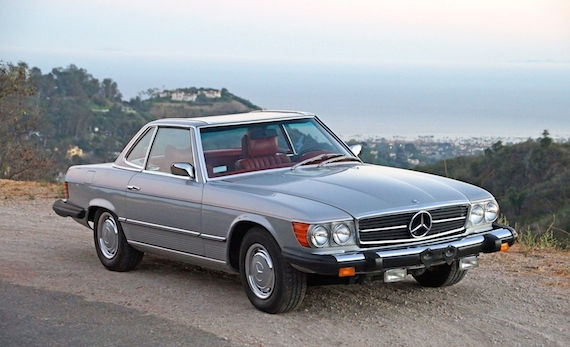 Year: 1976
Model: 450SL
Engine: 4.5 liter V8
Transmission: 3-speed automatic
Mileage: 18,926 mi
Price: Reserve auction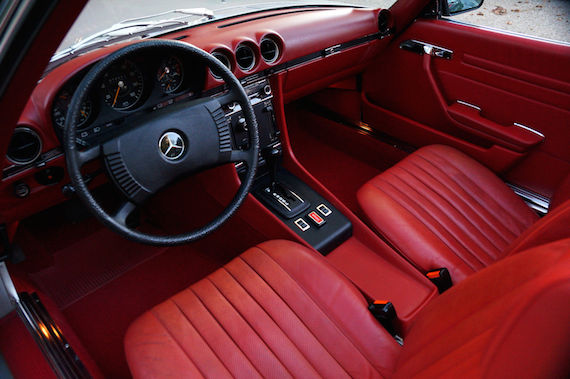 Offered for sale is an absolutely stunning, mechanically excellent, effectively one family owned 1976 Mercedes-Benz 450SL with an amazing 18k original miles and finished in rare and desirable Astral Silver (DB 735) over a red leather interior. Delivered new on February 10th, 1976 by Mission Viejo Imports to Mr. and Mrs. Eddy O'Brien of San Diego, the car would remain in their care for 29 years, used only sparingly as Mr. O'Brien's weekend driver until his death in 2005. Having not had any children, he willed his car collection (including this SL) to his godson, a resident of Prescott Valley, AZ. When he took possession of the 450SL it had a mere 17k miles on the odometer and he continued his godfather's limited use, accruing less than 1,000 miles in his nine years of ownership before we were able to acquire it earlier this summer.

As the pictures show, the previous owners' care has yielded an exceptionally beautiful and incredibly preserved example, undoubtedly one of the finest, lowest mileage R107s in the world. Free of any accidents, the original body is entirely straight, retaining uniform factory correct panel fits and gaps and cloaked in a gorgeous, factory correct Astral Silver finish that is deep, lustrous and consistent, marred only by the most negligible of imperfections, none of which are significant enough to appear in any of the pictures or detract from the car's considerable overall appeal. The brightwork is in excellent original condition, as is all of the glass and rubber, and the car retains its original color-matched hub-capped steel wheels, a somewhat uncommon option for mid-1970s examples, but one that is in our opinion much more vintage and far superior aesthetically as compared to the more common "Bundt" style wheels. Neither the hard top nor the soft top were ever used with any regularity and they are both consequently in excellent original condition. Having spent its entire life in Southern California and Arizona, the car's original undercarriage is completely dry and solid.

The car's interior is entirely original and equally as clean, the red leather seats exhibiting only the mild patina one would expect of a very low mileage, nearly 40 year old car and the carpets and interior panels nearly flawless. Everything works, including the power windows, power antenna, original Becker radio and air conditioning system, which still blows ice cold. The trunk is clean and entirely original, housing the spare wheel, battery box and complete original tool kit. The car also comes with all of its original books and manuals (including the stamped service booklet), a stack of service records and some of the original sales documents.

Despite its sparing use, the car was always professionally maintained and is also mechanically strong, the original, numbers matching engine starting easily, idling consistently and pulling strongly and smoothly through each of the automatic transmission's gears. Compression is excellent across all cylinders, the car drives and brakes straight and true, and the ride quality is excellent. We recently took the car on a +/-100 mile weekend jaunt up to the Santa Ynez Valley for an afternoon of wine tasting, and I'm happy to report that the car performed beautifully without any issues to note, despite the nearly 100 degree temperature. The 4.5L V8 is smooth and torquey and the car is a joy from behind the wheel, whether tooling around town, winding through the canyons or bombing down the highway.

This is an excellent opportunity to acquire a true investment grade R107 SL that checks all the right boxes for the discerning collector or weekend enthusiast: incredibly low original mileage, gorgeous and desirable color combination, strong original mechanicals and an excellent, effectively one family owned Southern California provenance. If you're in the market for a collector quality SL, it's unlikely that you'll ever find a better example.

We want this car to go to great home and would be happy to discuss it further and answer any questions, so please feel free to email us or call us at 805-708-2404.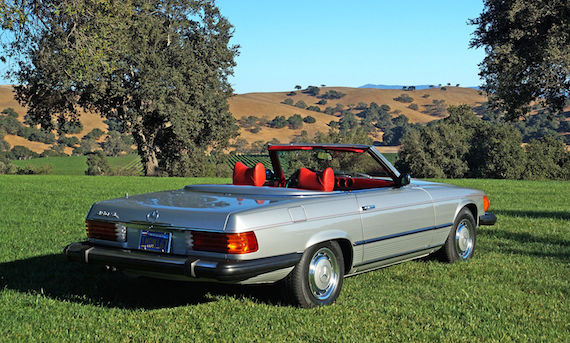 When you look at this 450SL, you realize just how long the R107 was in production, from the painted hubcaps on this earlier model to the interior sans wood trim. But somehow, either version looks proper. It's true then, that good design is timeless. If you aren't up for spending the big bucks to get into an R107, a 450SL might just be the car for you. According to Hagerty's Price Guide, a condition #1 450SL of this vintage should hover solidly in the mid $20,000 territory.
Now we'll take a look at an R107 that was never sold here and rekindled that storied model number from the 1950s: the 300SL.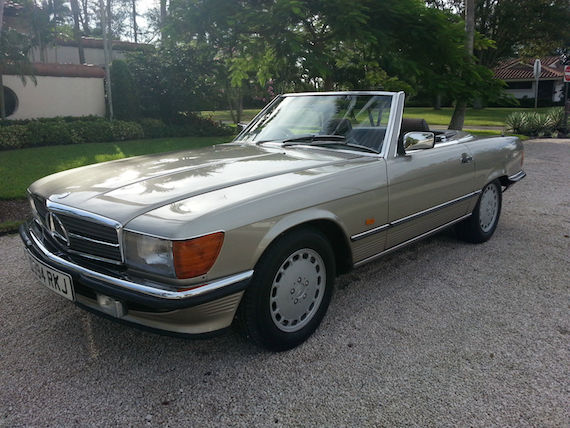 Year: 1987
Model: 300SL
Engine: 3.0 liter inline-6
Transmission: 4-speed automatic
Mileage: 100,336 mi
Price: No reserve auction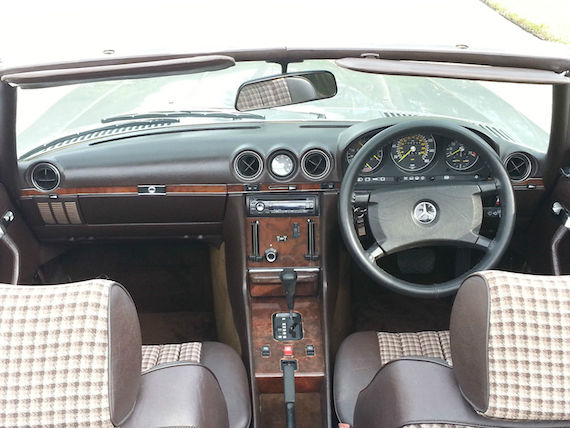 This 1987 Mercedes VIN. WDB1070412A061102 was bought in England in November of 1986 hence the D-Reg Number Plate, but it is a 1987 model. I am the 3rd owner and was told the original owner was the lawyer for British band THE WHO. I have never been able to prove or disprove this. I have all the paper work from England and all maintenance from the last owner. I have also kept all the paperwork from things I did on the car. Let me be clear! This car was legally brought here and has a Clear Florida Title and is registered in the State of Florida. It has no DOT (20 years or older) but does have EPA. This car SHOULD be able to go back to California but I'm not sure if it will pass California emissions,I figure if it was once there and passed, it would do so again but I make no guarantees. Because it has no DOT can go back to the U.K. The plates that are on it are legal plates, not show plates and the Reg. number is original number with the car.

The car itself is in excellent shape and has always been well maintained. It was not in England that long, and spent most of it's life in California, so it's not all rusted out like other British cars. It does have a very small rust spot on the passenger door sill (picture) but that's it! Everything Works! and nothing is missing. I have the owners manual, keys for the hard top and soft top and both sets of car keys, it's all there. This car is 100% stock except for the radio (euro radios don't work in the U.S.) I'm guessing that's why it was replaced.

BAD STUFF – When I got the car, the brakes were poor, and there was a grinding sound. I was told by Mercedes that the brakes do need to be replaced and there is water in the brake line. The water is causing the ABS pump to not work properly. I put all new disks (front and back) all new pads and sensors plus shocks and had the break lines flushed. This fixed everything 99%. Every once in a while if the car has been sitting for an hour or so the brakes are "soft" but 1 or 2 pumps and it's fine. Mercedes said to drive it a bit and flush the brakes again. They said I do NOT need a new ABS pump. BTW, the brakes never go soft while driving. When you start the car, the ABS system "tests" itself and that's when it could happen. The other things are there are a few small scratches and chips from the road, but NO dents. One of the screws that holds the Hard Top down is not working well. This is for the Hard Top only. Even with this, I brought the car to 90 MPH and had no problems, but if you tighten it you may have a hard time getting it undone. I never use the Hard Top anyway, to much work lifting it off. The drivers seat bottom has a bit of wear (picture). All the Burl Wood interior is fine except the centre part where the shift knob is. It has some cracks. I bought a new one but the colour did not match. I still have it. It was $200 and the new owner can keep it. Lastly, it has a very very small oil leak (1 or 2 drops a day). That's it.

NEW STUFF – Complete brakes all around, shocks, fuel pump, Battery, New Catalytic Converter, Brand New tires ( less then 50 miles on them) and a brand new Soft Top.

Remember the W107 body style is a classic Mercedes. If you take care of this car and keep it stock, over time it will increase in value.If you have any questions please ask.

Thank you and good luck.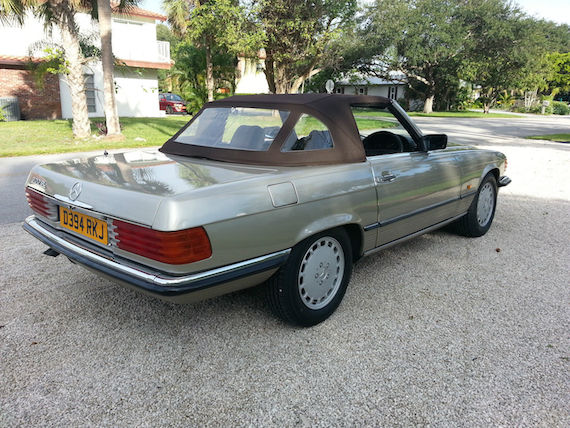 There's a few issues that need sorting with this machine, but nothing terribly disastrous. Right-hand drive is obviously the biggest detriment with this SL, but for someone wanting something a bit unique, it could do the trick. If one could snag this car for somewhere near the opening bid ask, it would be a worthwhile purchase.
Continuing on the six-cylinder R107 theme, we'll finish today with what is my favorite of the bunch, this 280SL with a 5-speed manual gearbox. Normally I'm a fan of the later six-cylinder R107s with the M103 engine like we saw above, but given this is a left-hand drive car with much less miles, I'm digging it.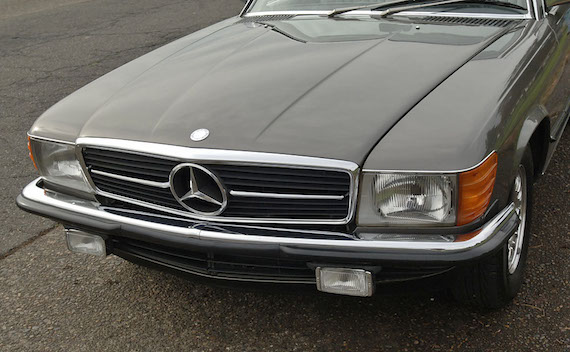 Year: 1981
Model: 280SL
Engine: 2.8 liter inline-6
Transmission: 5-speed manual
Mileage: 61,930 mi
Price: No reserve auction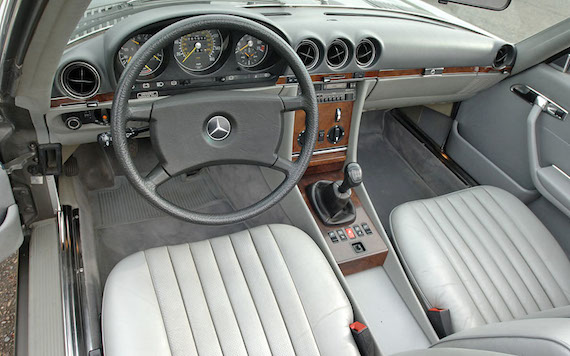 1981 Mercedes 280SL

Rare Euro-Spec SL

62K actual miles

Getrag 5 speed

Up for bids is this very sharp Mercedes 280SL. This car was imported through the European Delivery Program in 1981 and has had 2 owners from new. Some legwork was involved to bring the car into the US back then, one obvious reason for that extra work is the 5 speed transmission that this car is optioned with. When Mercedes transitioned from the W113 model to the new R107 they left US customers without the option of a manual gearbox. The European market cars also offered higher horsepower motors, more svelte bumpers, and the Bosch headlights that these cars wear so well. The manual transmission adds a simplicity to this model that hearkens back to the W113 cars, while still featuring the creature comforts that defined the R107 series – kind of the best of both worlds.

Finished in the classic Mercedes color of Anthracite Grey Metallic (code DB172), the car is wearing mostly original paint and it still shows very well. It appears that the trunk lid and hardtop have been repainted. I have been all over this car and have not detected any areas with rust, filler or signs of bodywork. The paint finish is very nice for being 33 years old, it's obvious that this car was garaged. You'll find a few light scratches here and there, with some particularly noticeable ones between the trunk lid and soft-top compartment. Overall, the car presents well in spite of these real world flaws. Tire are quality Toyos with good tread, the wheels are rare polished alloys, in my opinion a much better option than chrome.

Excellent lights and lenses front and back. Bumpers show good chrome, the rubber insert is in great shape as well. The grill, surround and star are all in great shape. The lower grills on these Euro 107's were prone to warping and cracking, this one is in perfect shape with straight fins and no broken tabs. Windshield is terrific with no chips or stars. Sighting down the sides of the car you'll find zero dings or dents, this SL is arrow straight. Great panel fit throughout, the doors close like a bank vault.

The 1st photo below shows some of the typical scratches where the hardtop mounts. The trunk is clean and original, it carries the factory jacking equipment, tool kit and a Pirelli spare that's never been on the ground. The hardtop shows good glass and weatherstripping, it fits securely and transforms the car into an airtight coupe for year round use. The soft top is original to the car but unfortunately shows some wear and damage. It still fits well and has good weatherstripping but is not up to the same standards of the rest of the car. The storage compartment is dry and rust free, with original perimeter weatherstripping that is holding up great.

The interior of this SL is all original and very well preserved. This is a leather optioned car, the seats are still very nice and show only minimal wear. The carpet is in great shape, the footwells have always had mats over the carpet, I removed them for the photos. Also included are the sheepskin covers that protected the seats and a fitted car cover. Door panels are clean and unmarked. Central locking function works as it should. Interior lighting is all functional. All of the car's weatherstripping is original and still terrific.

All switchgear is in good shape; heater, fan and ventilation controls work properly. The wipers, horn, signals, etc all work as they should. The radio and electric antenna power on but the radio signal is weak for some reason. Dashpad is perfect with no splits or cracks. Both power windows operate smoothly, the car was also optioned with rare heated seats. They work well and are a great addition for top down motoring in the Fall and Spring. The car has not been smoked in, ashtray and lighter are unused. All gauges work except for the clock. Fuel gauge is accurate but the low fuel warning light stays on, that's the car's only quirk. The car shows stable operating temperatures and great oil pressure. Front core support still retains the factory sticker and data plate, both look like new.

The car drives excellent. Starts on the flick of the key and runs strongly, you'll like the way this car drives. Ride quality is nice, steering and suspension are tight, the car handles very well. It shifts flawlessly, brakes well and performs reliably with no drama. The DOHC Six has an altogether different feel from the V8's – somewhat more lively and sporting. The car has long legs, it's rare that I find myself in 5th gear, this would be a very nice SL for long distance touring.

No leaks, this car will not drip on your garage floor. The undercarriage shows no sign of rust or accident history, it's bone stock – still with its original exhaust. Perfect jack ports and rocker panels from front to back. Altogether a well preserved R107 with a transmission that you're unlikely to find in the US.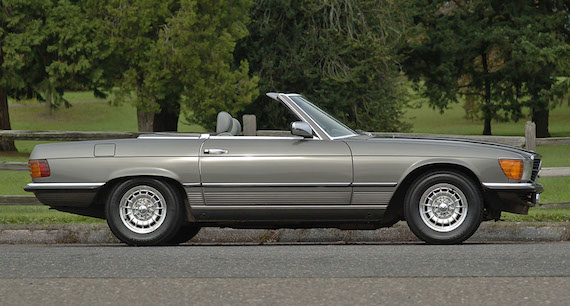 Everything equal, I tend to prefer the final R107s in the form of the 300SL, 420SL and 560SL, but this 280SL nails it for me. Sure, the M110 isn't the most stellar engine that Mercedes has produced over the years, but the condition of this car, pleasant color and 5-speed gearbox makes this an irresistible package for me. If we were looking at a US market 380SL of the same vintage, we'd probably be eyeing around $15,000 to $20,000. Given the caliber of vehicle we're dealing with here and the fact that it's being offered at no reserve, I wouldn't be surprised if this lesser engined SL reaches into that territory.
-Paul