It's been said recently that the mid-year 911s (1974-77) will be the next generation of Porsche's venerable air-cooled masterpiece to really take off in value.  By the look of things this very attractive 1974 Carrera is leading the charge!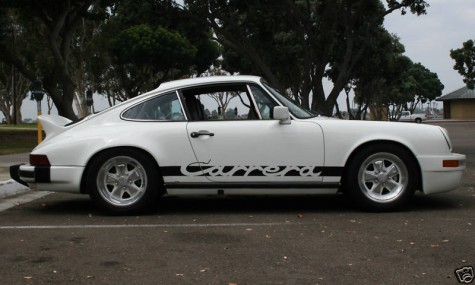 Model year 1974 rang in many changes for the 911, some well-received, some not so much.  The so-called "impact bumper" made its first appearance that year, replacing the more delicate chrome bumpers worn by all previous 911s.  Conformity with US crash impact standards required the beefier bumpers, but Porsche master stylist Tony Lapine designed an elegant and attractive solution.  Out back, engine capacity was increased from 2.4l to 2.7l in three levels of tune – base 911 with 150bhp and 173lbs/ft torque, 911S (175bhp/174 lbs/ft) and Carrera (210bhp).  Unfortunately for Americans the Carrera powerplant (from the famous 1973 Carrera RS) was still not approved for US emissions standards so US Carreras sported the "S" engine.
The car on auction is a "Carrera" albeit with some tasty upgrades, most notably the very desirable sports seats.  The transmission is the usual 5-speed, with lower ratios.  This may be good or bad, depending on your proposed use for the car.  Maybe not so great for highway cruising, but nice around town and at the track with added low-end grunt.  This car looks great in Grand Prix White with the buerzel (ducktail) spoiler and Ruf-style front valance.  The only thing I'm not feeling is the wheels – they need black centers pronto.
Seller reports he is a long-term (15 years) owner of the car, and that various upgrades have been performed.  The most important of these addresses the infamous "camchain tensioner" issue.  While the standard upgrade is to change to "Carrera" (i.e. 1984 model year) tensioners, the seller states that the tensioners have been "rebuilt"… further querying required on this.  Also, what's up with the speaker enclosure on the back deck combined with radio delete??
Mid-year 911s have long been the poor relations in the collector Porsche family.  While "longhoods" (1964-73.5) and especially short-wheelbase (1964-68) cars have skyrocketed in value of late, the 1974-77 models have lagged.  Whether the reason was their (marginally) poorer performance, slightly increased weight, impact-bumper styling, or poor engine reliablity (especially on 1975-77 "thermal reactor" cars) the middies just haven't taken off in value.  Recent trends, however, seem to indicate that this may change.  As longhood values grow out of reach for many, the relatively lightweight middies with their narrow-body vintage appeal are becoming more and more attractive, and this demand will drive prices upwards.  The particular car on auction certainly seems to bear out this trend.
-Dallas