Here's your chance to get your hands on a Porsche modified with period correct pieces from DP Motorsports. I spotted this Porsche 911 Targa on Portland, Craigslist ($20500, 85k original miles):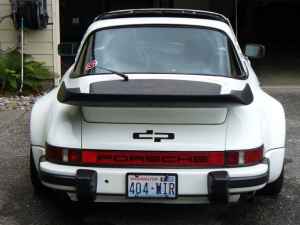 quote from Craigslist ad:
This is a beautiful white 911. Not your regular 911. Besides being a European Model it has all the bells and whistles. Approximently 300hp. Origional BB Rims. New low profile tires.
Race clutch, Dual stainless steele exhaust. Whale tale. 964 cams. Same as the Turbo. 930 body with wider steele fenders. Just put in a New starter and Battery. Car is Garaged
and not driven much. 85,000 origonal miles. Engine had a total rebuild at 62K. Origonally purchase in 1984 for 50k which includes the shipping. The origonal owner wanted the
turbo look but not the turbo during that era because the Turbo's had allot of engine problems. Ordered the car from Porsche but made Body Modifications at DP Motor Sports in Germany.
before having it shipped to Seattle. Never wrecked and is in excellent condition. Must see and drive to appreciate. Have all the Paperwork on this car to verify. Thanks
This isn't the first time we've posted a DP modified 911, but this one is a bit more attainable at only $20k. And 85k original miles would be good for a regular run-of-the-mill 84 Carrera, let alone a gray market spec car with DP goodies and BB wheels! I like it and the price seems about right too. Hope it finds a good home!
dc