Warning!
This post is in our archives. Links in this post may have been updated to point to similar cars available to bid on eBay.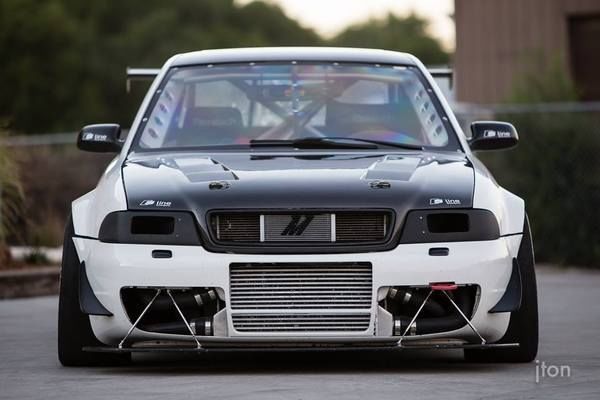 There is an adage which has been around since the inception of the automobile; the idea that racing helps to sell cars, and specifically "win on Sunday, sell on Monday" has become the basis for many manufacturer's participation in motorsports. Audi certainly used it to their advantage in the 1980s, creating a rally legend with their Quattro; the associated technology with those original WRC cars quickly filtered down into the entire product line. It's one of the best examples of direct racing technology spreading to the average consumer in recent memory. However, after the end of the Group B formula Audi pushed the high horsepower efforts towards road racing. Most of those efforts, while extremely impressive, were wasted; Audis sales in the late 1980s and early 1990s slipped to pre 1980s lows in spite of headliner wins in the both IMSA and Trans-Am series. Shortly thereafter Audi went through a product line shift as it moved from the numbered series to the now-familiar "A" designations and ended the venerable turbocharged 5 cylinder – the basis for nearly all of the wins it recorded from 1980 to 1995.
An interesting thing then happened – Audi pursued Touring Cars with the new A4 platform. Audi was, in fact, not a stranger to the form of racing, having raced in various touring car groups since the 1970s. However, it was the method which Audi pursued with focus new championships that redefined the racing scene once again. The A4 STW (Super Touren Wagen) proved as successful as it predecessors had been, winning the Italian, German and British Touring Car Championships. What was interesting, though, was that during this time Audi had effectively no derivative performance cars based upon the A4. That would wait until the A4's quattro all-wheel drive had been banned by the FIA, and the new V6 twin-turbo powered S4 was launched. It was the reputation that Audi had built that would spur on both sales and replicas of some of those touring cars, such as today's heavily modified S4: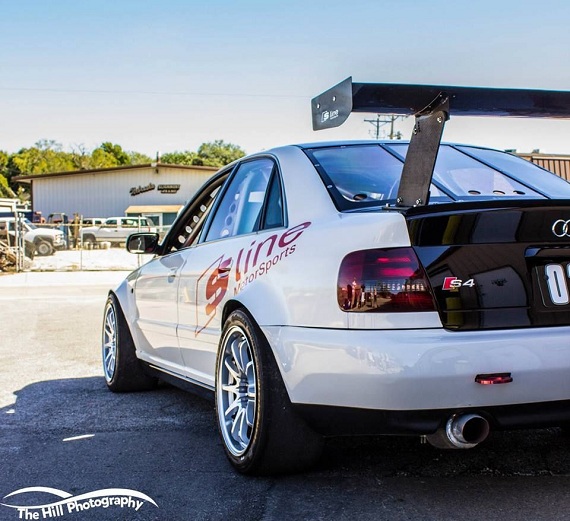 Year: 2001
Model: S4
Engine: 2.7 liter twin-turbocharged V6
Transmission: 6-speed manual
Mileage: 165,300 mi
Price: $34,000 Buy It Now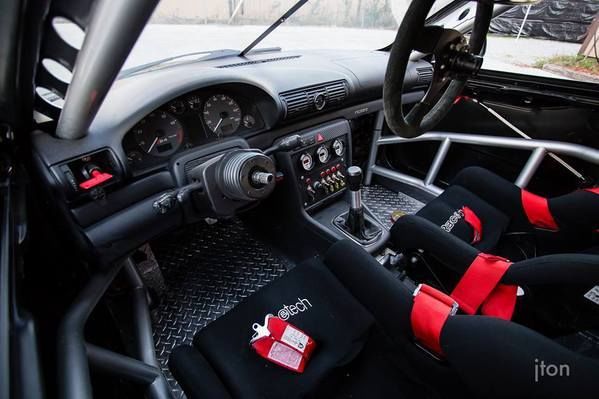 Make: Audi
Model: S4
Body Type: Sedan (Race Car)
Body Color: White & Black
Year: 2001
Miles: 165,300
Vehicle Identification Number ("VIN"): WAURD68D11A132084

INTERIOR:

JHMotorsports Extension Knob- I don't have this one but I bought this one and it was ridiculously heavy so we have a custom one made to the exact spec but 75% lighter
JHMotorsports Derlin Shift Knob
JHMotorsports Short Throw Shifter
Pair of RaceTech Seats (Halo on driver's side)
G-Force Harnesses
Custom Roll Cage w/ Nascar bars on both sides
Diamond Matted Floor (Driver & Passenger Side)
Fully Painted Interior
AEM Gauges (A/F Ratio, Oil Temp, Water Temp, Boost)
Sparco Steering Wheel w/ Quick Release
Custom Carbon Fiber Switch Panel w/ Start Button & Kill Switch

EXTERIOR

Custom Wide Body
BMW Alpine White Fresh Paint
Black Trunk/Roof/Lower Trim
Custom Head Lights w/ Brake Ducts Carbon Fiber Wrap
Brooks Motorsports Rear Wing
Custom Carbon Kevlar Front Splitter
Carbon Fiber Sunroof Replacement
Lexan Windows
VIS Vented Hood w/ Sparco Hood Pins

CHASSIS & DRIVETRAIN

Stasis 4-TO-1 Center Diff
Stasis Rear Limited Slip Diff
Every Control Arm on the S4 is 034Motorsports with Spherical Bushings (except for lower front arms, these are included but not installed)
Every Subframe Bushing is solid from 034Motorsports
AWE Tuning Drive Train Stabilizer
JHMotorsports High Strength Front Axles
034Motorsport Engine (Race) Mounts
034Motorsport Snub Mount
034Motorsport Transmission (Race) Mounts
034Motorsport Differential Mounts (including crossmember/diff carrier)
034Motorsport Sway Bar End Links & Tie Rods (Race)
034Motorsport Axle Spacer Kit (RS4 Stance & Wider Track) SUSPENSION & BRAKES
Stasis Motorsports Suspension (800lb F & 1000lb R)
H&R Front Sway Bar
034Motorsport Solid Rear Sway Bar w/ subframe reinforcement kit
Stoptech 355mm BBK w/ custom ducting & brakets (F) Hawk DTC70
JHMotorsports 330mm kit (R) Hawk Blues
8 Rota DPT 18×9.5 w/ 4 Continental Slicks & 4 Hankook C51
Wheel Stud Kit (easy for mounting wheels)
US wheel adapters for 5×114 wheels & wider track

ENGINE & TRANSMISSION

Custom Intake
JHMotorsports Front Mount Intercooler
AWE Tuning Downpipes
Custom Oval Exhaust Downpipes Back
AWE RS K04 Stage 3 kit
RS4 Clutch & Flywheel
Custom Mishimoto Dual Oil Coolers
APR Bipipe
Forge 007 Diverter Valves
Full Samco Silicone Boost Hose Kit

EXTRAS-

2.0FSI Direct Ignition Coil Conversion
034 Solid Lower Control Arm's
Extra Set of Uprights/Spindles
Coilover Adjustment Tools
GIAC Flashloader
Extra Set of Rota Wheels/Race Tires
Extra Set of New Lugs + More Misc. Items.

The car was built with superb quality and craftsmanship. From the roll cage to the suspension this car is a track monster. Please call or email for more information about the car. All fluids have been changed and it is ready for 2014 race season.

Seller Phone Number: (402) 819-7706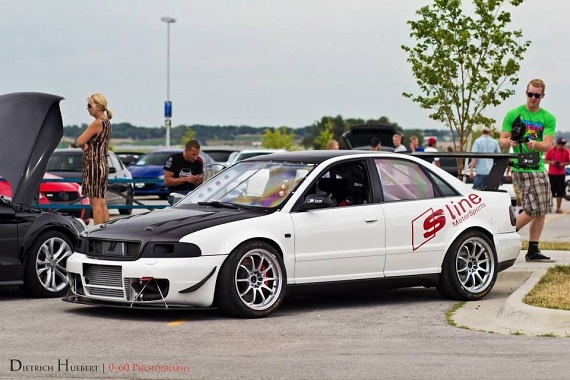 This is a seriously built up car, from the stout-looking cage to the list of top tuner items which have been utilized in the build. 034 Motorsports has proved over the past few years that the B5 chassis can be turned from a street car into a Euro-tuner winning formula, and while this car is built in a slightly different manner the basics are pretty similar. Add downforce, big wheels, revise how the power is split, and turn the boost up and you'll have stunning performance. If you're looking for a track weapon or perhaps want to do some NASA racing, this car would certainly suit the bill. $34,000 sounds like a lot in the world of the B5 S4 and it is, but race car builds put costs into another league entirely. Add up the work and parts list done to this car, and the total will likely far exceed the asking price as it usually does; that doesn't change that the car has a limited market, but it's still really neat to see – and a whole lot cheaper than trying to buy one of the original A4 Super Touren Wagen cars!
-Carter