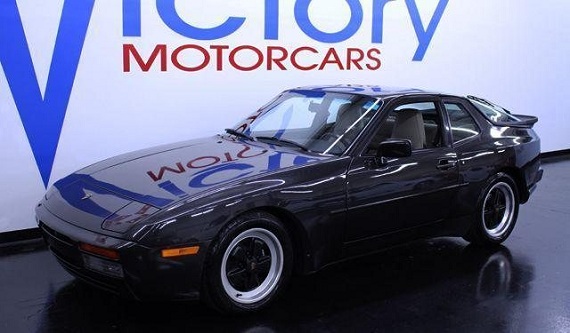 Friends, I'm afraid. I'm afraid that the already somewhat affordable hobby of 1980s cars is quickly becoming endangered by speculation. The first victim was the E30 BMW, and poaching resulting quickly in the endangered status of decent, affordable examples. But the poachers weren't done; the E24 M6, E28 M5, Ur-Quattro, original GTis and Porsche 911s have been on their list as well. That has meant in some cases spill-over into poaching similar looking models; even more recently, we've seen a spike in Audi 4000, Coupe GT, 635CSi and 535is examples trading for previously unheard of amounts that have most enthusiasts despondent and questioning the sanity of the poachers. There are some glimmers of hope; on the endangered list but so far not hugely impacted by this trend are a few real gems of cars. Most notable of this group in my mind has to be the Porsche 944 Turbo.
The 944 Turbo – referred to as the 951 by insiders or anoraks – has been a giant slayer since it's inception as a test platform at Le Mans in a heavily flared, super cool 924 GTR chassis – dubbed the 944 LM. The new 2.5 liter turbocharged power plant was truly an impressive feat; the aerodynamic body of the 944 returned quite good fuel mileage per the original intent of the design, but step on the loud pedal and there were few cars that could keep up – and none of them were at the same price point as the 944. Since then the Turbo has become legendary as one of the best handling chassis Porsche has produced, its near infinite tuning potential, the spectacular 80s flares and pop-up headlights, and a comfortable GT. As an all-arounder, few cars can achieve what the Turbo did. Because of the relative undervalued nature of the model though, few remain in really pristine condition; but if you're in the market they do arrive from time to time, and this one certainly deserves to be on that list: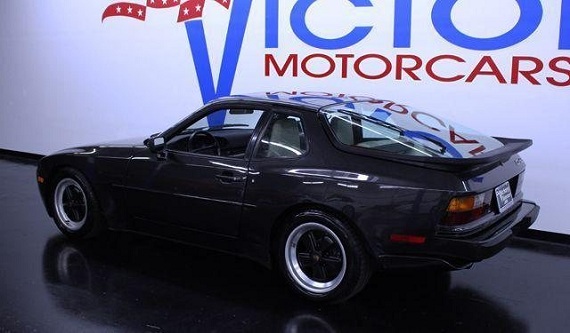 Year: 1986
Model: 944 Turbo
Engine: 2.5 liter inline-4
Transmission: 5-speed manual
Mileage: 30,456 mi
Price: Reserve Auction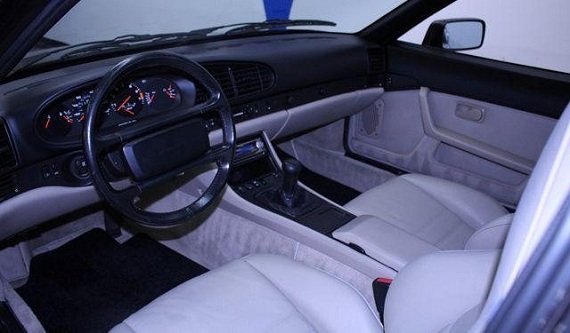 ility to exceed your expectations on your next vehicle purchase, please contact Robert Neal. At Victory Motorcars- expect product knowledge and courteous customer service. Please feel free to call us at 1-888-217-9424

WELCOME TO VICTORYMOTORCARS, THE WORLD'S LEADER IN AIR-COOLED PORSCHE SALES, WHERE AESTHETICS AND GENUINE PORSCHE PERFORMANCE MERGE. YOU ARE VIEWING A FINE PREVIOUSLY OWNED AIR-COOLED PORSCHE 911 FROM OUR VAST INVENTORY OF PORSCHE 911'S WHICH ARE RENOWNED UNIVERSALLY FOR THEIR UNRIVALED COMBINATION OF ACCELERATION, HANDLING, BRAKING, DRIVING EXCITEMENT AND DESIGN EXCELLENCE.

THIS 1985 PORSCHE 944 TURBO (951) 2.5L 217 HP 4-SPEED MANUAL TRANSMISSION IS FINISHED IN GRAPHITE METALLIC WITH GREY LEATHER SEATS AND AN ELECTRIC SUNROOF. THERE ARE A LOW 30,456 ORIGINAL MILES AND AN ESTIMATED 19/27 MPG. PLEASE FEEL FREE TO BID AND PURCHASE WITH COMPLETE CONFIDENCE IN THE PORSCHE PRODUCT AND THE DEALER WITH ROCK SOLID PRINCIPLES. OUR 35+ YEARS OF HANDS-ON EXPERIENCE WITH PORSCHE HAS PROVIDED A GREAT DEPTH OF KNOWLEDGE AND EXPERTISE IN THE PORSCHE PRODUCT. OUR PRESENCE SPANS THE GLOBE WITH THE ABILITY TO SELL AND DELIVER WORLDWIDE. WE AIM TO PROVIDE THE VERY BEST PRODUCTS AND SERVICES AVAILABLE. THAT'S A PROMISE!

ALL PORSCHE 911'S HAVE A DISTINGUISHED REAR HORIZONTALLY-OPPOSED SIX-CYLINDER ENGINE THAT CATERS TO ITS RECOGNIZABLE 911 GENIUS DESIGN. THE THOROUGHNESS OF THE ENGINEERING, QUALITY MATERIALS AND PRIDE OF WORKMANSHIP MAKE EACH AND EVERY PORSCHE A PRIZE AND A PLEASURE TO OWN. ALL PORSCHE MODELS INTEGRATE LUXURY, CONVENIENCE, SPORTING, ENTERTAINMENT AND SECURITY EQUIPMENT IN TO ONE UNIQUE PACAKGE. SOME OF THE FEATURES OF THIS TURBO ARE:

2.5 LITER, 4 CYNLINDER, 217 HP
WATER COOLED TURBOCHARGER
CHARGE AIR COOLING
KNOCK SENSOR
EXTERNAL EGINE OIL COOLER
EXTERNAL TRANS. OIL COOLER
5-SPEED MANUAL TRANSMISSION
STABILIZER BARS, FRONT & REAR
4-PISTON FIXED CALIPER DISC BRAKES, FRONT AND REAR
BRAKE PROFORTIONING VALVE, REAR
7JX16 PRESSURE-CAST RIMS-FRONT
8JX16 PRESSURE-CAST RIMS-REAR
ANTI-THEFT DEIVCE FOR WHEELS
TINTED GLASS, ALL AROUND
HEATABLE REAR WINDOW
WINDHSHIELD ANTENNA
DRIVER SEAT W/ ELEC HEIGHT ADJ
ENERGY-ABSORBING BUMPERS
63 AMP/H BATTERY
HEATABLE & ELEC ADJUSTABLE OUTSIDE MIRRORS
LEATHER-COVERED STEERING WHEEL (4-SPOKE/380 MM)
FOG LIGHTS
4 SPEAKER, BALANCE CONTROL SUPRESSION
WINDOWSHIELD W/ GRADUATE TINT
AUTOMATIC FULL CLIMATE CONTROL
POWER WINDOWS
POWER STEERING
M.Y. 1986 PORSCHE 944 TURBO
GRAPHITE METALLIC
ALL LEATHER SEATS
HEATALBE SEAT, LEFT
LIMITED SLIP DIFFERENTIAL
HEATABLE SEAT, RIGHT
CENTRAL LOCKING SYSTEM
SPORT SEAT, LEFT, W/ELCT HGT AD
SPORT SEAT, RT, W/ ELCT HGHT AD
16-INCH FORGED ALLOY WHEELS
PROTECTIVE SIDE MOLDINGS
REAR WINDOW WIPER
4-SPOKE SPORT STEERING WHEEL
CRUISE CONTROL
SPORT SHOCK ABSORBERS
ALARM SYSTEM
ELECTRIC SUNROOF
ALL-LEATHER SEATS/FRONT & REAR
CLEAN CARFAX

THANK YOU FOR YOUR INTEREST IN VICTORYMOTORCARS AND THE PORSCHE PRODUCTS WE INVENTORY.

PLEASE FEEL FREE TO CONTACT US IF YOU HAVE ANY INQUIRIES OR COMMENTS.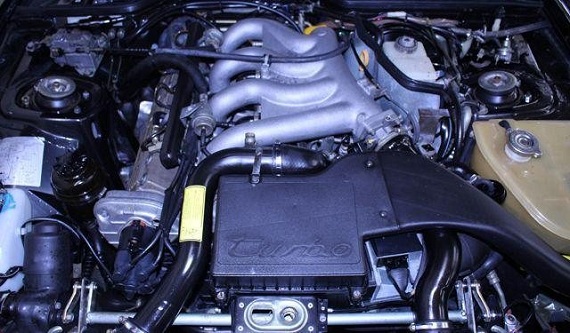 The graphite over grey leather is a very pretty combination that isn't seen very often. I especially like the highlight of the turbo in silver. The Fuchs were replaced later on in the run by the Phone Dials, but I've always liked the Fuchs look a little bit more. Sure, there were more 86 Turbos than the later Turbo S models and the 86s aren't quite as much of a performer, but if you're just looking for a great collectable driver in condition one, this car meets the criteria. Those that have owned these cars support that it's one of the best values in the Porsche brand, and relatively cheap to maintain compared to some of the more rarefied and expensive models. 30,500 miles is certainly on the lower end of the spectrum, but not so low that you couldn't drive and enjoy the car occasionally. This really would make a great weekend show/event driver. It's hard to believe that these cars are bordering on 30 years old and can be registered as antiques now in most states. Value on the Turbo S models with low miles has pushed into the mid $20,000 range, with earlier examples staying generally in the teens. This is a rare example that will probably match some of those Turbo S values, and frankly it's probably worth it. I'd rather own this car any day of the week than a 150,000 mile M3 in need of repair and expensive engine work! In every measurable contest – except perhaps how large of a fan following it has – the 944 Turbo is a superior car.
-Carter