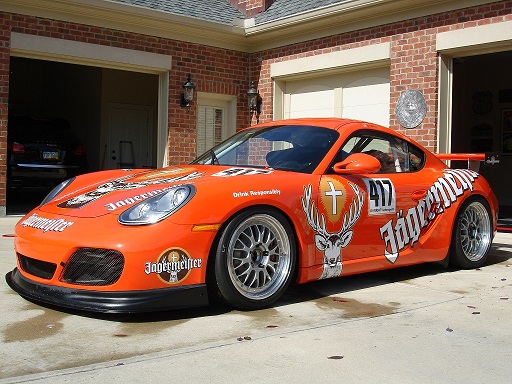 The Porsche Cayman always gets a bit of a bad rap as the Porsche for those who can't afford a 911. To be honest, there's a lot to like about this mid-engined sports coupe, most notably its on-track performance. This hasn't gone unnoticed by track day enthusiasts and professional racers. Want proof? How about this 2009 Cayman S for sale in Ohio replete with Jägermeister livery.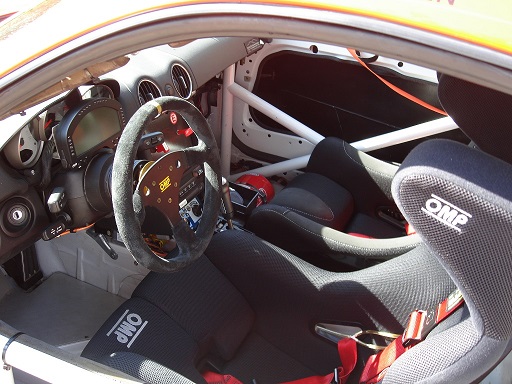 Year: 2009
Model: Cayman S Interseries
Engine: 3.4 liter flat-6
Transmission: 6-speed manual
Mileage: 5,500 miles
Price: $90,000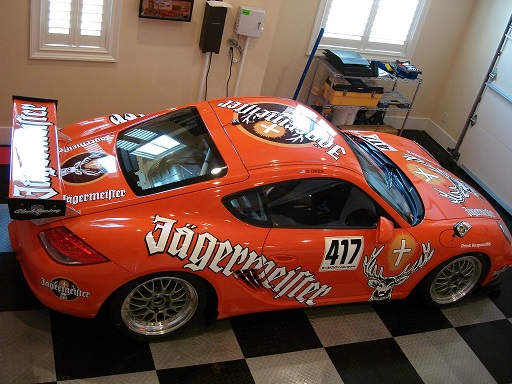 Considering a new track car, therefore:

2009 Cayman Interseries car built by Napleton Porsche for sale:

•Full Roll Cage with NASCAR-style door beams painted to match body color
•Custom Window net
•SFI-spec roll bar padding
•OMP HTE driver seat. No passenger seat.
•Schroth 5-point quick release harness
•Remote on–board fire system with 8 nozzles
•Electrical cut-off switch
•OMP steering wheel with adapter
•Quick release hub & roll bar hook
•Cayman Interseries Front splitter and GT3-style adjustable rear spoiler and base painted body color

•PSM manual cut-off switch mounted in carbon fiber center panel
•JRZ Pro adjustable remote reservoir shocks
•Fully adjustable Cayman Interseries spec front and rear sway bars with heim-joint drop links
•Hypercoil springs with helpers
•Solid spherical bearing upper shock mounting plates front and rear
•StopTech six-piston Cayman Interseries designed front calipers
•StopTech full floating front rotors with aluminum hats
•Performance Friction Cayman Interseries brake pads front and rear
•GRAND-AM GT-spec wheel studs and nuts

•Goodridge Stainless steel brake lines
•Porsche GT3 two -piece lower control arms front and rear with monoball bearings and adjustment shims
•Solid front and rear control arm bushings
•Adjustable front thrust/caster bars
•Spherical bearing tie rods with bump steer ends
•Rear toe links with bump steer adapters
•Porsche GT3 front-brake ducts
•NACA-style rear brake ducts and hoses
•Cayman Interseries-developed ECU flash for PCM, ABS and engine mapping
•Special JET HOT coated Cayman Interseries race exhaust system
•Additional center radiator, ducts, bracket and hoses
•Transmission oil cooler
•Weldon electric transmission oil pump
•Guard GT race limited slip with chrome-moly housing
•AIM Pista data recording dash
•Smarty Cam
•Jager Orange paint and decal package
•Two sets BBS wheels
•Brand new clutch and RRS flywheel
•3M paint protection

Excellent condition. Maintained by Wright Motorsports in Batavia, Ohio. Any questions regarding service or condition can be directed to Tim or Bob at 513-735-2300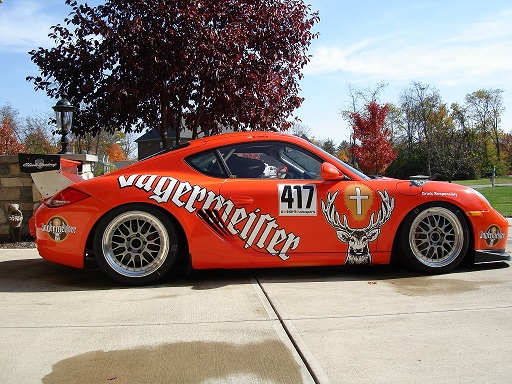 Carter featured a similar 2006 Cayman S set up for the track last week. That car was almost $35,000 cheaper than this particular example. This one has less miles and an infinitely cooler livery, so it depends on what you're looking for. Similar money will certainly net you a 911 set up for the track from multiple generations of the breed, but this is a fairly new, lightly used car looked after by well know specialists. If you want to grab people's attention on the track, there are few better liveries to do it with than this one.
-Paul