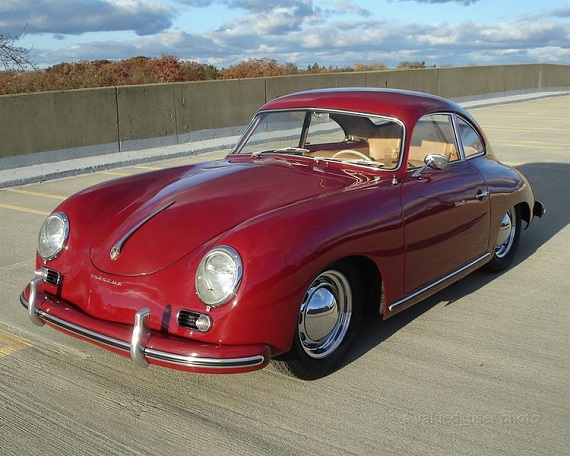 Cars like the one featured here, a 1955 Porsche 356 Pre-A Coupe, will not appeal to everyone, but interesting restored examples such as this always have a place here at GCFSB. At nearly 60 years old, this car has had a long life and thanks to some careful ownership still presents very well and provides us a glimpse into the inception of a great marque. The 356 began production in 1948 and the example here comes from the first iteration of the model, prior to the release of the 356A in the second half of 1955. From the factory these cars had a 1.3 liter flat-4 producing 50 hp mated to a 4-speed manual transmission. This car has had its engine rebuilt with a big bore kit upping displacement to 1.7 liters, which should provide a small bump in torque and horsepower to help propel the car along. Overall, this is a beautiful example of a very highly regarded vintage Porsche that would surely grab the attention of any Porsche enthusiast.
Year: 1955
Model: 356 Pre-A Coupe
Engine: 1.3 liter flat-4 (rebuilt to 1720 cc with big bore kit)
Transmission: 4-speed manual
Mileage: 132,000 mi
Price: Auction (reserve met)
1955 Porsche 356 1300 Normal Reutter Coupe
VIN / Chassis Number: 53950
A great-driving 356
Fully sorted
Big Bore Kit
Skirmants transmission
Absolutely rust-free, extra clean and never smoked in since restoration

Turkish Red (Porsche Code 5402 / Reutter Code 538) with Yellow Leatherette (B) interior

PHOTOS: There are more than 200 photos below. Please allow time to load on slower Internet connections.
You can also Click here for high-resolution slideshow

Production year: 1955
Type: Pre-A
Style: coupe
Coachbuilder: Reutter
History of this 356
· Four known owners
· Originally delivered to U.S. Air Force major, stationed in Wiesbaden, (then-West) Germany
· Per Porsche Certificate of Authenticity
o Sealed Beam Headlights
o Speedometer in Miles
o "Continental" script
· First owner returned to Ohio with the car, 1958
· At least one additional interim owner
· Purchased by active PCA, 356 Registry member and Ohio Porsche club historian, with 122,650 miles, August 1992
· Purchased by current owner, active PCA and 356 Registry member, with 127,406 indicated miles, August 1999
· Always careful, light use by current owner
· Photographed in 2001 Meadowbrook Concours program
· Featured in "New 2004, Old 356" Calendar
· Photographed in September/October 2007 356 Registry magazine at East Coast Holiday
· Currently less than 132,000 total miles
Engine
Built by previous owner, 1990's
Fully sorted
Engine # P 22178 on third piece of case matches Porsche Certificate of Authenticity

Production year: 1955
Internal designation: 506/2
Common name: 1300 Normal
Third piece also stamped "1"

· Case halves each match, both stamped "1" and matched to third piece
· Left case half stamped "9417"
· Right case half stamped "506/2," confirming 1300cc
· Originally 1300cc, rebuilt with NPR 1720cc big bore kit
· Fresh Mahle oil filter and Shell Rotella T 15w-40 oil
· No known leaks
· Noise-free
· Turns over easily, starts promptly
· Steady 800 RPM idle
· Pulls smoothly and runs cool

Fitted with:
· Zenith 32 NDIX carburetors, rebuilt 2006 by Precision Matters
· Knecht air filters
· Correct fuel hoses and uncut metal fuel line
· Rebuildable glass fuel filter near rear axle
· J pipes and muffler with light gray high-temperature coating
· Later Bosch JFR 4 distributor with points and condenser ignition
· Powder-coated sheet metal
· Oil filter canister, fan shroud and coil refinished with proper labels
Transmission
Serial #6348 H5, Type 519
· Original transmission serial #6579 H3 has been replaced
· Both case halves matching, stamped "235"
· Rebuilt by Vic Skirmants at 356 Enterprises May 1998
· BBAB Speedster gears
· Leak-free
· Noise-free
· Shifts smoothly to all gears
· Clutch functions correctly with no slip or judder
· Linkage and clutch properly adjusted
Body
A completely rust-free car with nice gaps and proper-fitting trim in very good condition
Turkish Red (Porsche Code 5402 / Reutter Code 538)
Painted prior to current owner purchase in 1999

· Doors, hood and deck lid open and close easily with nice gaps
· Hood original, stamped "50," matching chassis number/VIN
· Rear deck appears to be stamped "50" and original, matching chassis number/VIN, although stamp is hard to read
· Few imperfections from 14+ years of careful use – see photos
· Door bottoms completely rust-free
· Rust-free floors
· Rockers, longitudinals and all four wheel wells show no signs of rust
· Battery floor is very nice with no rust
· Undercoating covered with black Rustoleum paint
· Glass has mostly correct markings and is in very good condition
· Windshield and rear window both fit nicely
· Bright trim complete and in very good condition
· All body gaskets and seals in very good condition and properly fitted
· Chrome side window trim in very good condition with no pitting or other damage
· Door and vent windows operate properly
· Door checks work properly with no popping noise
· Door locks and ignition lock all work properly
· Correct metal front and rear bumpers with rub strips and bright trim in very good condition
· Correct chassis info plate and door post cover tags

· Yellow Leatherette interior in very good condition
· Seats are correctly padded and in very good condition
· Correct recliners
· Door and quarter trim panels have no damage
· Oatmeal carpet in very good condition
· Stock rubber mats in very good condition
· Front trunk mat and vinyl upholstery
· Engine compartment upholstery
· Fuel shut off works properly and does not leak
· Nice headliner with no damage
· Polished aluminum coat hooks
· Correct sun visors
· Porsche script radio blanking plate
· Glove box and door fit well with very nice liner
· Seat belts properly fitted with reinforced mounts through floor

Quiet on the road with no wind noise, squeaks, rattles or other concerns
Suspension, brakes, steering
All fully restored and sorted
· Koni shocks
· Solid bushings and tie rod ends
· Correct one-piece axle boots
· Drum brakes correctly rebuilt
· Drums were turned
· Rear wheel bearings and seals replaced
· Recent steel brake lines and rubber hoses
· DOT 5 silicone brake fluid properly installed
· Front and rear backing plates and other fittings in good condition
· Parking brake operates properly
· ZF steering box

Vredestein Sport Classic 165HR15 tires, new in 2009, with less than 1000 miles and even tread wear

5 ½ inch wide Brazilian chrome wheels with baby moon hubcaps, all in very good condition

Drives as it should. Tracks straight. Brakes function as-new and with no pulling.
All The Rest
· 6 volt electrical system
· Optima 800 cold cranking ampere sealed battery
· All gauges function
· Starter pushbutton operates normally with no concerns
· Lights, horn and wipers all operate
· 400mm VDM steering wheel with lower one-third horn ring
· Taillights are bright and work properly with turn signals
· Period-correct Hella rear fog light is third brake light
· No holes drilled to add third brake light
· Hirschmann red tip antenna
· Fuel tank is completely clean, sealed and free of any contamination inside
· Windshield washer system, mostly complete and intact
· Heater works properly
· Always garaged
Also included
· Original Porsche Certificate of Authenticity
· Motor Cities Gruppe grille badge
· Genuine 1955 "Heimatwettbewerb A.D.A.C. Gau Hessen" (Hessen Homeland Rally) grille badge
· Bilstein VW jack
· Space saver modern temporary spare, never used, mounted on "1/56" Lemmerz original wheel
· Four ignition keys and one door key
· Battery Tender 6V trickle charger with cables and packaging
· Copies of title transfers in 1992 and 1999
· Folder of all receipts since purchase in 1999
· Two fitted car covers for indoor and outdoor protection
· Small box of spare parts
· Vintage Oshkosh U.S.-made suitcase in good condition
· Vintage European maps
· Vintage bulb and fuse set in metal case
· Frommer's G.I.'s Guide to Travelling in Europe paperback, copyright 1955
· Pair of genuine U.S. Forces in Germany 1955 license plates in unrestored mint condition
· Photocopy Porsche parts and service manuals
· Porsche Owners Club Troubleshooting Guide booklet
· 2001 Meadowbrook Concours program
· "New 2004, Old 356" calendar
· Clear Michigan title

"The large print giveth and the small print taketh away"- Tom Waits:
Please remember, this is a used car, which, as nice as it may be, is not prefect. I strive to deliver accurate descriptions, but it is possible to miss small deficiencies and will not be held liable for these minor misnomers. This vehicle is sold AS IS/WHERE IS and comes with no warranties, expressed or implied, whatsoever.
Known issues:
· Paint is very nice overall, with more than 14 years of careful maintenance
· Some nicks, scratches and other paint damage since older respray and subsequent driving
· 25mm diameter bubble in paint on top of right quarter panel. Not cracked, but fragile
· 30mm long scratch in front hood at right edge
· Small dent in right quarter, near bubble described above
· Hood has been "kinked," but is repaired and fits well
· Original glass has few scratches
· Safeview DOT windshield has very minor pitting, but no cracks or delamination.
· Some nicks in aluminum trim around windshield and rear window, but trim fits nicely
· Steering box leaks oil slightly. Box is currently full and operates correctly.
· Slight groaning noise on releasing clutch from a stop. Appears to be release bearing. Does not happen at other times or affect performance.
· Dash lights do not work
· Dome light does not work
· Turn signal indicator in stalk does not work. Bulb is good. Has power. Turn signals work properly.
· Choke/hand throttle is not connected, missing linkage
· Left sun visor lens is cracked
· Windshield washer missing tubing, but is otherwise complete
· Battery hold-down is solid, but not correct
Not included:
· "Continental" scripts
· Battery cover
· Tools, other than described
· Documents and records, other than described
· NO ADDITIONAL PARTS INCLUDED
· NO PARTS AVAILABLE THAT ARE NOT IN PHOTOS, SORRY

Pre-purchase inspection is welcomed. Please contact me through "Ask a question" to arrange inspection and for any additional information.

Offered with realistic reserve. There is no "Buy It Now" price. Auction will not end early. Car will be sold to the highest bidder.

Terms:

Buyer is responsible for vehicle pickup or shipping.

$1000.00 deposit required within 48 hours of auction close.

PayPal accepted for deposit, only.

Payment methods accepted:
-Wire transfer in US funds.
-Cashier's Check (certified from US or Canadian bank) or money order.
-Cash (in person).

PayPal not accepted for full purchase payment.

Vehicle and title will be released to the buyer only after funds clear. There will be no exceptions.
Bid with confidence! See my 100% positive feedback.

PHOTOS: There are more than 200 photos below. Please allow time to load on slower Internet connections.

You can also Click here for high-resolution slideshow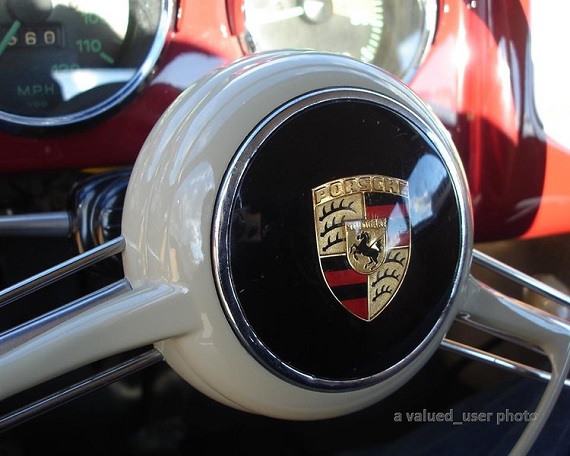 The seller has provided a wealth of information and pictures for what appears to be a well-sorted restoration. It's not pristine concours level, but still seems quite good. Even better, the reserve on this auction has been met. These cars saw a large bump in value a few years ago and while they have since stabilized somewhat they are still sought after by many collectors. With bidding currently at $76,600 this car is at an interesting price. Hagerty values a 'condition 1' example around $130,000 so with a little work there may be a nice uptick in value potential here.
-Rob