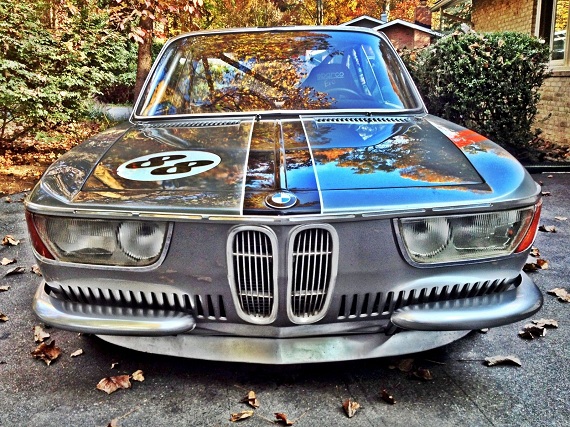 While BMW was a well-known name throughout Germany in the 1960s thanks to their prolific motorcycle history and pre-War exploits in the Mille Miglia and other sports car races with the 328, outside of Germany they remained fairly unknown in the 1960s. Indeed, in the late 1950s or early 1960s, if you asked someone to identify where the kidney grills belonged in Britain, they'd probably point you towards the BMW-derived Bristols of the day – straight copies of some of the first post-war BMWs, right down to the grill. So in the 1960s and 1970s, BMW went racing to try to spread the reputation of their engineering out of motorcycles or perhaps some veiled World War airplane references with their "New Class" sedans. It was independent tuners like Schnitzer and Alpina that first really started to get the small sedans noticed in Touring classes. While the large coupe based upon the New Class design wasn't raced much in its day – efforts instead focusing on the smaller, lighter and similarly powered sedans – it's none-the-less exciting to see a 2000CS that has been modified in the style of the period racers: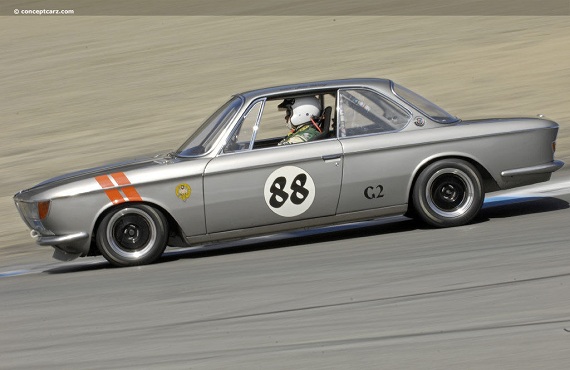 Year: 1967
Model: 2000CS
Engine: 2.0 liter inline-4
Transmission: 5-speed manual
Mileage: "100" mi
Price: $58,000 Buy It Now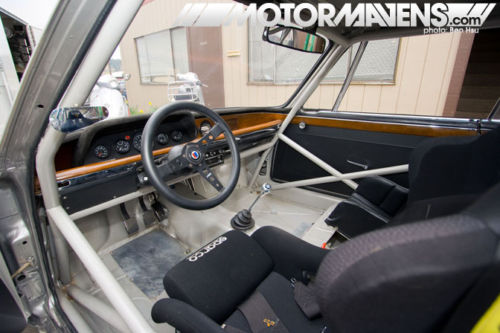 1967 BMW 2000CS VINTAGE RACE CAR

This truly extraordinary, one-of-a-kind, no expense spared, hand-built, 1967 BMW 2000CS vintage race car was often the most talked about car on the track as it campaigned successfully at the Monterey Historics, and other vintage races across the Pacific Northwest from 2007 to 2011. This car was restored, prepared, and maintained by the vintage race specialists at Racecraft in Woodinville, WA, who are widely lauded for their attention to detail and craftsmanship. Over $200,000 was invested in the development of this vintage racer and its SOVREN Vintage Motorsport Logbook Number 1111 fully documents its 18 racing event history. A selling price of $58,000 puts you on the track at a fraction of the net worth of this remarkable racer.

The BMW 2000CS is the little-known grandfather of all modern BMW coupes, pioneering many of the design elements seen in BMW cars through the present day. The striking wraparound headlight and tail light assemblies, sleek roofline, famous Hofmeister Kink, and other design elements have proven to be timeless – the use of a single flush headlight wraparound glass enclosing high and low beam reflectors (while originally criticized by the American press) proved to become integral to all BMWs today. Also noteworthy is that Alpina selected the BMW 2000CS as one of its first tuning projects – AT 2000 CS – the first according to some accounts. (This car is not a documented Alpina car.)

This truly remarkable vintage racing BMW – perhaps one of the most remarkable ever offered for sale on eBay – is one-of-a-kind, and one of the most unique BMWs in the world. It will compliment any collection – manufacturer, tuner, and private alike, and will certainly appreciate in value as the 2000CS eventually claims its rightful place in automotive history as the car that led BMW down the road toward its legendary status as The Ultimate Driving Machine. The car has a fresh 200HP Terry Tinney motor with less than 100 street miles. The car's finish is exquisite throughout, maintained impeccably through its racing career, and with the front fascia having been refreshed after its final race. Click the links below for articles, videos, and a slide show of the car build:

Motor Mavens Article: "Carspotting BMW 2000CS" By Ben Hsu

Carma Article: "Monterey Historics – Awesome Alpina"

2011 Monterey Historics In-Car Camera Video

Flickr Racecraft Build Slide Show by Jim Froula

The following is a listing of modifications made while building the car into a vintage race car:

Electrical System
– There is a panel mounted under the stock heater controls on the dash, this panel has a row of circuit breakers that protect everything in the electrical system. There are no fuses, these breakers can be tripped manually by pulling the button and reset from a tripped position by pushing them.

Rear suspension
– The rear brakes have been converted to 320i backing plates, shoes, drums, etc.
– The rear axles and CV joints are a combination of 2002 and 320i units to get the length just right.
– The rear cross member has been modified to mount a 2002/320i rear diff assembly, the unit in the car is a limited slip 3.9 ratio.
– The trailing arm mounting points are custom made to allow for caster and camber adjustments
– The upper rear spring mount have been removed and threaded collars have been added with rear spring adjuster cups for ride height adjustments. The mounts are tied into the roll cage.
– The shocks are Bilstein sports, non-adjustable

Front suspension
– The front struts are the original ones from the car cut down for Bilstein sport inserts, coil-over adjustable spring perches and camber plates have been added. The front brake calipers are from a '92-'94 Toyota 4-Runner with custom made 2 piece front rotor and hat assemblies. The hubs and bearings are stock.

Transmission
– The trans is a Getrag 245 close ratio unit with a "dog-leg" first gear and 1:1 ratio 5th gear.
– There is a custom transmission mount
– The flywheel is a JB Racing aluminum unit with uprated E30 M3 clutch.
– There is a Tilton internal slave cylinder that operates the clutch.
– The driveshaft is custom made to the correct length and to mate the close ratio transmission to the 320i rear diff.

General Items
– Ron Davis aluminum radiator
– MSD distributor and street fire ignition
– Canton remote oil filter
– Earl's oil cooler
– Modified 2002 Stahl header
– Fuel Safe fuel cell (2005)
– Sparco driver's seat
– Sabelt harness
– SPA dash gauges
– 14×7" 3 piece Kodiak wheels
– Toyo R-888 tires 205-50-14
– Momo Prototipo steering wheel
– Pheonix Halon fire system
– Odyssey battery
– Carter electric fuel pump
– Filter King regulator/filter
– Acrylic windshield, side quarter windows and rear window
– Custom aluminum door panels, dash panel, etc.
– Custom made fiberglass front and rear bumpers
– Fully powder coated underbody, engine bay, interior, and trunk (all non-painted body components are powder coated)

This car is being offered for sale through multiple channels and the seller reserves the right to end the listing early. Seller will work with international buyer's shipping agent of their choice – shipping is at buyer expense and risk. Thank you for reviewing this extraordinary, one-of-a-kind, hand-build 1967 BMW 2000CS vintage racer.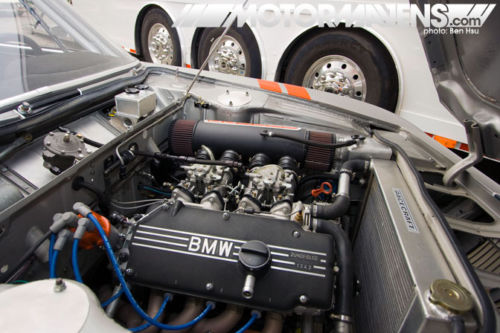 This project was obviously one of love, and overall the build looks great. There were some interesting solutions to the problems here; needing larger front brakes, they turned to a Toyota 4runner. It's a bit unorthodox, but in many ways building a race car calls for creativity on behalf of the builders, so to me this doesn't take away that much. Getting into a car like this introduces you into the world of vintage car racing; a costly, but unbelievably cool world. How often could you say you were on track with multi-million dollar Cobras and Ferraris? In that light, the 2000CS is a bargain opportunity, a stepping stone into a world of much more valuable possessions. Unfortunately, the 2000CS isn't the most appealing vintage BMW racer; unique, without a doubt, but not what most people would associate with the marque. If you really want a talking point and to stand out from the crowd, look no further. However, the price – while it likely does only represent a fraction of the amount "invested" (read: spent) on this car – is such that you could get into some period-modified 1602s or 2002s for less. Someone who really, really loves the big coupes, has a large amount of disposable income and wants to vintage race is the target market, and that person is going to be a hard find.
-Carter