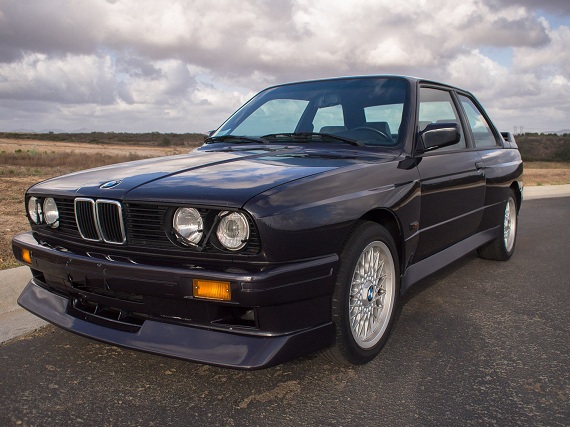 I've said it before, and I'll say it again – I generally try to stay away from the E30 crowd, mostly because I really don't think the current values on the M3 are justified. For under $10,000, it was a great track car. For under $20,000, it was a great occasional driver and memory of fun times in the DTM. At $30,000, it starts to become a show car that you're not willing to drive to the store. Past that, it's pure speculation and there seems to be no end in sight. Likely, that won't be the case but if the Hemi bubble taught us anything it is that there will always be something new for people to latch on to. Of course, I watched a Mecum auction this past weekend and saw a Hemi Barracuda hammer for a few million dollars, so I guess the market on those cars still hasn't returned to anything resembling normal.
Will the E30 M3 drop back down? Well, it can't stay on this trajectory for long, that's for sure. Cars have tripled in value in the past two years, a trend which is simply unsustainable. They're no longer values – they've become the absolute top of the 1980s BMW market outside of the ultra-exclusive M1. And why? Don't get me wrong, the E30 M3 is a cool car. But exclusive? They made 16,000 of them, for goodness sake. Compare that to some other notable BMWs – 450-odd M1s, about the same amount of pre-war 328s, or 250 507s. To put that even into more perspective, BMW made only about 6,000 E24 M6s and a scant 2200 E28 M5s. Rarity isn't on the side of the M3, but few have ever accused the automobile market or enthusiasts with any sense of sanity, so the climb continues. Now, in my mind there are some E30 M3s that deserve the attention and loftier prices, and the Evolution models have to be one of the most deserving. With a touch more power and a little less weight, the M3 Evolution was closer to it's track-winning relatives than the standard production M3. As they only made 500 of each run, they're rare to see – but the market is such that for some who got in at the right time, they've reached their stop on the crazy train: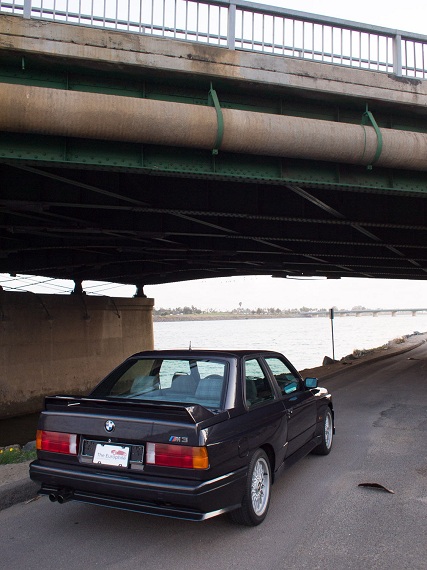 Year: 1988
Model: M3 Evo2
Engine: 2.3 liter inline-4
Transmission: 5-speed manual
Mileage: 104,000 mi
Price: $90,000 Buy It Now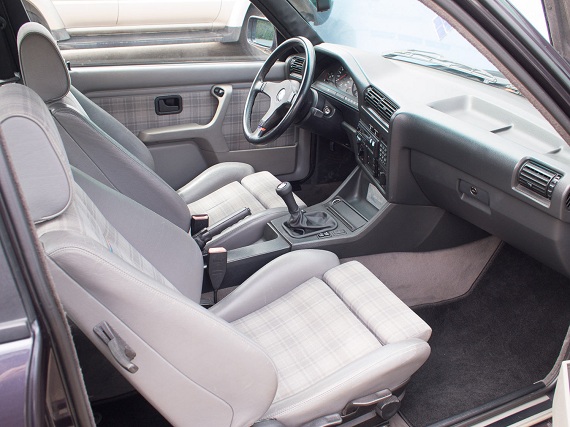 I know this will be a painful memory; but remember about 15 years ago when you could buy a 1973 Carrera RS for $45,000, or twice the price of a regular long-hood? And now the RS is worth $600,000 and a T is worth $60,000? Don't think of the BMW E30 M3 EVO2 as a car, think of it as a time machine which will allow you to make up for the buying decisions which rue your memory.

There were 18,843 E30 M3s made. But only 500 EVO2s. An excellent 100,000 mile E30 M3 is a $45,000 car and this EV02 is vastly undervalued at $90,000. In 15 years the EVO2 is going to be worth $400,000, along with other medium priced 80s and 90s exotica like the Porsche 964RS and Audi Sport Quattro.

Any one of the 18,843 production E30 M3s will draw thumbs upward. But there were simply too many to ever become precious. There were 1023 Aston Martin DB5s, 106 McLaren F1s, 970 Ferrari 275s, 1400 Mercedes Gullwings and 337 Porsche 959s. These are the benchmarks of collectibility and none of them would be worth a million-plus, if 19,000 of them were out there.

To give another example, you can buy one of the 21,542 Alfa Romeo Sprint GTs made from 1963-1966 for $35,000. But if you want one of the 500 Sprint GTAs, homologated for racing, it will cost you $700,000. I was recently driven over a mountain road at 10/10ths and 8000 rpm in a GTA, that was purchased by its driver in the 80s for $6000. Don't you want to be that guy?

Let's discuss the EV02's base car, the M3. I like everything about it, including the shape of the letters themselves. M stands for Motorsport, and the M3 was built to race. It is what the cognoscenti call a homologation car. Ho-mol-o-gation. In the 1980s, BMW wanted to win the DTM (Deutsche Tourenwagen Master) racing series. They needed a racing engine, wider wheels, stronger suspension, better brakes, quicker steering, close-ratio gearbox and aerodynamics to press the tourenwagen to the tarmac. In order to be considered a production car, 5000 examples had to be built. And build them they did, winning the World, European, British, Italian and German championships.

The aesthetic effect of which transformed a Twiggy of a car into a Marilyn Monroe, with a voluptuous hourglass, and a rear spoiler that draws stares. And because the car is a homologation, the large flares and shapely rear end are natural, without any of the cheap perfume and burning rice of aftermarket body kits.

Every year in racing there is an evolution of the cars as builders learn what wins and adapt the cars to do so. But these EVOlutionary changes require only 500 cars to qualify. There were three EVO M3s built in 1987, 1988 and 1989. The EVO1 is indistinguishable from a production M3 except for a slightly modified head that produces no additional power. The EVO2 is the Goldilocks of the range, with significant mechanical, aerodynamic and visual modifications. The EVO3 or Sport EVO is most valuable, with a 2.5 liter engine upgrade and 90s style seats and suede. In total, around 1500 EVOs were made. The EVO1 is for those who want to buy the name, the EVO2 is like a Carrera RS, and the Sport EVO is the Carrera RS Lightweight.

An EVO2 looks even better than a Neanderthal M3. The front spoiler is noticeably extended. What it lacks in proportion it makes up for in distinction, like adding as ascot to already shapely neck. Brake ducts supplant foglights. The EVO2 wheels are Goldilocks plus-one 16s. Fifteens are runtish, and 17s stancish. A cammy, highly-compressed, freer-breathing engine painted white, red and blue. Headlight wipers like Cara Delevingne's eyebrows. Tartan seats like a John Holmes' kilt. A plaque to make you proud. And rear headrests to keep your kids from snapping their necks; because those smart enough to buy an EVO2 should propagate their genes.

It not only looks, but drives better. Thinner glass and lighter bumpers and rear deck drop the weight a shruggish 22 pounds. But thinner glass is just cool. Every panel that reduces weight is EVO bespoke and therefore super-bitchin. If you are used to a U.S. M3 with sunroof and air-conditioning its like your wife returning from Canyon Ranch in sized down skinny jeans.

So she is a bit lighter, and about 10 percent more powerful at 220 horsepower. Higher-compression pistons (11 vs 10.5), bigger cams (264 vs 248), stiffer valve springs, improved intake and little bit of chipping add 20 horsepower. Big deal, you may say. And sure, you could hotrod your M3, to go along with your SC powered Carrera RS replica. But it will never be an EVO2.

The flywheel is lightened, which in terms of feel, makes as big a difference as the engine work. At idle it's has a little more clatter, which combined with the lope of the cam, alerts your senses, like a Kudu hearing the purr of a Lion under a Serrenghetti moonrise. Because of the flywheel, the engine feels like its spinning up in zero-gravity field, rather than a vat of syrup. And once it comes on cam at 5000 rpm, it rips to 7300 with frenzied excitement.

What's more fun; galloping and jumping a whipped pony over a felled tree, or nonchalantly stepping over it in a Clydesdale? Over-tired, magnetorheological-damped, turbo-torque-boosted, stability-controlled, automatically-shifted sports cars are boring to drive unless you are on track with systems off. Keeping up with the car in front of you is a snoozer. But try keeping up with a Porsche 991 in an E30 M3, and you'll be slotting a buzzy shifter, playing morse code with the redline, and steering with the vibrating accelerator. Heel-and-toe before the corner, keeping the engine on cam, with an entry speed high enough to chirp the front tires, snap the throttle and come out of the corner with a hint of opposite lock and rear wheels slipping their angle. Up ahead, the guy in the 991 is texting.

For Americans, an additional benefit of the EVO2 lies under the right hand, which shifts a Getrag, close-ratio, dogleg gearbox. I like everything about that sentence. Getrag sounds like a the name of a dashing German Viscount. A close-ratio gearbox helps keep the peaky engine in its powerband during shifts, optimizes gear selection and allows the engine to reach redline in 5th gear. Dogleg gearboxes suck if you live in LA, but rule if you drive in the curves. Once you're out of first, the most important shifts, second to third and back, are in a straight line. And a dogleg gearbox is inherently chic, unlike our hickish, wide-assed, easy-listening, elephant-leg of a gearbox, which leaves fifth gear out in set-it-and-forget-itstan.

The brakes are the same as an M3, but are cooled by ducts where the fog lamps one lived. All brakes do is convert momentum to heat, and large rotors just soak up more heat before warping. Cooling ducts are a cheat that virtually increases the size of the brakes, like speeding up a computer chip by using a flash drive. The benefits shine under repeated hard braking, like on the track or when your Valentine One keeps going off.

The net effect of all these evolutions: lighter weight, bigger contact patches, more and freer power, better aerodynamics, braking, shifting and grip, make the EVO2 a viscerally more engaging drive.

The fact that your entry is welcomed by M3 sill plates, your foot is braced upon a M footrest, your torso gripped by Motorsports fabric, back branded by tricolor seat lapels, and eyes shaded from the glint of an EVO2 plaque, distinguishes the experience from a normal M3.

EVO2 number 463 is a French car purchased in Belgium with 104,000 extensively documented and well maintained miles. I repainted the front and rear spoilers and deck, which is prone to failure. The interior is excellent and original, benefiting from a gentle, garaged patina on the grey leather that bolsters the cloth seats. The color is Macau Blue, named after the Macau Guia Touring Car Race, held on the streets of the Chinese Las Vegas since 1954. BMW won in 1987 and 1988 in M3s and adopted the name for the beloved Motorsports-only color.

It has hints of purple when the sun is highest, fading to navy when it's lowest. The EVO2 was available also available in Misano Red and Nogaro Silver. But the Macau Blue goes best with the silver cloth and leather interior. Red on silver? I don't think so.

The paint is mostly original, with a deep shine spiced by light peppering on the places where one would now put Clearbra. If you run on the Autobahn, trucks will fire debris at the rotational speed of their tires, chipping windshield and bonnet. I think of the patina as characterful, like a man in dinner jacket and eye patch, who turns to reveal a thin, cruel dueling scar; evidence of a life well lived.

I purchased the EVO2 in Belgium and drove it for several days through the Netherlands and Germany. It was in very good, original condition. But it took six months and around $20,000 in travel, shipping, mechanical, painting and detailing to bring it to the condition it is in today.

It comes with extensive documentation that can be viewed at the link above, French title, and complete EPA and DOT paperwork.

EVO2s did not have a catalyst and hence you if you are in a state which requires smog you would probably have to put on a U.S. catalyst, oxygen sensor and evaporative canister in the trunk. In California only, there is the additional cost of having the car tested at a certified laboratory, which costs about $2400.

But the costs are worth it. After all, who would want a Homo Erectus of an M3 when you could enjoy the EVOlutionary benefits of a Sapient plaything? Haven't any of you seen the movie Quest for Fire? Buy the only M3 EVO2 that has ever been for sale in the United States and drive it off into a sunset aglow with appreciation.

Spend $90,000 on a new Boxster and it will be worth half that in five years. Spend $90,000 on this EVO2 and in five years it may be worth double.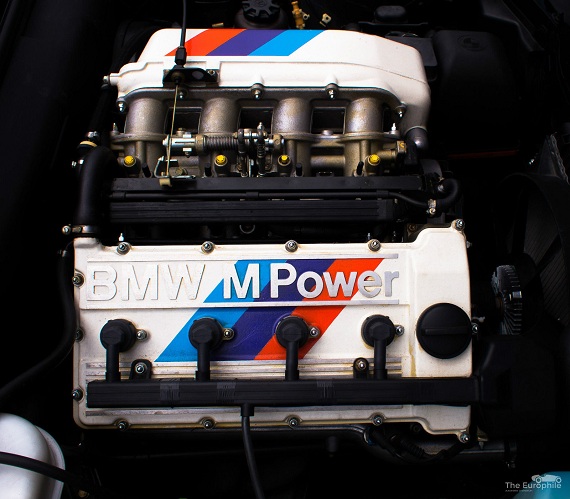 Aside from an overly thought out and entertaining description, there is indeed a lot to like here. If any M3 justifies a $90,000 pricetag these days it's one of these Evo models. Condition is overall excellent and it appears well cared for, though little actual history on this particular example is offered. While I doubt that anyone would consider this car a "deal", I think the seller's last sentence is probably the best summary of what some of these more exotic 1980s cars have become – investment opportunities rather than driver's cars. Do you want to add an E30 M3 to your stock portfolio? Congratulations, you've got a lot of money. Want to actually drive an impressive car with a warranty? Buy the Boxster. It's a tough choice, harder I think than it first looks. I doubt many are buying Boxsters to sit and look at them, to brag at shows they're sitting in the garage at home, snuggled in a blanket with two Rottweilers standing guard as you're afraid to put miles on/stone chips all over/get hit by some Camry or Maxima/advertise you have a car to be stolen in your M3. I both "get" why you'd want this car, and I very much don't get it. For the same money as this car, you could own a W124 500E, C4 Audi S4, E34 BMW M5, original Audi Quattro and have enough left to grab a cheaper Porsche Carrera 3.2 or 964. Would they be museum pieces? No, but neither is this car with 104,000 miles on the clock. Are they better investments? Perhaps in sum they might be, but more importantly you'd have a few cars which you could actually drive.
Imagine that!
-Carter