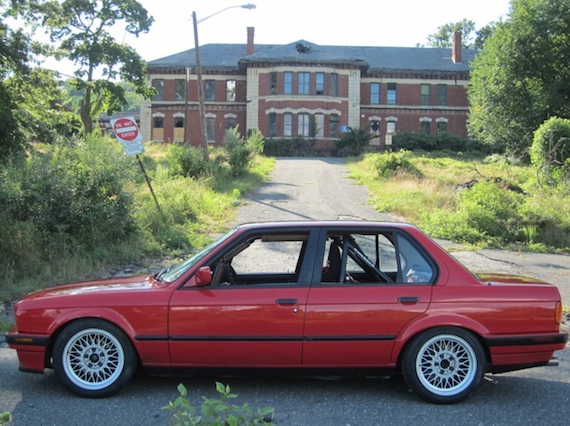 I feel sometimes that the BMW E30 3 series is kind of like the Mazda Miata of the classic German car world. It's the answer to almost every automotive question. Whether you want a modern classic to cruise in, a track day warrior or a practical commuter vehicle, there's an E30 for everyone. This particular one came to our attention via our friends at Classic Car Club Manhattan. One of their clients, Mike, has it up for sale. This is one sleeper of a 325i sedan, with an S50 3.2 liter engine under the hood. Want a dual purpose street/track day car? This would be an excellent solution.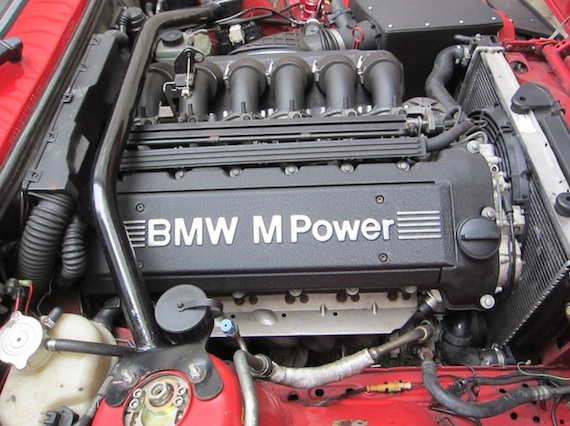 Year: 1990
Model: 325i
Engine: S50 3.2 liter inline-6
Transmission: 5-speed manual
Mileage: 210,000 mi on chassis, 10,000 mi on engine
Price: $16,000 OBO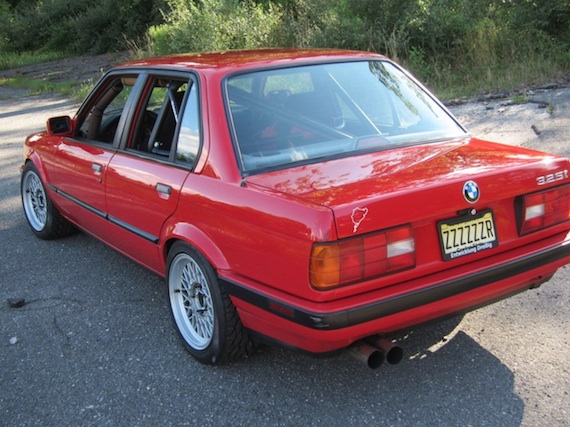 FOR SALE
1990 325i
Brilliantrot / Black
210K on chassis, about 10K miles on mechanicals
Drivetrain
Euro S50B30 bored out to a 3.2 with Group N cams. Dyno'd 275 whp with hot air intake in the summer. It has since been fitted with a Castro Motorsports CAI.
Motor rebuilt by Chris Fletcher – Chris was one of the master engine builders at Team PTG and now runs Fletcher Made Horsepower. Motor has less than 5K miles on rebuild.
Custom 3 inch exhaust from the downpipe back. No cats.
E36 M3 5 speed
E34 M5 3.8L clutch (4 years old, less than 10K miles)
Custom driveshaft
3.46LSD from an E28. Diff rebuilt by Guten parts last year and is tight!
E30 M3 finned diff cover
Custom cold airbox by Castro Motorsport
Suspension
Complete E30 M3 5 lug conversion
Fresh J Stock suspension from Turner Motorsports with 2 DE's on it.
Adjustable rear subframe by AKG Motorsports
Vorschlag adjustable front camber plates
Reinforced, big sway bars
Rebuilt E46 ZHP steering rack – 1 year old
Brakes
E30 M3 front and rear with Hawk HT10 pads (front pads are fresh)
Turner front backing plates for cooling hoses
Custom front cooling hoses and SS brake lines
ABS delete
Interior
Recaro SRDs
Safety Devices FULL cage
G Force 5 point harnesses with functional OEM 3 point belts for street driving
Alpina digital vent gauge cluster for oil pressure, coolant temp, and volts
E30 M3 tach for oil temp
All gauges and electrics work except check control and passenger rear window
Working A/C!
Wheel / Tires
Comes with 3 sets of wheels and tires
Set 1: E38 Basketweaves with fresh BF Goodrich G Force tires for street driving
Set 2: E30 M3 Basketweaves with Hoosier R6s for track (2 events)
Set 3: E30 M3 Basketweaves with Hoosier A6s for autoX (1 event)
Exterior
Shadowline trim by Guten
Mostly original paint and body work
Rear fenders rolled by me to accommodate 225/45/15 Hoosiers
Fog light deletes

There's probably a lot more I'm missing. I have well over $40K into this. I need to sell to fund my racing dreams. This is probably the best set-up E30 for both track and street driving. I've driven to / from DE's for the last 7 years and never had an issue. Very well sorted car that benefited from years of tuning and set-up. Asking $16K obo.

Contact:
Mike Kovac
917-374-3291
Euroe28m5@gmail.com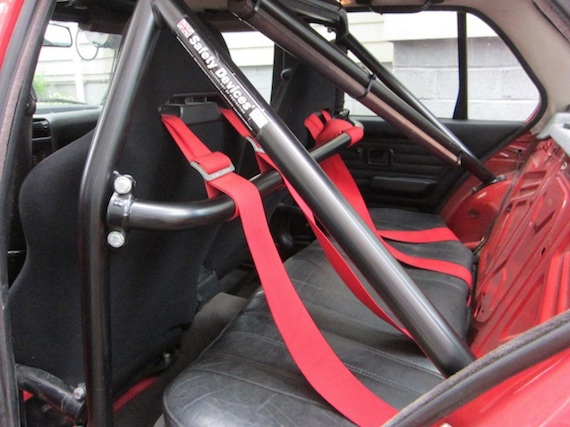 As a former E30 owner, I've satisfied a lot of my craving for one of these cars, but there's always a small part of me that wants another one. These iconic 3 series have become so collectable and talked about that I'm almost becoming numb to their allure given all of the ones we have covered at GCFSB. This one, though, grabs my attention. I've always had a desire to try my hand at some competition and I'm a sucker for a red 3er. Also, the purposeful stance on this one is just right. With the amount of modifications done to this car and the three sets of wheels and tires that come with it, it would be hard to replicate one like this for the price. Someone is going to have a ton of fun with this one!
-Paul