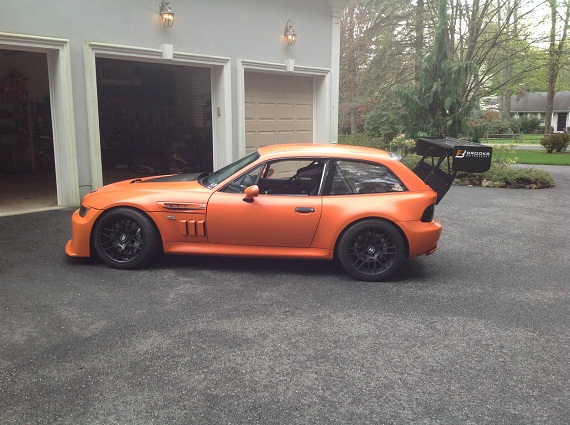 If I haven't previously voiced my displeasure with the "Lime Rock Park Edition" M3, allow me to do it now. On the face of it, it's something I should love – a track that I grew up with and still love to frequent, one of the most historic homes of motorsport in the country tied to one of the best German cars out of the box, celebrating a union with one of the best driving schools – Skip Barber. But the Lime Rock edition is more or less a special color (which, incidentally you can purchase at any point given enough money and checking BMW's "Individual" boxes properly) and a little track map of Lime Rock inside; you know, in case you forget where you are in the middle of the "Big Bend". The color, I'll admit, is pretty awesome to me and of course the competition package E92 was pretty amazing out of the box – but the premium demanded for these Lime Rock cars was simply outrageous in my opinion. What should the Lime Rock Park Edition have been, in my opinion? Well, I think the builder of this M Coupe got it right – stripped down for lower weight, big downforce and 100% more power:
Year: 2000
Model: M Coupe
Engine: 6.0 liter V8
Transmission: 5-speed manual
Mileage: 71,500 mi
Price: $45,000 Buy It Now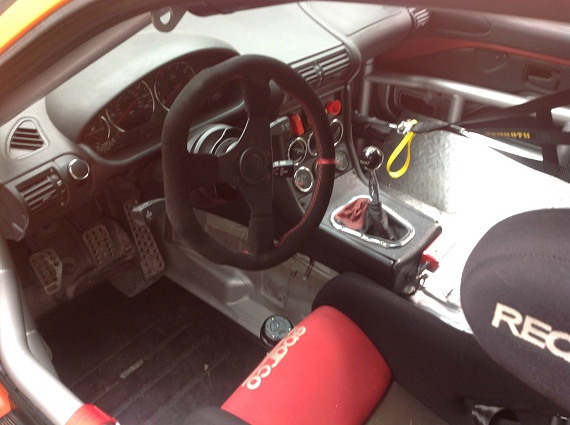 This is a BMW 2000 M Coupe with a Vorshlag LS2 Conversion. I bot the car in 2002 with 29000mi. It has 71500 miles on the body today and every bushing and seal has been replaced during the track build.

The carbon fiber hood, roof and bumper / splitter were made by Trinity Motorsports / Sean Bayliff who built the Cannon Ball Run s62powered M Coupe. The Cage and safety preparation was done by Deman Motorsports ( Grand Am and Tudor GS wining Race Team). The LS2 motor and T 56 Transmission has 30,000 miles on it. The conversion was done with the best of parts through Vorshlag in Dallas. TX.

The car was tuned by Chuck Cow of Corvette of Westchester and puts down 425 RWHP / 440 tq with cam, headers, hi flow ceramic cats and custom exhaust installed by Rogue Engineering.

Every window is custom molded lexan except for the windscreen. car comes with 2 sets of wheels. I set of ARC and the other VSL. Brakes are from C6 Grand Sport with 2 piece rotors.

Suspension has custom valved Koni ( recently rebuilt ) to match springs. Front control arms are from SLR. All bushings have been replaced with either heim joints or 75d hard poly. The rear wing is a Brooks Elite.

No expense was spared in this car. If you are looking for a real drivers car that is light, sorted and has a fast and reliable power train married to a unique platform…then you are looking at the right car.

I think you get the point. Car weighs 2700lbs and has 425 at wheels. Tons of grip and aero. Auto-x, Time Attack, HPDE what ever your passion.

Buy this car for a fraction of what it would cost to build. I an setting at a reasonable reserve price. Its worth every bit of 80k+ to build a car like this plus 100 of hours in sourcing the materials and planning the build. There is not a scratch on the car. But it is a track monster and should be purchased for that purpose only.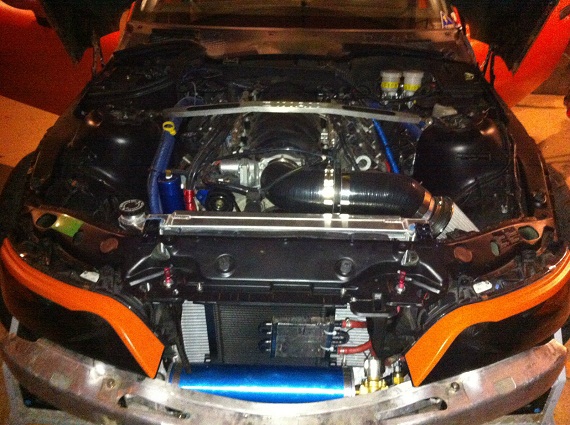 Ever see a car with a giant rear wing and think "that's totally unnecessary!" Not here, my friends. The M Coupe – already known for being more than a tad on the oversteering side, is planted to the ground with the help of that wing. Considering the additional horsepower and lighter weight, I'd wager that I wouldn't want to take it off to see what happened in the middle of "The Downhill" with the throttle planted. Already potent in stock form, the loss of weight coupled with the doubling of power must make this car an absolute monster – but the GM pieces, if anything, help to keep costs much more reasonable. The build has some of the best names in the business attached to it, and I can certainly see where the high quoted numbers come from. Outside, the vinyl wrap is – to me- the perfect shade of outrageous and just enough like the LRPE M3 to make me smile. $45,000 is an awfully large amount to pay for a stripped M Coupe; but consider that it's about half the price of an equipped M3 LRPE and it's not so horrible. You'll scare everyone this side of a well driven GT3 (including yourself) and short of formula cars, I'm not sure it's possible to go any faster than this cheaper. Kudos to the builder for what appears to be a very impressive car – one that is unlike to generate anything other than smiles on the new owner's face.
-Carter