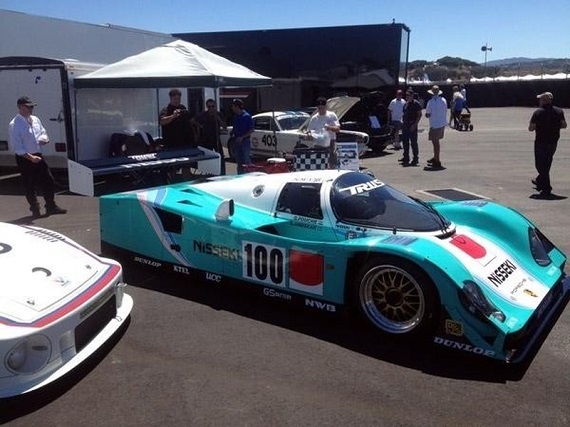 When pondering this Porsche 962, I couldn't help but try to analyze why I romanticize about the Group C era so much. For the best part of a decade, if you wanted to win in Group C, there was really only one car to drive – the Porsche 956/962. Sure, there were inter-team and extra-team battles between full factory and privateer efforts, but let's just say that the diversity at the end of the race was not particularly staggering. Then there was attrition; both with cars and drivers, as this seriously dangerous time period moving heavily into aerodynamics revealed the fragility of not only the engineering, but the humans that attempted to control it. Yet, combining some great liveries, a swoopy, low-slung body, some gold BBS magnesium wheels (or better yet, the BBS Turbofans!) is still the most iconic period in endurance racing in my mind. This is somewhat ironic, since with the WEC today we're witnessing what is arguably the best racing the series has ever seen with the fastest endurance cars ever produced; often in the 1980s, it was who made it to the end without breaking, crashing or running out of gas. But today, it's an all-out 6-24 hour sprint as Porsche, Audi and Toyota take three different ethos of building and designing a "hybrid" car and bring them to fans attention. Spectacular? You sure bet it is, and there's no guarantee of who will win. Yet, when my eyes flash across a 962, I get a flutter in my heart that I just don't feel looking at the new generation of cars: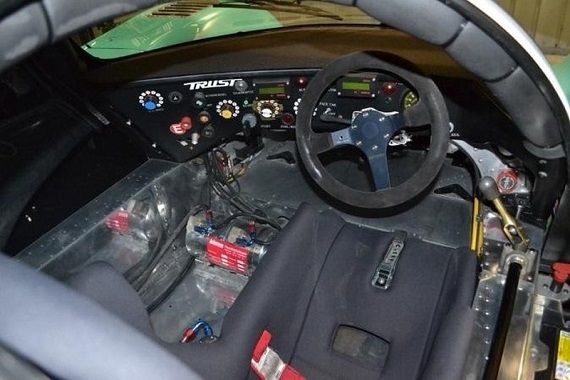 Year: 1987
Model: 962C
Engine: 3.2 liter twin-turbocharged flat-6
Transmission: 5-speed manual
Mileage: Not Listed
Price: $975,000 Buy It Now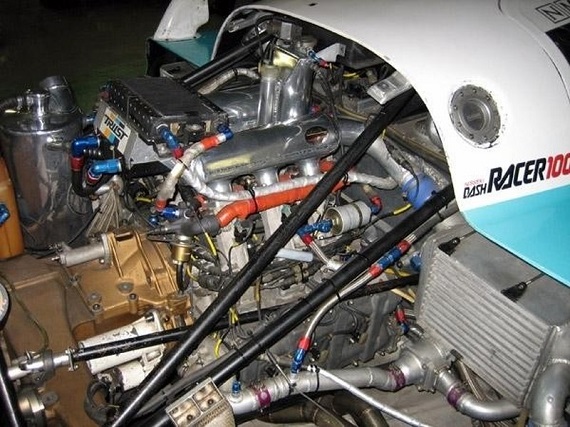 1987 PORSCHE 962-106B

1987 PORSCHE 962-106B

EXTREMELY RARE

ALL TRADES CONSIDERED

WE CAN OFFER FINANCING OR LEASING

The 962-106B offered here hails from the heritage of Richard Lloyd Racing with the monocoque designed by Nigel Stroud.

Modified in 1987 and 1988, the model's chassis featured noticeable differences from its factory brethren including a complete redesign of the rear, such as the rear wing no longer being part of the long tail bodywork covering the sides of the rear wheels.

Further modifications were made to the front as well – the fenders and nose were rounded off, front brake cooling ducts were relocated towards the center of the car, smaller headlights were included, the central gap on the bottom of the nose was filled in and an extended splitter was added to aid front downforce.

The 962-106B chassis was first raced in 1987 by RLR but the car crashed in 1988 and changed monocoque. As a result, there are two 962-106Bs currently in existence – one crashed and out of commission, the other raced by Nisseki Trust Team in JSPC, continuing the career of the crashed car.

The car offered here is presented in the configuration as it last competed in the 1991 Japan Sports Prototype Championship.

This car contains the replacement chassis for the car crashed in 1988.

The 4V water cooled 3.2 twin turbo motor was rebuilt by Andial in period.

According to the records from the trust team, the engine has over 4,000 km left on its rebuild schedule. All suspension parts are from the original RLR 962GTi-106B, the front body and rear body are both RLR Trust parts.

The following race history is attributable to this chassis which retains the VIN plate of the original RLR 962GTi-106B:

1989 FIA WSPC 4/9 Suzuka 13th RLR TRUST NISSEKI
1989 JSPC 4/30 Fuji 2nd TRUST NISSEKI
1989 JSPC 7/23 Fuji 2nd TRUST NISSEKI
1989 JSPC 10/8 Fuji 2nd TRUST NISSEKI
1989 JSPC 12/3 Suzuka 5th TRUST NISSEKI
1990 JSPC 3/11 Fuji 3rd TRUST NISSEKI
1990 FIA WSPC 4/8 Suzuka 7th BRUN TRUST NISSEKI
1991 FIA WSPC 4/14 Suzuka 8th COURAGE TRUST TAKASU CLINIC
1991 JSPC 5/5 Fuji 4th TRUST NISSEKI
1991 JSPC 7/21 Fuji 5th TRUST NISSEKI
1991 JSPC 8/25 Suzuka 5th TRUST NISSEKI
1991 JSPC 9/15 Sugo 4th TRUST NISSEKI
1991 JSPC 10/6 Fuji 5th TRUST NISSEKI
1991 FIA WSPC 10/27 Autopolis 8th COURAGE TRUST NISSEKI
1991 JSPC 11/3 Sugo 7th TRUST NISSEKI

The car was retired in 1991 and placed in storage with the original patina from its days as a front line racing car and acquired by Jun Harada, a Japanese collector.

In turn, the NTR 962-106B was acquired in August of 2012 from June by its current owner and arrived at Retro Sport in October 2012.

Restoration

After being thoroughly studied and inspected, including having over 2000 detailed photographs taken, 962-106B was stripped down to its bare chassis in preparation for full mechanical and cosmetic restoration.

The following work was done on this car at Retro Sport:

Chassis

• ECU and DCU – test and replace batteries

• Rear suspension – completely disassembled and rebuilt

• Uprights – Disassemble, crack check, repack bearings and reassemble

• Wheel Bearing – Machine new spacer rings for proper bearing clearance

• Rebuild axles

• Brakes – R&R Calipers/Rotors, overhaul calipers, rebuild masters; weld brake bleeders for removal

• R&R Fire System – check extinguisher for proper weight

• R&R Fuel Pumps – test and replace three pumps

• R&R Fuel Cell – Re-seal and re-certification

• Cabin – Paint, R&R belts, refurbish seat; R&R pedals (crack check), check dash DCU function

• R&R Coolers – R&R oil, water and intercoolers (ultrasonic clean)

• R&R plumbing of entire car- pressure test, replace fittings as necessary

• Service all Wiggins fittings water pipes (weld on new fittings)

• Alignment/Setup

• Clean tub and polish

• R&R and overhaul turbos and waste gates

• Overhaul waste gate, grind valves, replace guides, refurbish door seals

• Weld new Wiggins Ferrules

• Manufactured titanium drive pins

• Machine bearing race spacers; replace wheel drive pins

• Machine & harden 962 hub bearing tool

Bodywork

• Photo document all aspects of graphics and paint schemes – create templates, diagrams, copies

• R&R windshield

• Sand and strip all body panels down to base material

• Fix and flatten all panels; fiberglass repair

• Prep – prime and block

• Paint underside of bodywork black

• Apply paint in multi-layered application process in order for all graphic elements, unmasking, cleaning, etc.

• Refurbish taillights

• Apply clear protective coating to two noses
• Paint 6 colors, vinyl graphics

Engine

• R&R Engine
• Clean, inspect, verify condition of engine
• Reverse engineer Dyno Harness and run Dyno Test
• Replace gaskets, seals, etc.

Gearbox

• Disassemble, clean and inspect gearbox

• Check 8/37 Ring and pinion – pinion depth, carrier bearing preload and backlash

• Replace transmission gasket set, ring gear bolts, locking plate, 962 carrier bearing, pinion shaft bearing – cylinder roller 915/930/962, mainshaft bearing – four point ball 930/962

Shocks

• Rebuild 4 shock absorbers

The restoration of its body, interior, chassis, suspension, brakes, transmission and electronics, was completed in the summer of 2014.

Porsche factory trained race technicians Ben Kirchner and Josh Raimond collaborated and designed a special wiring harness and dashboard to simulate the actual control panel of a 962 cockpit in order to properly dyno the engine.

The bodywork, paint, and graphics were completed to the same high standards as the mechanical restoration.

The car was unveiled at the Monterey Historics in the summer of 2014.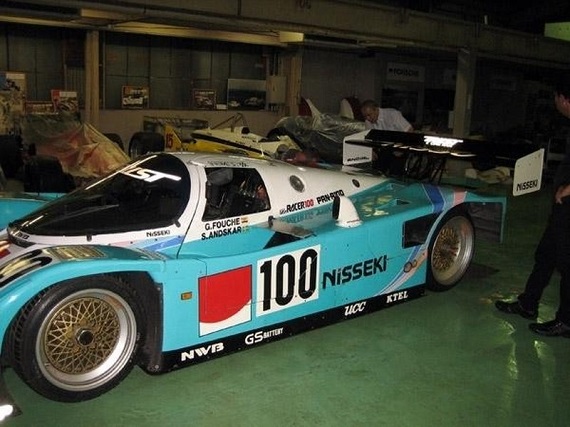 With Andial, Trust and Richard Lloyd Racing, you collectively have some of the most important names in Porsche Group C racing. The change in bodywork from long to short tail was all the vogue in the early 1990s, but in this case really makes the car appear more like a Jaguar than one of the legendary Porsches. Still, the paint scheme is one of my favorite and with a complete rebuild, this car is ready for action. That action will cost you an awful lot, as while there is an active community that races these cars in Historic events and purchasing this car would be an automatic invitation to every Porsche event ever, it'll cost you a reported $5,000 plus an hour to run one of these cars cheaply (factoring wear items, crew and rebuilds – not crashing!). That's on top of the nearly $1,000,000 purchase price. But it's an automatic members-only card into a historic period that defined Porsche's place at the pinnacle of motorsports, and still today – nearly 30 years after it was originally built – is one incredible racing machine that captured the hearts, minds and souls of a few collective generations of Porsche fans.
-Carter