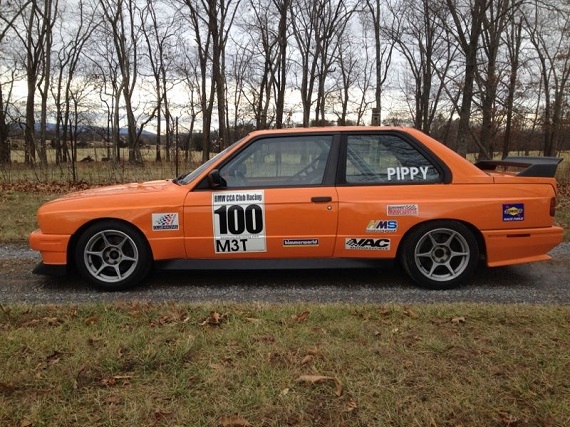 Remember 2007? I know, it doesn't seem that long ago, right? Yet, back in 2007 you could take a pretty nice E30 M3 and turn it into a race car, and no one would scream at you, call you bad names, or think you insane. That's because back in 2007, though many appreciated the E30 M3 it wasn't the superstar of the German car market that it is today. As a result, it was still reasonably common to see E30 M3s turn up at the track, and properly built they were still the match for many newer cars. A friend of mine moved from a 2002 to a M3 in the early 2000s; after an engine rebuild, he needed break-in miles on the motor, so at a Lime Rock Park event he tossed me the keys. Out on track, it took me approximately 3 turns to instantly feel comfortable. The poise and balance of the E30 was amazing, and though I couldn't use the upper range of the S14 and had to lug around one gear up from where the car should have run I was able to run down many E36 and E46 M3s without much difficulty. Coming off track, the owner was all smiles and laughing – "Imagine if those other M3 guys knew you were running a gear up!" he laughed. Today, E30 M3 racers may be one of the cheapest ways to get the M3 feeling – but while even the most nicely prepared ones were at most $20,000 – $25,000 only a few years ago the market surge has reached even non-street legal cars: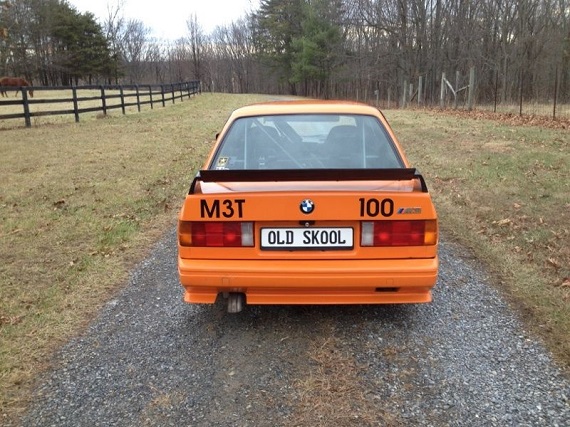 Year: 1988
Model: M3
Engine: 2.3 liter inline-4
Transmission: 5-speed manual
Mileage: 132,000 mi
Price: Reserve Auction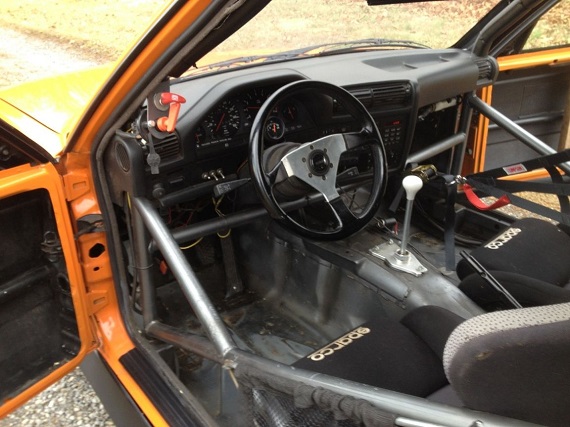 1988 BMW E30 M3. Car comes with a 132k mile, rust-free chassis; clean VA title; and new (1.5 break-in hours) 2.3l S-14 engine built to BMW CCA Club Racing M3T specs. I have owned this car since 2005, and converted it to a dedicated race car in 2007 (I have all important receipts and documentation). Currently set up for the M3T Class in BMW Club Racing. Car is very competitive! Won two BMW Club Racing M3T National Championships in 2011 and 2012. Representative tack times are: 1:24 at Summit Point; 2:13 at VIR; and Watkins Glen. Car comes with 2 logbooks and, will include new 2015 Annual Race Inspection.

Chassis

· Light weight front bumper with EVO II chin and rear spoiler

· Lexan windshield

· Lightweight Odyssey battery

· Empty weight: 2400lbs

Interior

Piper roll cage

Doors gutted

Sparco race seat w/brace

AIM Solo lap timer and data logger

Momo steering wheel and Wink mirror

VDO Oil pressure and AFR gauges

Current seat harness and window nets

AKG shifter with DSR linkage

SPA fire system; engine kill switch; and AMB transponder

Engine

· New 2.3l S-14 motor

· Weisco 11:1 CR (94mm) pistons

· Schrick 284 / 276 cams with adjustable timing gears

· Eibach racing valve springs

· ARP rod bolts

· Lightweight under-drive pulley set

· Moroso large capacity oil pan

· VAC oil pump upgrade

· BMW M5 oil cooler

· Spintech custom 3" oval race exhaust

· SPAL electric fan

· AKG delrin motor mounts

Driveline

· BMW Dogleg transmission

· New JB aluminum flywheel

· Clutch Master clutch and pressure plate

· BMW Group N transmission mounts

· 3.73 built differential w/large finned diff cover

· E-36 M3 steering rack (power steering deleted)

· Kosoi 8X15 wheels w/ Hoosier 225/45/15 R6 tires)

Suspension

· Koni double adjustable shocks

· Eibach Springs

· Vorshlag camber plates

· Suspension Technique F&R sway bars

· Racing Dynamics F&R strut bars

· Ireland Engineering adjustable rear trailing arms

· Delrin bushings throughout

· All welding reinforcements performed

· Wheel studs

Brakes

· Performance Friction front and rear race pads

· Stainless steel brake lines

· Brass caliper guide pins

· Brake ducts

Spares

· 2 extra sets of tires and wheels: Hoosier Wets (1 race); and Toyo RA1 (practice tires)

· Sparco passenger seat with new harnesses

· New front rotors and front wheel bearing (still in box)

Contact: Dennis 703-509-4727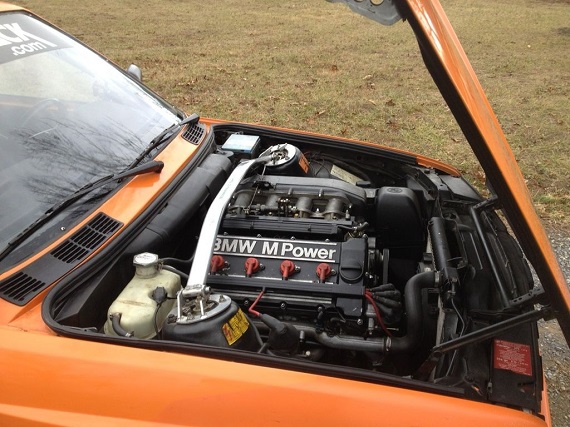 This car is certainly competitive having been a previous champion, however keeping these S14s in top competitive shape can be a very expensive proposition. Still there's a lot to like in the build with top-notch components. The outside is perhaps the polarizing part, but perhaps if you added some Jagermeister decals it would look slightly less outlandish in orange. Bidding has been active and strong having already passed $17,000 with two days left and the reserve still on. I openly wonder at what point the value on E30 M3s will reach a point where, as has happened with some 911s, they'll start to be converted back to road use. Hopefully this one sees more time at redline than it does at shows!
-Carter