Warning!
This post is in our archives. Links in this post may have been updated to point to similar cars available to bid on eBay.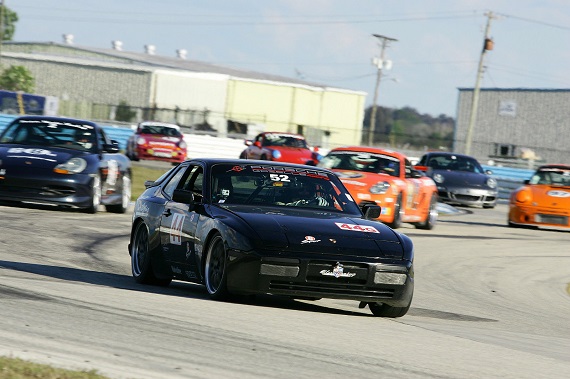 Without a doubt, for many years my favorite sleeper deal in the realm of factory Porsche race cars was the 944 Turbo Cup. Constructed for one-make support races around the world, the Turbo Cup model has some really neat features – notably, the inclusion of a healthy amount of magnesium to help lighten the car, plus a bit more boost to motivate it. For some time, 944 Turbo Cups were just downright cheap for a full factory racer, but recently they've spiked up in value and are now pretty much out of the reach of most mortals. Of course, if you're willing to forgo the factory Cup build status and a few of the more pricey magnesium details like the original wheels, you can still find great track or race bargains in the 944 Turbo: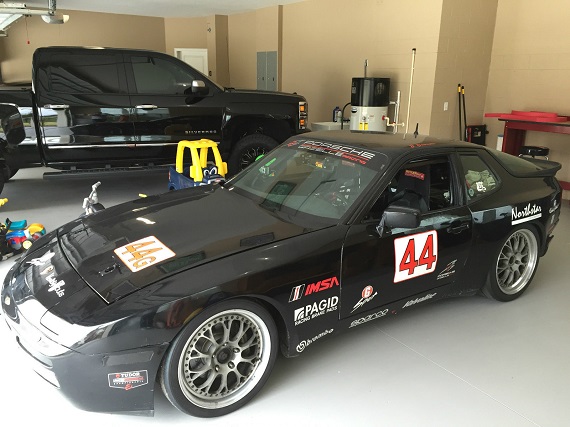 Year: 1989
Model: 944 Turbo
Engine: 2.5 liter turbocharged inline-4
Transmission: 5-speed manual
Mileage: Not Listed
Price: $29,995 Buy It Now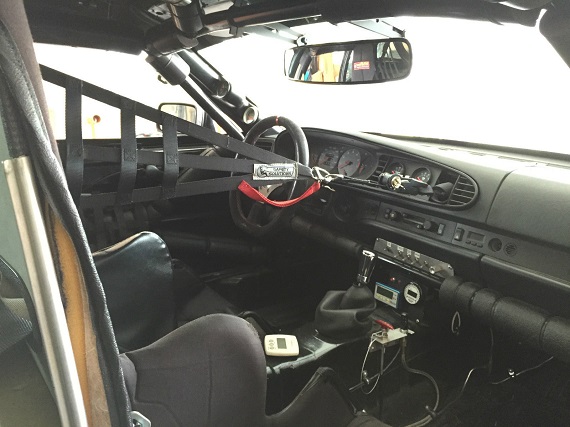 In 2010, I converted my 944 Turbo S to the Turbo Cup spec for G-class in PCA. The car was stripped to the base chassis and completely rebuilt. Pretty much every gasket, bushing, bearing and bolt. I have a box of receipts from 2009 to current. Car comes with title.

Car holds many class wins at Road America, Sebring and Mid-Ohio. It also currently holds the lap record at Mid-Ohio in G class. You can see the full race history at http://rennpoints.com/driverhistory/?racer=684

Car comes with a very extensive spare package detailed below.

2.5L 944 Turbo Cup Engine

Complete rebuild 43.5 hours ago (new gaskets, rings, bearings, machine work, etc..)
All engine machine work performed by Apex Automotive in Bensenville, IL
Honing, balancing, magnaflux, crank polish, etc..
Rod and main bearings replaced 7 hours ago
Lindsey Racing level 1 head with steam vent kit
Rebuilt K26/8 Turbo w/ Lindsey turbo filter kit
Lindsey Racing Big oil cooler
Turbo Cup magnesium air intake
Turbo Cup DME & KLR chips (1 bar boost)
Oil pan baffle
A/C delete
Valvoline VR-1 Oil always used and changed every race weekend

Transmission

Complete rebuild by Midwest Eurosport (synchros, gaskets, etc.)
LSD rebuilt by Midwest Eurosport
Amsoil always used

Drivetrain & Body

Black Sea Development rebuilt torque tube
GT Racing fiberglass rear bumper
IFC Racing Fiberglass front hood
Lindsey Racing Motorsport axles
Lindsey 3pc crossmember
Lindsey Racing Ultra engine mount
Lindsey Racing solid trans mount
Turbo Cup front strut brace
Rebuilt manual steering rack w/ new tie rods
AFR, Boost, oil temp, water temp, oil pressure gauges
Oil pressure alert light

Exhaust

Lindsey 2pc crossover (non-vband)
Lindsey 3" exhaust
Speed Force Racing stainless headers
Lindsey Racing club gate wastegate

Suspension

Bilstein 2way adjustable suspension
Ground Control camber plates
Fabcar control arms
Weltmeister sway bars
Lindsey Racing solid bushings

Brakes

Cryofrozen front slotted rotors
Pagid Black (front)
Pagid Orange (rear)
Rebuilt brake calipers

Safety

Custom roll cage with Porsche cup X-style driver door bar
Multi-zone extinguisher system
Dual side nets
Butler seats
Schroth belts

Wheels

2 sets of 18" Kinesis 3pc wheels with Hankook Z214 tires (used)
1 set of 18" 2pc BBS wheels with Hoosier H20 tires

Build Details

Engine
I pulled out the motor and sent it to Apex Machining, experts in 944 motors, to have it rebuilt. They are the same shop that does all of Midwest Eurosport's machine work. Very old school guy running it but has 45+ years of experience and the right tools. They started by cleaning all the parts and then magnafluxing and measuring everything to determine what needed to be done. They then began the machining process. They balanced the rotating assembly (crank, rods, etc..) decked the block, honed the cylinders (as you probably know few people have the correct equipment to work with Alusil), gaped the piston rings, etc…

Given Lindsey Racing is also very experienced in 944's I sent the head to them to have it rebuilt. Lindsey decked the head, installed new valves, springs, clips, etc.. They did not hone the ports as that is not allowed in stock class unfortunately. Im a stickler for rules so there is absolutely no cheating parts on this car. I never wanted to go home with a win knowing I had to cheat to get it. I also sent the K26/8 turbo to Lindsey to have that rebuilt too. I added a turbo oil filter kit to have some extra precautionary measures. Since all of this was being done I also did some precautionary things to help with potential oil starvation. As you know this is a hot topic with 944's with many different opinions of what causes it. I installed a oil pan baffle kit as well as had the crank cross drilled. I also replaced the stock oil cooler with the Lindsey big oil cooler. As an aside I always ran my oil to the very top level and installed a Saihou Michi oil catch can.

The motor was then reassembled using all genuine Porsche parts (gaskets, bearings, etc..). I did use the Lindsey racing piston rings as they have been found to be superior to the OEM ones.

After 35 or so hours I had some free time and decided to pull the oil pan and look at the rod and main bearings. None of them needed to be replaced as there were no signs of wear but I figured I had I apart so I might as well spend a few hundred bucks and do it. Easy insurance.

Transmission & Drivetrain
Just prior to me doing the complete rebuild I pulled the transmission and sent it to Midwest Eurosport to be rebuilt. They torn it down completely and measured all the gears, synchros, etc. for wear. They then went and replaced all the synchros as well as the rest of the normal internals, again using all Genuine Porsche parts. The LSD was also rebuilt completely. All in all this was over a $3500 bill. When reinstalled I replaced the trans mount with a solid Lindsey version. With the Lindsey Ultra mount up front it allowed the little bit of forgiveness needed so things didn't break and I could run a solid trans mount.

The Torque Tube in the car was the original so I found Black Sea Research, who makes some very nice and extremely heavy duty torque tube bearings and had them rebuild the torque tube. I never wanted to pull that thing out again so I wanted it done right. Its a terrible job to get it out. I also replaced the rear axles with the Lindsey Motorsport versions as again I never wanted to have an issue. These 2 things alone were another $2k.

Exhaust
During this entire rebuild, as I stated above, I replaced everything. I replaced the heads with Speed Force Racing stainless headers with slip fit down tubes to prevent cracking. The headers were also ceramic coated to reduce heat and help with flow. The cross over pipe was sent to Lindsey to be converted to a 2pc. I had this done twice unfortunately as the first time it was v-banded and v-bands do not work properly. They ended up providing me their new design a year or so later with bolts to ensure proper sealing. The Lindsey Clubgate wastegate was rebuilt as a spare and I purchased a brand new one to actually go on the car. I then replace the exhaust with a 3″ Lindsey kit to ensure proper flow going out.

Body
The body of the car was torn down to the base chassis. I started the body rebuild by searching for a roof skin as the Turbo Cup did not have a sunroof and PCA was sticklers about this despite there being absolutely no competitive advantage. I also bought a fiberglass hood from IFC. They had the best fitting hood. I sent the car to the body shop to have everything fit as well as have it all painted. I figured if I was going to have the hood and roof painted I might as well do everything from the doors up so they repainted all of that. Its a race car but I still wanted it to look good.

Once the body work was done I sent the car to a local cage builder to redo the roll cage. He rebuilt the front structure, installed a knee bar, cross bracing on the roof as well as side door bars. We made a NASCAR style door bar for the passenger side and then crated an X-style for the drivers side. The X-style is what is used on Cup cars with a good box in the center. Its a more protective piece. He then went over the rest of the existing cage to ensure it was properly built and provided ample protection.

In order to make changing rod bearings easier (regular maintenance) I had the engine crossover modified by Lindsey to the 3pc version and replaced the engine mounts with the Lindsey Ultra mounts. Also replaced the rear bumper with a GT Racing one to shave some significant weight. I modified the front bumper to install custom brake ducts and improved the flow to the radiator and oil cooler.

The steering wheel is a Sparco wheel with a quick release. I do have a large rear view mirror that provides great visibility. Hardly have to use the side mirrors.

I fabricated some custom panels on the interior for gauges (AFR, Boost, oil temp, water temp, oil pressure) as well as switches for ABS reset, wipers, cool suit, etc.. I also replaced the battery with a light weight version.

Suspension, Brakes & Clutch
As part of the rebuild I replaced much of the suspension. The shocks themselves were pulled and tested as they were very new. They are Bilstein double adjustable and were custom valved by Bilstein for the spring rates being run. I replaced the sway bars with Weltmeister full adjustable ones vs the M030 stock ones. The a-arms were replaced with new Fabcar arms. All the bushings and mounts were also replaced with the solid style Lindsey mounts. The bearings in the front and rear hubs were replaced and I utilized pinned axle bolts so they could never come out.

The Big Red brakes were taken off the car and I replaced them with the OEM Turbo S brakes. The calipers were rebuilt with all new seals and all the lines were replaced. I also replaced the master and slave cylinders with OEM parts. I have found that the Cryo slotted rotors last and work best so I put those on the front. The rears are OEM stock rotors as they dont ever seem to have issues. The pads are all Pagid with blacks up front and oranges in rear. This was the best balance under braking for me as I tried all kinds of compounds to achieve the right balance.

The flywheel was sent to Apex Machining to be balanced and resurfaced as well as checked for wear. I replaced the clutch, pressure plate, throw out bearing, etc with the upgraded Porsche Cup clutch. The clutch master and slave cylinders were also replaced with OEM parts.

Fuel System
The injectors were sent out to Witchhunter to be flow tested, rebuilt and cleaned. I replaced every soft fuel line on the car from the front rail all the way back to the tank. The fuel pump was also tested.

Safety
The car as a multi zone fir extinguisher system with one nozzle in the engine bay and the other in the drivers compartment. The bottle is full and has been tested recently. I have a window net (cage mounted) as well as an interior right side net for the drivers seat for extra protection. The drivers belts were replaced with Schroth Hans belts and I have used Butler seats with seat back braces in the car. These things are awesome for support as well as excellent for safety. A friend of mine rolled his car 3 times destroying the car and the seats performed awesome. The car also has all the typical kill switch and stuff too.

Wheels & Tires
I purchased 2 sets of 3pc Kinesis wheels for the car. They are both 18″ and fit up to 295's in the rear and 245's upfront. The wheels were made before Kinesis was sold so they are the high quality versions. I have had them checked for cracks as well as balance. Additionally I have a set of rain wheels that are BBS 2pc. These are also 18″ and fit the same size tires. The Kinesis wheels currently have Hankook Z214 tires on them (probably 10 heat cycles) and the rains are Hoosier H20 (used for 1 race). All the tires have been properly stored so they have use left in them.

Spare Parts
Over the years and through the build I accumulated a hefty collection of spare parts. Besides a full motor and trans, there is pretty much everything else. I probably have most of the parts for a spare motor actually. I also wanted to have backups for all the little parts in case I ever had issues.

Spares Package

Qty Item Description

1 944 Turbo Clutch

2 944 Turbo Rear Brake Rotors

1 944 Turbo ABS pump (Bosch #0265200038)

2 944 Turbo Master Cylinder

3 944 Turbo oil filters

2 944 Turbo tie rod ends

1 944 Turbo brake reservoir

2 944 Turbo fuel filter

2 944 Turbo front wheel bearings

1 944 Turbo fuel pressure sensor

3 944 Turbo cycling valves

1 944 Turbo belt tensioner

1 944 Turbo oil pressure sensor

2 944 Turbo DME units (Bosch # 95161812102)

1 944 Turbo KLR unit (Bosch # 95161811302)

1 944 Turbo ABS control unit (Bosch # 92861811905)

1 944 Turbo Distributor cap

2 944 Turbo Fuel pump

1 944 Turbo throttle cable

1 944 Turbo water hose set

10 944 Turbo hydraulic lifters

1 944 Turbo fuel rail

1 944 Turbo water pump

1 944 Turbo throttle body

1 944 Turbo brake line kit

1 944 Turbo balance shaft engine mount

1 Lindsey racing intercooler hose kit

1 Lindsey racing club gate wastegate

2 944 Turbo axles with CV joints

1 944 Turbo Air Flow Meter

1 944 Turbo K&N air filter

3 944 Turbo control arms

1 944 Turbo Alternator

1 944 Turbo M030 front hub

1 Pagid Orange rear pad set

1 944 engine block

2 Additional boxes of random spares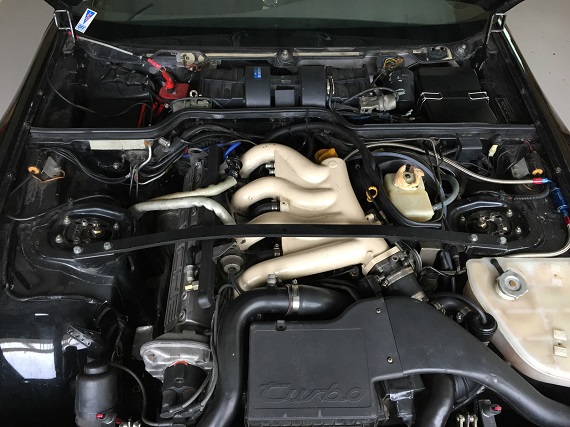 One of the reasons I really like the Turbo Cup was that it was turned up, but not too high. It's easy to overdo it with 944 Turbos; sure, they can produce monster numbers and I've seen plenty of high power examples at the track. But they also start to become fragile and it's a slippery slope when you go for big power. This car appears to actually have been dialed back a bit for the Porsche Club Racing series, and I think that's a good thing. You're left with a car that is not only fast but more dependable. Especially neat is the inclusion of some of the original Turbo Cup pieces like the intake manifold and strut brace. It's great looking outside too, with just the right amount of decals but no wild paint schemes – and the builder definitely took care to not only execute the car well, but to outline the extensive work completed. It looks, for all intents and purposes, like a Turbo Cup car, but one that can be had on a more modest budget.
-Carter