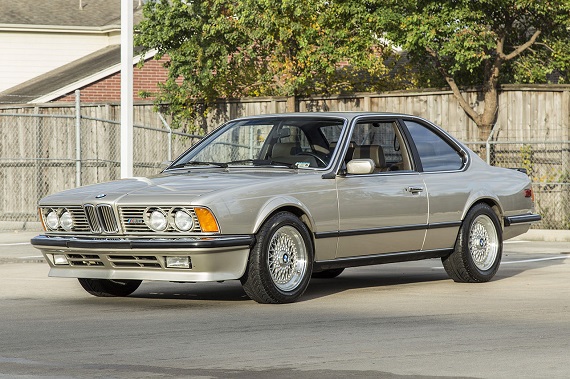 When it comes to rare 1980s BMWs, the M635CSi is not the rarest but it's one that always makes me dream. There's a look that the European-spec E24s had that just is somehow much better than the U.S. spec cars to me. They look lighter, more lithe and aggressive. It certainly helps that under the hood lies the original Motorsport GmbH engine too; unencumbered by catalysts, the M88/3 gives you the M1 experience in a much more affordable package. Lighter weight, more power, better looks – what's not to love with the M635CSi? And this car has the double trifecta too; the above attributes coupled with one-owner history, a unique color and low miles. Put that together with some great photographs and it makes one compelling package: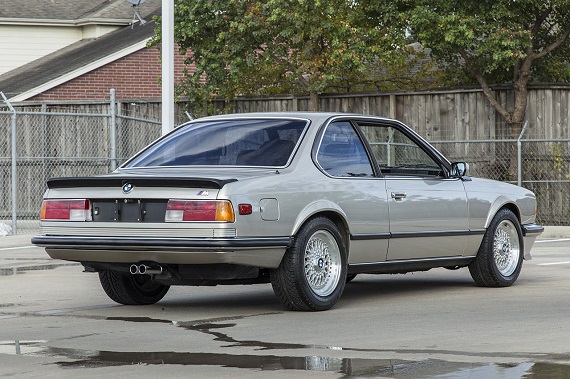 Year: 1984
Model: M635CSi
Engine: 3.5 liter inline-6
Transmission: 5-speed manual
Mileage: 30,569 mi
Price: No Reserve Auction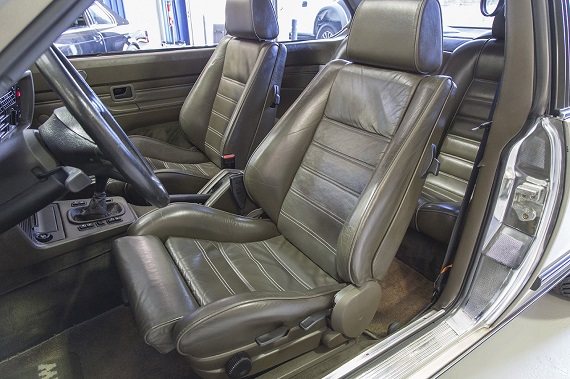 We proudly offer this beautiful, rare, 1-Owner 1984 BMW M635CSi M6 Euro Model in Bronzit Metallic (139) over a Nutria Leather (0157) interior with only 30,569 original miles! The Eurospec E24 M6 / M635CSi features a cat-less free-flow exhaust including factory headers, slimmer bumpers, aggressive front air dam, and a modified version of the M88/1 motor as found in the iconic M1 supercar. This M6 is powered by a 289hp Inline 6 engine through the rear wheels via a 5-speed manual Getrag gearbox. Original equipment on this M6 included headlight washer/wipers, power sunroof, AC (now converted to R134), BMW car alarm, BMW Road Safety/Halon Fire Extinguisher/Toolkit, Recaro front seats, and rear headrests.

This Euro 1984 BMW M6 was built in September 1984 and imported by our own Gary Seale (then, of C&S X-Otica Inc.) in Dallas, TX. It was then driven for just 2,819 miles as the dealership principal's demo before being sold in June 1985 to it's one and only owner in Dallas. It was always garage kept and meticulously maintained by this owner. This is evident by the superb exterior finish and incredible, original interior. To fit our modern tire sizes a set of updated 17×8/17×9 inch BBS RC035/RC038 modular Cross Spoke alloy wheels were mounted with Michelin Pilot Sport tires. This Euro M6 not only looks killer with its slim euro chrome bumpers rarely seen in the U.S., larger air dam, and aero side skirts, but it runs and sounds just as great!

This is a very rare opportunity to own such a unique and beautiful Euro M6 with an amazing story and incredible, single ownership with just 30k original miles! Call us today before it's gone!

Located at 20440 I-45 North on the north side of Houston, we are the exotic car division of North Freeway Hyundai, a part of the Potamkin Auto Group comprised of 18 factory authorized brands around the country including Lamborghini, McLaren, Porsche, Maserati, Pagani, and others. Gary Seale, Matt Blevins, and Randy McCall together have nearly 80 years of exotic and vintage automobile experience. We offer available financing and can also help arrange enclosed transportation anywhere in the world. For further information on this vehicle, please don't hesitate to call or email!

Randy McCall – cell: 417-861-4873, office: 832-446-4056

Matt Blevins – cell: 713-922-8432, office: 832-446-4055

Gary Seale – cell: 214-675-1665, office: 832-446-4054
It's not often that we get to see the original purchaser and importer of one of the grey market cars from the 1980s still involved with the conversation, but if you want the story right from the horse's mouth there's his number! It adds some weight to the story and makes this car even more appealing. It would be nice to have all the records outlined but it certainly seems like the car was maintained – the condition alone of both the exterior and interior are incredible. Perhaps the only downside to lower mileage on the M88/S38 motor is that they don't like to sit for long periods of time, so it would be nice to see how the 1,000 miles a year were spent and if there were any long times where the car was laid up. The color combination is unusual for a M but looks quite pleasant and in incredible shape; the BBS wheels are well matched and not oversized too. If there's one thing I don't like, it's the color matched grill – but honestly, that should be a reasonably cheap and easy problem to rectify. It's no surprise that bidding has been aggressive on this M635CSi and the price is just about to crest $20,000. However, compared to what that buys you in the E30 world, these E24s are seriously undervalued and very cool cars. While yesterday's M5 looked quite nice overall, I much prefer the originality, story and presentation of this car. This one certainly looks like one of the best ways to stand out in the 80s M crowd!
-Carter