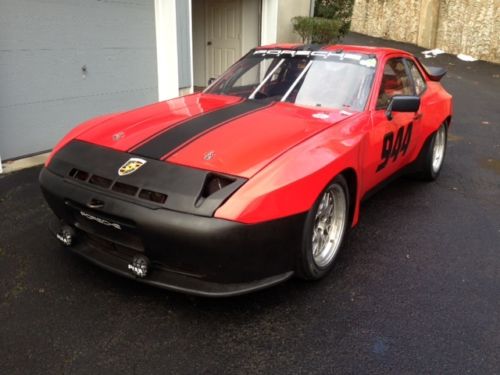 While there are a lot of Porsche enthusiasts who love to head to the track, the reality is that few can afford to support the costs of a GT3 Cup car or even Cayman S, as illustrated in my last post. Even a modestly prepared car can be an expensive undertaking. As a result, for some time the biggest bang-for-the-buck has been the Porsche 944. Robust, tunable and naturally well balanced, the cult-classic 944 has taken to many different forms of motorsport; autocross, circuit racing and even the occasional rally. But today, while I've got a fairly typical 944 Turbo track build, we also will look at an odd place for the 944 to turn up; the drag strip:
Year: 1986
Model: 944 Turbo
Engine: 2.5 liter turbocharged inline-4
Transmission: 5-speed manual
Mileage: Not Listed
Price: $24,500 Buy It Now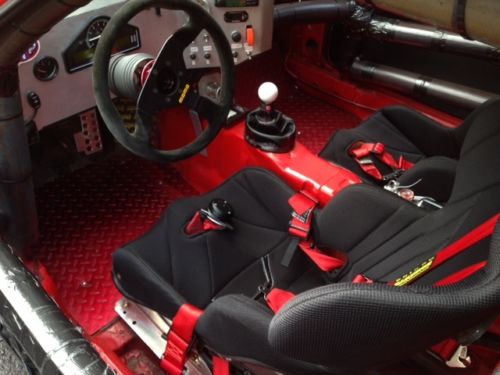 I'm selling my 1986 Porsche 944 Turbo (951) dedicated track car. Car is for track use only but has clear title. She has been professionally built, with original build work done by Morton Competition in 2011 before I bought her in 2012. Since owning her I have had all regular maintenance performed by well known Northern New Jersey Porsche shop (have receipts), including replacing all belts and rollers, hubs and rotors, and strengthening key suspension joints. Car is safe, fast (folklore puts HP north of 300) and lite (about 2,600 lbs), and the multitude of suspension work combined with the 275/40 (front) and the 375/35 (rear) Hoosier R6s make it seem like you're on rails. All sorted and ready to go. Modifications include:

– 2011 engine rebuild: polished and ported heads and intake manifold, Mahle pistons and knifed crank (engine has about 55-60 hours since rebuild)
– K27 Turbo, zero lag (manual boost control by shifter)
– Larger intercooler
– Auto Authority Chip
– Tial wastegate
– Factory 935 boost guage
– Stack dash set up
– 968 six speed gear box with short shifter
– B&B exhaust headers
– Kokelin adjustable sway bars, front and rear
– Wrightwood Racing charley arms
– Bilstein cup shocks
– 993 Turbo brake calipers
– Chasis torsion bar delete and mono ball connections
– Complete GT fiberglass kit (wide fenders, sunroof, hood)
– Modified fiber headlight panel with intake hole
– Lexan windshield with supports
– GT fiberglass Le Mans spoiler version rear hatch with lexan
– Kirkey seats, Scroth 6pt harnesses
– Air vent on passenger side with lexan quarter
– 14.5 gallon fuel cell
– Push button start
– Safety Devices Fire suppression system
– Safety Devices cage with NASCAR side impact modifications to both driver and passenger sides
– Momo steering wheel with quick release
– 968 master cylinder
– Custom exhaust (~3″ pipe, great sound)
– One set of Fikse FM 10 wheels with Hoosier R6's used for three events
– One set of CCW wheels with Hoosier R6's barely used for one event
– Three spare back up Hoosiers not mounted
– Various spare parts and hoses
– PIAA fog lights
– AIM solo GPS lap timer

Would like to find a great home for this impressive machine. Ideal car to strengthen driving skills, as it doesn't have ABS or Traction Control, etc. — just you, R6's and asphalt, makes for a wild weekend. Listing her for $24,500. If you are interested or have any questions, please email me: thomasbcrane@gmail.com. Thanks for looking.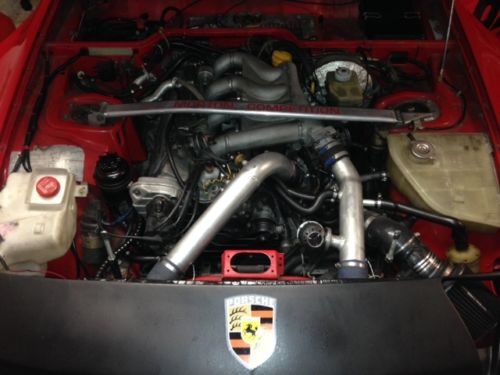 A well built and sorted recent build, this 944 ticks a lot of the right boxes with what appears to be more grip than go. Those massive Hooiser race tires will be tricky to break loose with even the claimed 300 horsepower, making this lightened Turbo ideal for track duty. It's all too easy to turn the boost up farther than the chassis can really handle, resulting in fragile and tricky to drive (and expensive) grenades. But this car seems to have the chops to back up the super-wide flares, vents and ducts. I like the look and bet this car is a blast to drive; price building one out, and you'll quickly see that this car is a bargain track-attack machine. But not everyone wants to go through corners….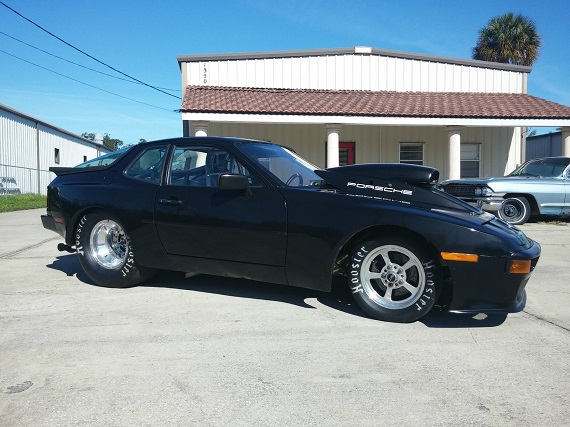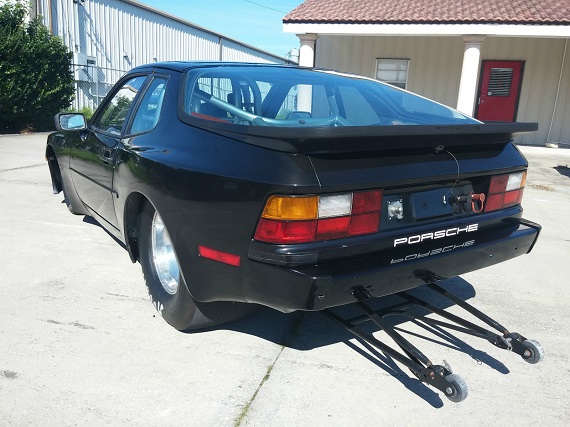 Year: 1985
Model: 944
Engine: 6.2 liter V8
Transmission: 3-speed automatic
Mileage: Not Listed
Price: No Reserve Auction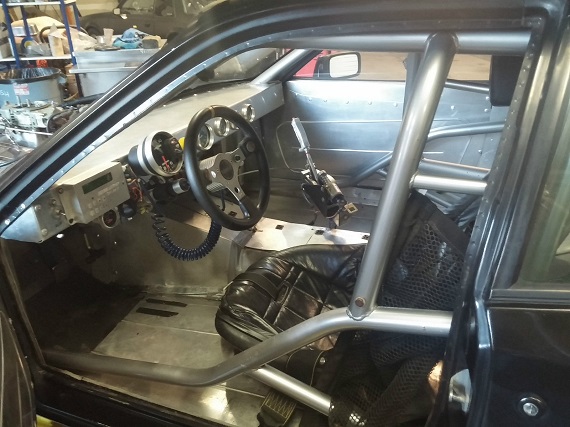 1985 Porsche 944 Drag Car
Full Tube Chassis! 4 Link! Glide w/Brake & Much More!!
When was the last time you saw a Porsche at the strip!!!
Great Bracket, Index or Grudge Car! Runs 6.30's in the 1/8!

Details
Full Tube Chassis Build
NHRA Certified (2008)
2,386 lbs w/SBC
4 Link Rear Suspension
Narrowed 9″ Rear
Full Roll Cage w/Funny Car Halo
Nodular Case, Full Spool
5:14 Pro Gears
35 Spline Moser Axles
QA-1 Double Adjustable Coilovers
Pro-Drive Shaft
Wilwood Disc Brakes
Double Pump Braking System
406 Race Prepped SBC
GM Severe Duty Block
Eagle Steel Crank
Eagle Forged Rods w/ARP Fasteners
Comp Cams Solid Cam
RHS Pro Action Angle Plug Heads
1.60 Crane Gold Roller Rockers
Melling High Vol. Oil ump
MSD High Torque Starter
2″ Coated Headers
Holley Race Carb. – 780 cfm
Moroso Valve Covers
Alum. Radiator w/Electric Fan
MSD Pro Billet Distributor
MSD Coil
MSD 6-AL Ignition
(2) MSD RPM Modules
MSD 2 Step
MSD RPM Module Selector
Race Powerglide w/Transbrake
SFI Tranny Shields
Tranny Cooling System
5,500 Stall Converter
Dedenbear Delay Box
Rack & Pinion Steering
Tubular A-Arms
Front Adjustable Coilovers
CSI Electric Water Pump
Holley Electric Fuel Pump
Quck Fuel Regulator
5 Gallon Fuel Cell
Battery Charge Lugs
On/Off Battery Switch
100 Amp Alternator
Moroso Race Switches
Full Fuse Panel
Grant Steering Wheel
AutoMeter Gauges
AutoMeter Race Tach w/Shift Light
Hurst Quarter Stick Shifter
Dedenbear Electric Shift Solenoid

Call with any questions: (941) 504-3333

Car is a race car and sold as-is, where-is. All sales are final. No refunds or exchanges.
Car is sold with bill of sale only. All inspections must be completed prior to bidding and/or purchasing.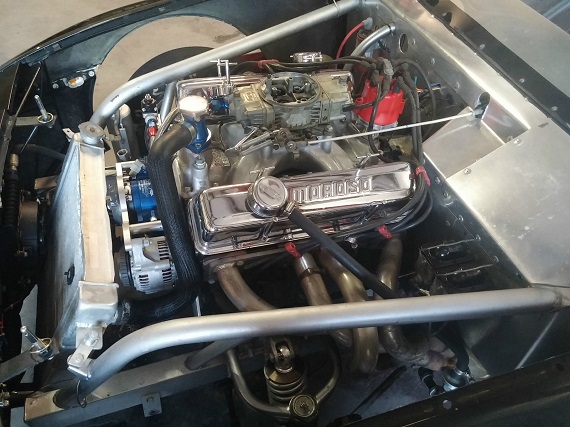 If the Turbo isn't particularly discrete with its super wide flares and matching monstrous tires, this 1985 944 body looks like a steroid-crunching body builder that tried to fit into a 5 year old's Halloween costume. The original guts of the car are long gone, replaced by a tubbed tube-frame. But if you're worrying that the original 2.5 liter inline-4 just wouldn't have the motivation to turn those massive slicks, fear no more; under the not-so-subtle hood scoop lies a 406 small block Chevy engine hooked to a drag-biased Powerglide automatic. With 1/8th mile times around 6 seconds, this is probably the fastest accelerating gas-powered 944 in the world. Do I need to make that distinction on combustion? Yes, because there is apparently an all-electric 1984 944 that turned a 6.297 1/8th mile and 9.952 1/4 mile. Drag racing isn't really my thing, but I don't think I would much mind giving this one a go. And with no reserve on the auction and bidding only around $6,000, this is currently one of the most affordable race Porsches in the world.
-Carter