Like most convertible conversions, this isn't for everyone. If you are however, a fan of cars with the roof cut off then its best to get a conversion done by a reputable source and not the guy down the street with a sawzall. The company that did this conversion, Baur, has a long history of working with the BMW factory to modify cars. Even so I still worry about how much stiffness/safety you lose with a conversion like this.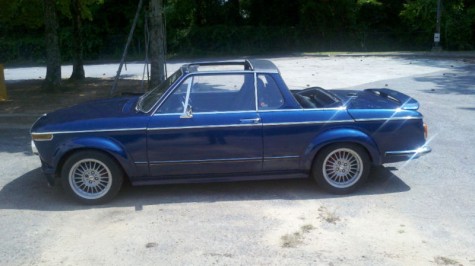 The seller states this 2002 is one of 1963 that Baur converted to the targa style. The front has a removable top while the rear has a fold down soft top. The open air is a good thing for the summer as the car's nice black leather wrapping the Recaro sport seats probably roasts the backs of legs on a hot day. I suspect the roof will rarely be on the car so one can look past the car's less than stellar looks with the top up.
This is a German delivery car and has retained its Euro spec gauges. The steering wheel with the blue inserts is a bit of a detraction, colored rims are ok with me (my BMW has body color rims), color insert steering wheels are a bit boy racer. The proper Baur emblem resides on the center console.
There are 85,000 miles on the original 2 liter inline 4. Power flows through the stock 4 speed manual. The exterior has been redone and the rich blue color looks great. There is an added front and rear spoiler, which look ok. There appears to be a larger than needed exhaust on the car as well.
This is a no reserve sale so high bidder will take the car home. Currently bidding is up over $7,600. The rarity of the vehicle will bring out BMW collectors. While not my cup of tea, this conversion doesn't look bad. Its kind of a step up for the former VW cabrio owning teenybopper crowd.
~Evan