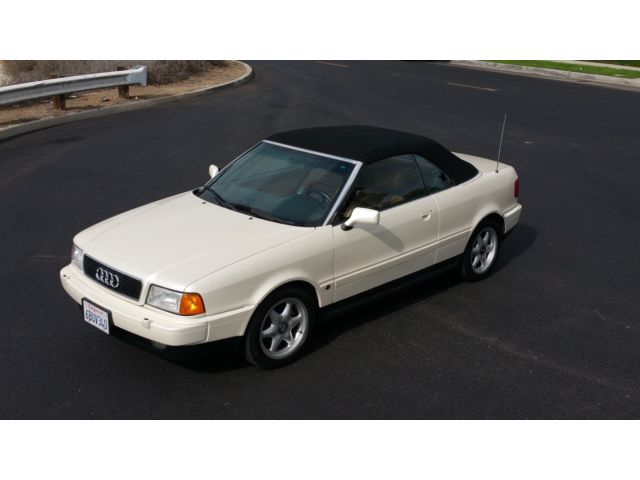 Why am I doing an Audi Cabriolet post on Christmas Eve? Well, mostly because it's a model that we generally ignore. I'm not even sure why – the B4 Audi may not be the most attractive Audi model ever, but I've always found the Cabriolet to be the best looking of the bunch that came to the U.S. The sleek lines of the 3/4 view are especially pleasing. With refined good looks and a relatively bullet-proof drivetrain, they should be a common choice for those looking for a cabriolet. Couple that with typical '90s low residual value for nearly all of the Audi lineup, and you'd think everyone looking for a occasional drop-top would be snapping these up. But they're not. Perhaps it's worry about unreliability of older Audis or perhaps it's the lack of sport offered by the package, but the result is that if you like these 2-door drop top Audis, you can get a pretty good deal on one today: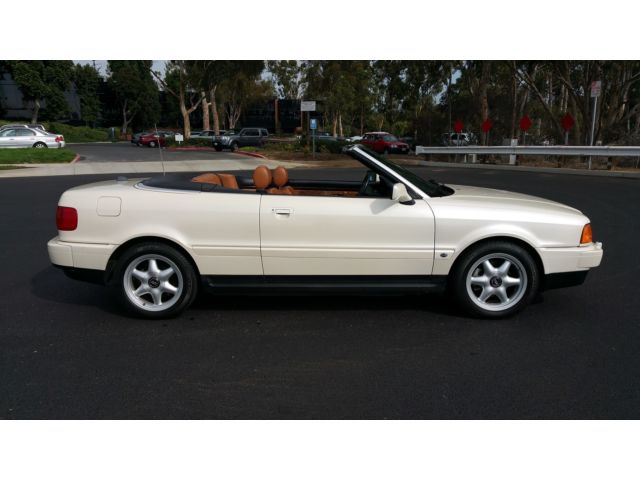 Year: 1997
Model: Cabriolet
Engine: 2.8 liter V6
Transmission: 4-speed automatic
Mileage: 93,586 mi
Price: $3,650 Buy It Now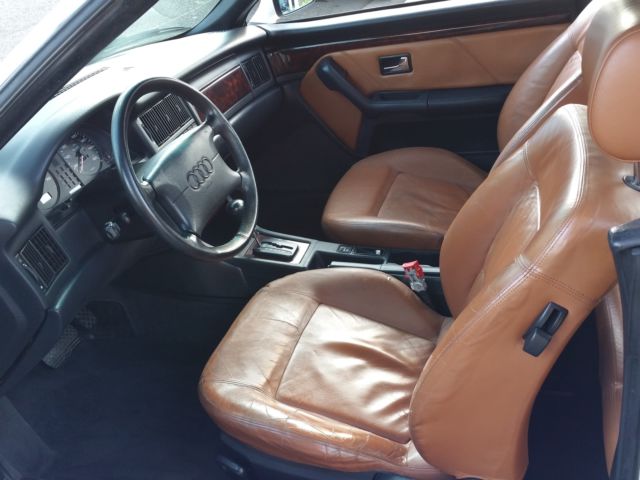 Here is a sweet 1997 Audi Cabriolet with original 93k miles. This beauty has a clear carfax and is in beautiful overall condition. Recently serviced with new timing belt, water pump, oil change, thermostat, recent convertible top, new tires with receipts. Runs and drives great! This is a fun little convertible!! Give me a call at 714 – 2 8 1 – 2 1 2 3

Exterior wise, the pearl white paint is in great shape and has a high gloss. Has a tiny dent near front fender but other than that it's super clean. Has a newer top with no rips or holes. Top goes up and down very good. Tires are near new and rims look nice.

Interior wise you won't find a original interior any better than this one. Has leather saddle color seats and great shape. Has a small split in driver bottom cushon. Has a nice sounding Pioneer CD player. Carpet, dash, steering wheel and all plastic look excellent. Has keyless entry with 3 keys! All original books included. This car was very well taken care of.

Mechanically the car drives smooth and straight. Engine runs great and transmissin shifts perfectly. I just had the timing belt replaced along with the water pump, thermostat and coolant flushed. Has a recent oil change, new tentioners, full safety inspection was done. Brakes in good shape and tires are near new with receipt.

Please give me a call with any questions. 714 – 2 8 1 – 2 1 2 3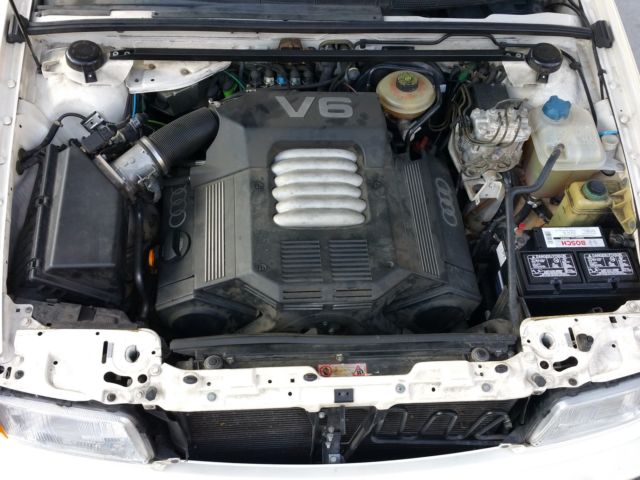 If there's one aspect about the Cabriolet that I really love, it's the optional 16″ "Competition" wheels that came on the later models. Since new they've been one of my favorite wheels, and I've always wanted a set for my Coupe. The color combination may be a bit typical for Audis in the 1990s, but don't forget that Pearlesant White Metallic paint was an expensive option. With maintenance completed recently, this car should offer top down fun for some time on a reasonable budget.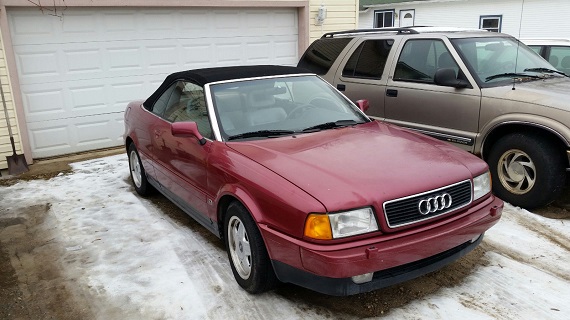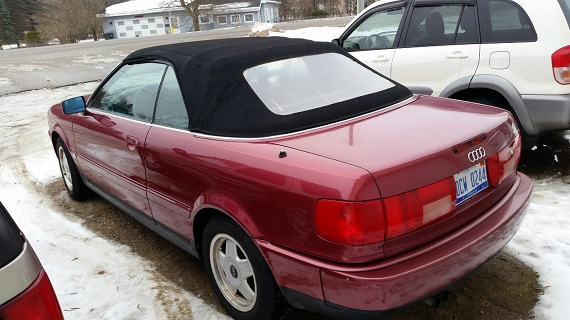 Year: 1994
Model: Cabriolet
Engine: 2.8 liter V6
Transmission: 4-speed automatic
Mileage: 165,000 mi
Price: Reserve Auction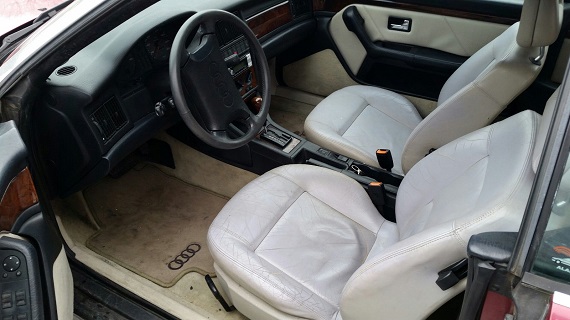 94 audi
2.8 v6
has crack in back plastic window and cruise does not work
Great summer car and getting harder to find
Runs and drives well.
could use a little cleaning.
If you have questions please call 231-675-1714 Jack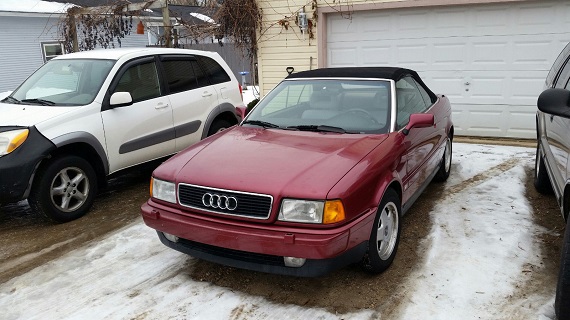 Honestly, it's a bit hard to get excited about this one – except that it's a rare color. That's the only reason I chose to include it. There were a few colors that weren't often selected for the Cabriolet, and this is one of them. Cerise Metallic might be a bit polarizing and a bit…well, too pink for some, but it's cool to see. This car has the more common sport wheels made by Ronal. They look great when cleaned up and mimic the S4 Fuchs design. While the car looks to be all there, it's hard to justify the higher than $3,000 reserve since many nicer examples are available for about the same money.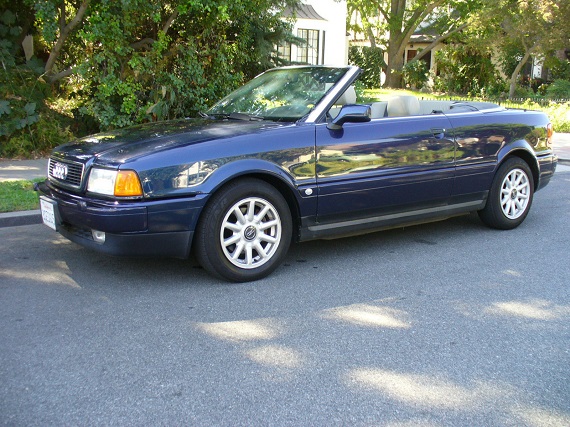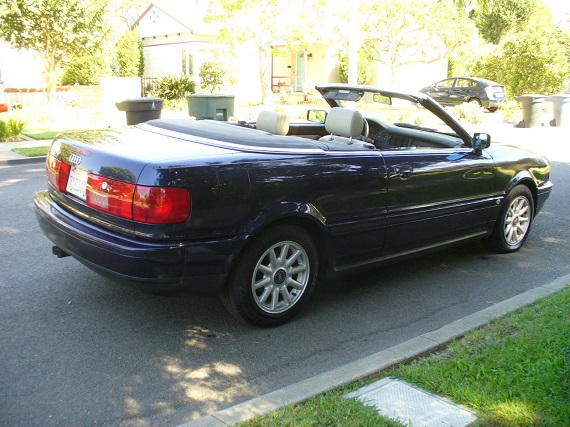 Year: 1994
Model: Cabriolet
Engine: 2.8 liter V6
Transmission: 4-speed automatic
Mileage: 69,700 mi
Price: $4,800 Buy It Now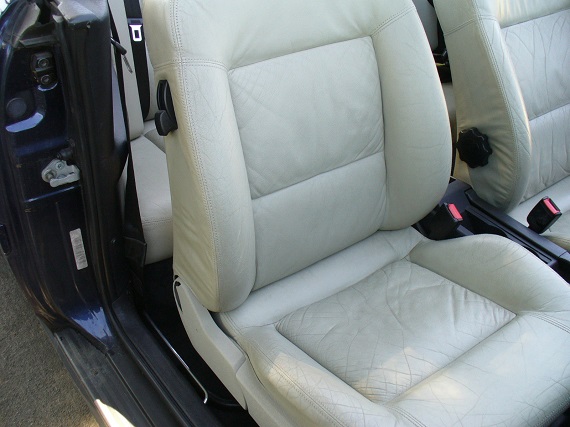 Low Mile 1996 Audi Cabriolet. Finished in Ming Blue Pearl with Creme Beige Leather Interior. 69,700 Original Miles. 100% Rust Free California Convertible. Soft Top is Dark Blue. Original Condition Inside in Out. Runs and Drives Excellent. A/C is Cold, Power Windows, Power Locks and Power Convertible all Work Properly. Tires have 70% Tread Life Remaining. In Dash Cd Player. Great Addition for any Audi Enthusiast. NICE BUY it NOW or MAKE an OFFER. Please call Keith at 626-253-1946 for any additional information on this Audi. We are a Licensed and Bonded Dealer in Southern California and all California Residents will pay State Sales Tax, License Fees and a $125.00 Documentation and Smog Fee. We Welcome all Out of State Buyers and can assist with Low Cost Shipping anywhere in the U.S. Thanks and Happy Motoring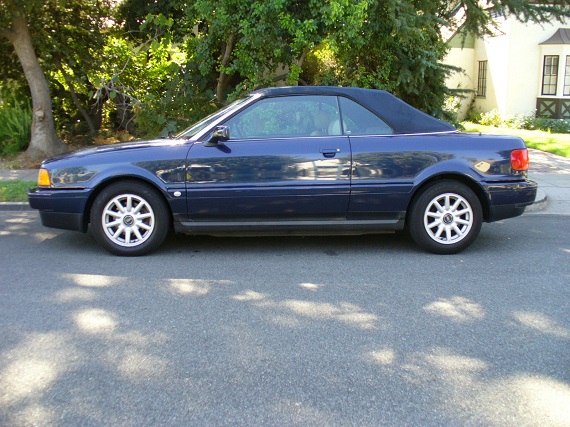 While I appreciate that the seller attempted to name the colors correctly, Ming Blue wasn't a color that was available in the 1990s. This car is Europa Blue Mica – but overall it looks great. Not many realize that the rather mundane alloys that were featured on many of the B4 models were actually Speedline made. Overall the condition of this car looks great and the color-matched top sets you slightly apart from the normal black-top crowd. Not many options were available on the early Cabriolets unlike the '97/'98 models, so it's hard to get excited about an early example. However, the miles are lower and it looks nice – but before paying top dollar for one of these models, I'd want to make sure that everything worked well and maintenance had been performed.
All in all, the '97 looks to be the one to buy in this group. These cars offer top down fun on a slim budget. They may not be the best driving Audi, but for a cruiser they work just fine. The big problem is that prices on the later B6 Audi A4 Cabriolet are also rapidly dropping, so you can use that as a bargaining point to get one for well below $5,000.
-Carter