This custom 18,000 mile C55 looks to only be brought out for show car duty.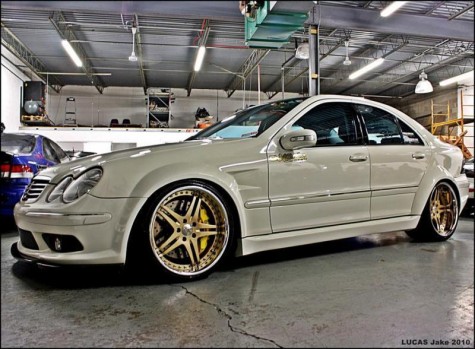 The C55 followed AMG's string of mid sized Benz models with potent powerplants. The 5.4, yes despite the 55 moniker the car's engine was short a tenth of a liter, V8 gives 362 horsepower in stock trim and is enough to send the car to 60 in less than 5 seconds. The performance made the C55 the fastest factory C class up until the recent C63.
This particular car maintains stock engine components, but when your base car comes from AMG you don't usually need to add more performance. The main work on this is the extensive cosmetic portions to set it out from the crowd. The car has had wide body flares put on and massive wheels to added to fill the holes, 19 x 12.5 at the rear.Inside the wheels sit massive Brembo brakes. The suspension has new KW3 coilovers that lower the car down on top of the huge wheels.
A custom cat back exhaust makes more nose outside the car. Noise inside the car is provided by a performance audio system.
The outside of the car is definitely done up to be noticed, not quite as stealthy as the wolf in sheep's clothing model some AMG cars follow. The owner claims he has $100,000 in the car. The ask price is $40,000. With nice C55s selling in the low to mid $25,000 range I'm afraid I don't see a $15,000 premium on the work, even with the low mileage. An ask $10k less might be more in range with what a sale on eBay will bring.
~Evan