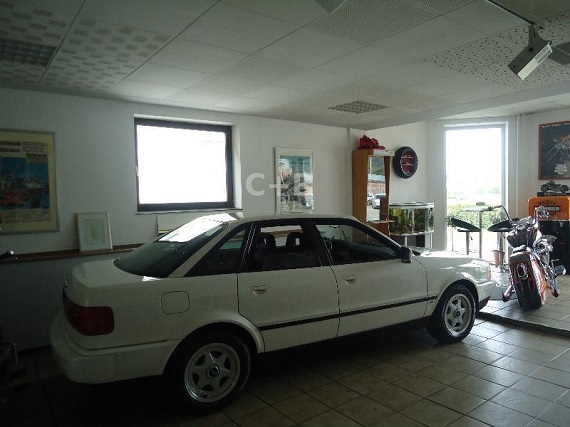 From yesterday's end of the run B2 Audi 90, today we have another special feature on a unique Audi. While the B3 heavily revised the safety, aerodynamics, comfort and luxury for the small Audi range, weight went up and power was effectively the same, meaning that the B3 was at a distinct performance disadvantage to the natural rival BMW. Audi did increase the amount of power that the B3 quattros had at their disposal with the introduction of the 7A 20V motor in 1990, but the twin-cam inline-5 wasn't available in front drive Audis which sold in greater number. That gulf grew wider as BMW upped the power again with the new E36 chassis, now with the best part of 190 horsepower available in the 325i. To answer the competition, Audi heavily revised both its large and small chassis in for the 1991 and 1992 model years. The C4 model was introduced late in 1990 in Europe, and while Audi did away with the 200 model the new S4 ostensibly replaced it with even more sport. But the 100 saw massive changes too, with the introduction of automatic transmissions to the quattro range widening the appeal of the model. Though the V8 quattro had offered that option previously, it was a much more expensive model and the 100 was also available in Avant form. But the big change was under the hood, where a AAH 12 valve single cam 2.8 liter V6 replaced the previous NG/NF 2.3 naturally aspirated inline-5 and MC1/2 2.2 turbocharged inline-5 power units of the 100 quattro and front-drive and 200 Turbo front wheel drive models, respectively.
In the small chassis, Audi continued to offer two different chassis levels for the newly introduced for 1992 B4. Carrying over from the C4 range was the same 172 horsepower 2.8 V6, powering either all four wheels or the front wheels only. Few mechanical changes were made to the quattro models versus earlier inline-5 models, but the front drivers received more refinement from a trailing arm torsion beam axle instead of the previous Panhard rod design. Outside, new front and rear fascia was mostly expressed by integrating the hood and grill to match the C4 design. Fender flares increased, new contoured hoods offered more character, and different bumper covers updated the look slightly. New wheel designs were also incorporated into the B4 lineup, with 10 spoke Speedline-made wheels being standard and optional Ronal "Sport" 5-spoke wheels, both in a slightly greater 37mm offset as opposed to the 45mm offset of early B3 models (with the exception of the Coupe). There were plenty of other minor changes inside and out that added up to a very different and more refined feel versus the earlier B3. But Audi needed to provide some time for U.S. dealers to relaunch the new 90 model range. So, while in 1991 you could buy either a 90 quattro 20V or 80 quattro, in 1992 there was only a 80 model available – no 90s were sold. This coincided with the lowest sales figures for the small chassis Audi had recorded. The new 90 would launch here in late 1992 as a 1993 model in both quattro and FrontTrak form. And to help promote the new model, Audi brought over a few pre-production models, one of which we have here: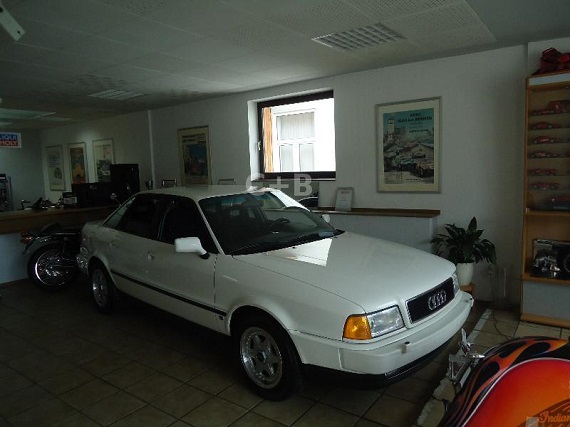 Year: 1992
Model: 90S
Engine: 2.8 liter V6
Transmission: 5-speed manual
Mileage: 194 mi
Price: $35,000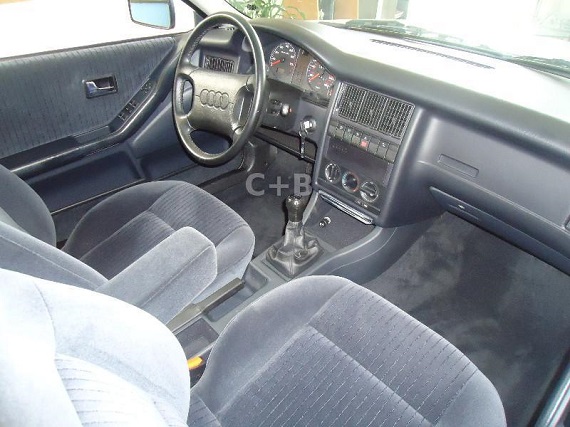 the absolute and very ONLY car, ever produced by Audi, is my orig. 1992 Audi 90s prototype, which was used by Audi to promote the last 90s model series in the states nearly 25 years ago.

This car was produced by Audi in Ingolstadt as real "prototype" and was the very only example ever built ! There was no second car produced and the car has never been titled, with NO OWNER, NO FIRST REGISTRATION and the 1 of 1 in the world.

ONLY 194 MILES on the odometer !!!!

It has absolutely NO DAMAGE from standing, I change fluids every year and let it run (in manual) 2 times per month. I will have it fully Audi serviced prior to delivery to its very "first owner" !!!

The car comes in audi white, code L90E and is a 2.8 E V6 with 175hp, dark blue velour interior, 4 electrical operated windows and mirrors, AirBag, 5 speed manual transmission, high adjustable seats, orig. 2piece BBS Audi wheels, and manual AC, with the following built sheet codes :

X9A, B0A, C4J, G0C, H4Q, J0J, M7H, Q1A, 3U0, 1AC, 1G 4, 1MR, 1N1, 3AG, 3BE, T7E, 8E1, 3S0, 4UD, 5Jo, 0G1, 8YA, 8GL, 8FA, 8RK, 1KE, 1LC, 3FA, 3Yb, 1BA

I would let this car go and there is absolutely NO WAY, to find this ever again !!!

My asking price is $35.000, plus $1.500 shipping to any port in the states. Audi itself is interested in the car but I refused to sell it to Audi.

For any collector out there, please feel free to share my email with the community for everyone, serious, who´d be interested in it.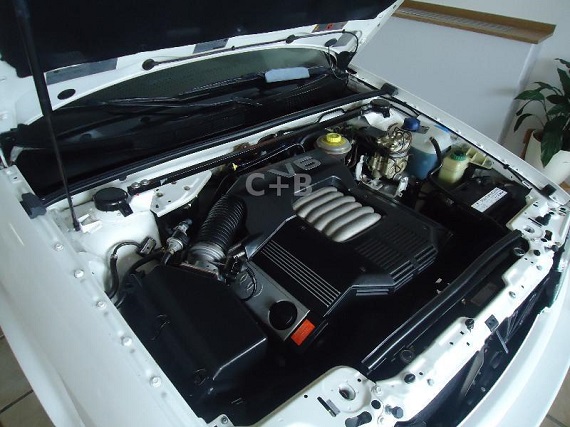 As with most things Audi from the 1980s and early 1990s, documentation is a bit scarce, but this is certainly an interesting car. Of particular note is the build sticker in the trunk – it's the most heavily typed one I've seen outside of some A8s. And within those options, the first – X9A – is the code for the U.S. version of the car. Well, clearly, that's not the case, since Audi didn't market 1992 Audi 90s, and the production date of this car (1/1992) backs up the story that it is a promotional model. The second code – B0A – was for cars "without country – specific construction specification" which explains some of the odd configuration. Most notably, the Speedline wheels from the Coupe quattro model are equipped rather than the later Speedline 10 spoke wheels the 90S wore. That's especially interesting since the less flared 90 20V wore specific 45mm offset Speedline wheels; the Coupe wheels were apparently equipped to fill out the arches properly and run the same offset as the later B4 90 alloys. That doesn't match the C4J option that's next on the sticker next which is the option for the 15×6 "Aero" wheels which is odd, but perhaps they were changed to make the car stand out a bit originally, as they appear to be one of the lowest mile near new sets I have ever seen. I did my best to break down the other options, which are as follows:
G0C – 5 speed manual
H4G – not listed, but other H options are tire configurations
JOJ – 300 amp battery
M7H – AAH 2.8 V6
G1A – not listed
3UO – No baggage cover
1AC – ABS
1G4 – not listed, but other 1G options are spare wheel configuration
1MR – Leather steering wheel with airbag
1N1 – Power Steering
3AG – not listed, but other 3A options are external right mirror configurations
3BE – flat heated left mirror
T7E – 6-Cylinder-Injection- 2,8 L 128 kW AAH
8E1 – Radio screening (blank)
3SO – Vehicle without roof railing
4UD – not listed, other 4U options are airbag configurations
5JO – Vehicle without tail spoiler
0G1 – Manual gear lever
8YA – not listed
8GL – Alternator 120A
8FA – Vehicle without second battery
8RK – not listed
1KE – Disc brakes rear (re-enforced)
1LC – "Fist saddle" brake front
3FA – not listed, other 3F options are sunroof related
3YB – Door lining with insert
1BA – Chassis standard type
This actually isn't the first time we've seen this car; back in 2013 Paul looked at it when it was located in Germany. Listed as a 1990 then, the VIN 10th digit "N" confirms this is a 1992 model correctly. But even outside of the prototype status, there's the unrepeatable museum-low miles, never registered status of the car. The asking price is consequently quite steep. I think if the car were a pre-production quattro model you'd probably have a larger pool of people who were interested in it. But consider the amount of money that would be asked if this were a similar pre-production promotional Porsche 964? Alas, it's not so few will really care, but a small percentage of Audi fans like me love to see things like this very special and unique B4.
-Carter