Before AMG took over as the sporting arm of Mercedes-Benz, we had Sportline for those seeking a bit more performance. For the US market, the Sportline option was available on the W201 190E 2.6 for 1992 and 1993 and the W124 300E/300CE and E320/E320 coupe between 1993 and 1995. Features such as a quicker steering box, lowered ride height, tuned suspension and larger anti-roll bars made it into the mix, making this a rare case of less flash and more substance. The Sportline Mercedes-Benzes have lived on in relative obscurity, known only to the true Mercedes-Benz faithful. Finding one in good condition is rarer than the proverbial hen's tooth, so this final year 190E 2.6 is an uncommon treat, especially given the fact it is made even more unique with the 5-speed manual transmission.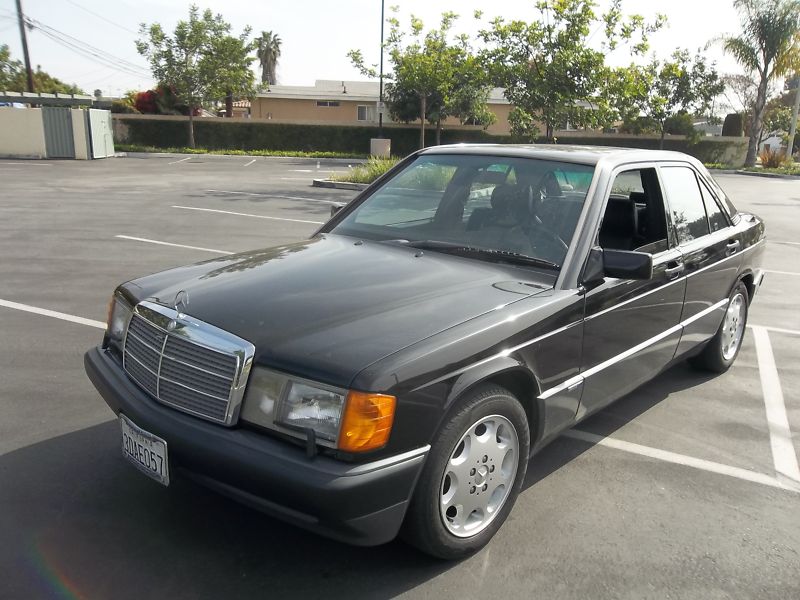 1 of 700. Sportline LE. 1993 Mercedes-Benz 190E 2.6 5 speed. No it's not a clone! Just Look at the speedo and rear seats. The Sportline option consists of these items and a few more not listed!

Sport seats front/rear 4 Seater
Different lower control arms and bushings
Different shocks/springs
Different wheels
Smaller diamater steering wheel
Sportline shift knob
Quicker ratio steering box
Larger front/rear sway bars and different bushings
Sportline front fender badges
Different rear sub frame mounts

You Could Only Get It In Black! RUNS & DRIVES VERY NICE!

Equipment: Air Conditioning, Alloy Wheels, AM/FM Stereo, Cassette, Cruise Control, Leather, Dual Air Bags, Power Door Locks, Power Steering, & Power Windows!!! Brakes work well. Everything works as far as we know! All glass & mirrors look great – no cracks. The interior condition looks NICE! Seats and floor are somewhat well kept. There is some very light wearing on the seats and floor. Dash & console are nice! Outside light covers look good. Paint looks real nice. (There are some small little door dings and some very small scratches).
I'm impressed with this cars condition given the 168,000 miles it has covered. Usually, you see issues crop up such as sagging rear bumpers or interior door trim that is warped or fog lights that are cracked or pitted. It goes to show you how well a car can look after 20 years if you simply are a bit careful and maintain it properly. I really like this car, but I think if the asking price was about $1,000 to $1,500 less, it would be garnering a little more interest. If it had closer to 100,000 miles on it, I could almost rationalize the asking price, but when you are bearing down on 200,000, no matter how clean the car is, there's always an issue or two at a minimum that will arise and it's hard to estimate what that will set you back.
-Paul