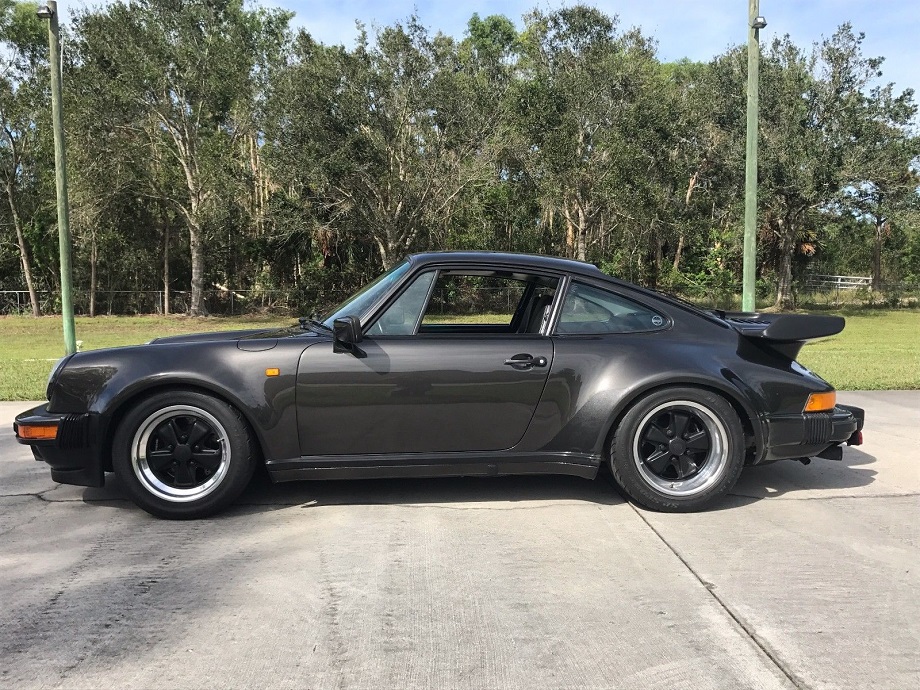 Normally a Paint-to-Sample 930 would get my heart all aflutter, but this one, while indeed PTS, doesn't quite stir my emotions quite as much. The reason should be obvious: that rare paint-to-sample color is black metallic, not exactly the most unusual choice along the spectrum. There aren't a lot of black metallic 930s out there relative to its non-metallic black counterparts so even if the color doesn't seem particularly rare it's not very common either. But still, I was surprised to find out this was Paint-to-Sample.
With that bit of confusion out-of-the-way this is still a pretty nice looking 930. As those familiar will realize immediately, this is a RoW model since the 930 was not available in the US in 1983. The mileage is pretty low at 48,410 and it appears to be in excellent condition.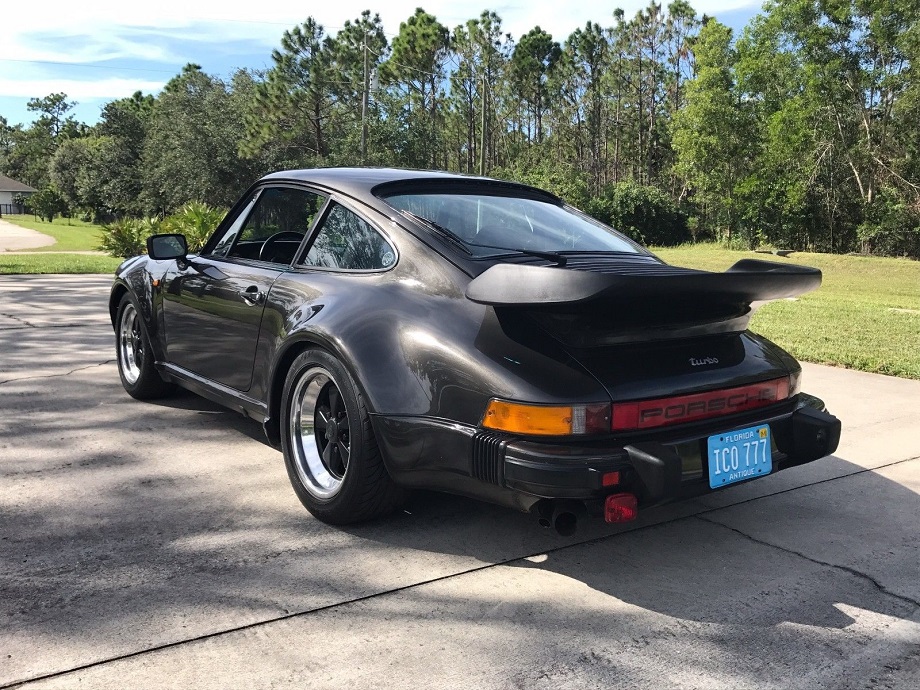 Year: 1983
Model: 911 Turbo
Engine: 3.3 liter turbocharged flat-6
Transmission: 4-speed manual
Mileage: 48,410 mi
Price: $85,000 Buy It Now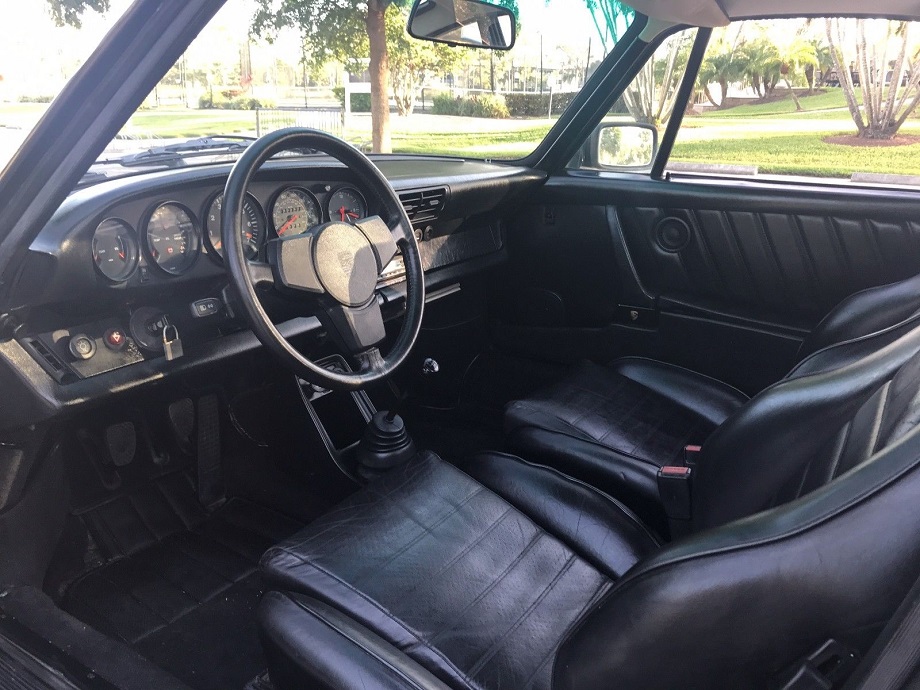 Up for sale is my beautiful 1983 Porsche 930. This is a Euro spec. ROW. Sunroof coupe. VIN# WP0ZZZ93ZDS000504 All numbers matching. With certificate of authenticity from Porsche. Factory rated at 300 bhp with large euro spec fuel system. The car was imported November 27, 1984 by its first owner who was a German engineer. Absolutely no federalization or smog equipment modifications are present on this car. True unmolested Euro Spec coupe. 48,410 miles. The car was ordered with a very rare paint to sample color 'schwarzmetallic'. One professional, no expense spared repaint three years ago using original color code. Paint is beautiful, almost looks black in the evening, with shades of silver and gold metallic in the sun. Super straight, no dings or scratches. Car is very original with original seats in great condition and full leather interior. Carpets are excellent. Dash was replaced with a later model in perfect shape. Full carpeted trunk area, and complete original tool kit. Optional limited slip differential, sunroof, factory date coded Fuchs that have been polished are in great shape with no rash. Tires are like new period correct Dunlops. Mint H4 headlights. Smooth shifting 4 speed with strong smooth clutch and no grinds. I have a large stack of maintenance records and paperwork all the way back to the early nineties that show consistent mileage history, as well as all the customs paperwork. The motor runs great. Paperwork shows invoices from Mahle for pistons and cylinders in the mid nineties which would indicate a full rebuild was performed at that time. Engine is dry underneath. Car performs as it should and is super fast. All stock under the hood including the original Euro spec single exit exhaust. Also A/C blows COLD. There is no rust anywhere on the car and there never has been. Front pan and battery tray area are mint and the car has never been hit. I'm a longtime PCA member who has owned the car for 7 years. Call me with any questions and feel free to come take a look or have it inspected. Located in SW Florida. Thanks for looking. Ryan 239-218-9114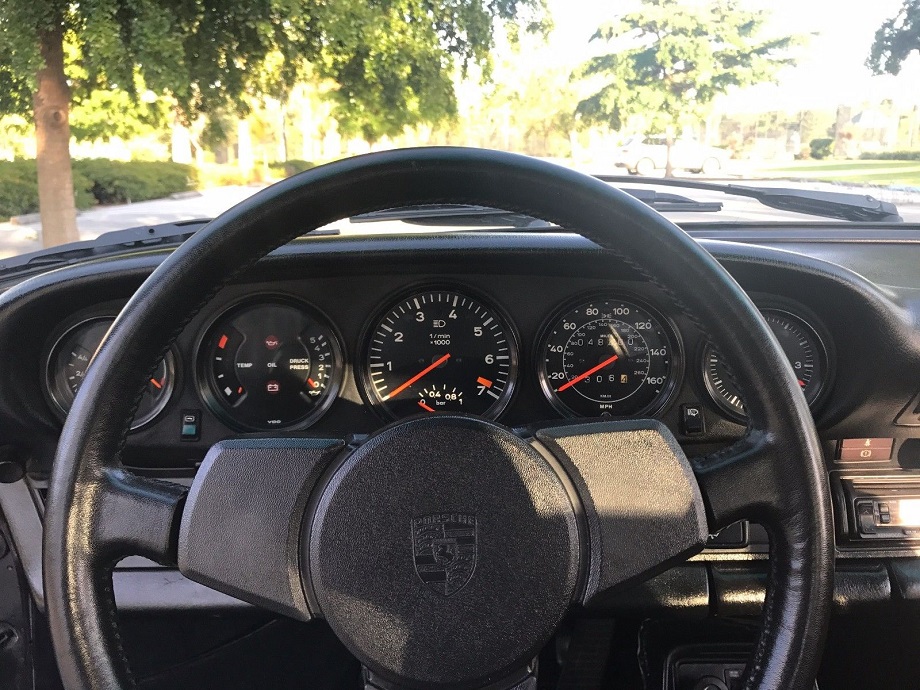 According to some people on the internet – and people on the internet are always right – the RoW '84 930 is the best model year for those looking for the most desirable overall performance. It would stand to reason that the not-very-different '83 would be just a step behind (if not equal). Some will prefer the '89 because of the 5-speed manual, and I think from a collector standpoint there is little question they are the best of the 3.3-liter model years, but for those in search of a driver the added cost likely won't be worth it. And again we get back to performance: the 930 did gradually get heavier over its life and the RoW cars benefit from additional power. Those differences are more incremental than substantial, but it's always worth considering if you have time to be patient in your search. Obviously, condition ultimately plays the most important role.
So here we have one of the better model years, with low mileage, and seemingly good condition. The price isn't too bad either all things considered. It has been repainted and the seller thinks it's had an engine rebuild based on some information in the service receipts. Given the mileage that latter point raises some questions, but if everything is running smoothly and it's well cared for now then we can probably rest comfortably. Either way you'll want it inspected. If everything comes back looking good, then it should provide plenty of raw performance enjoyment and being a RoW model you get that added cool factor of having something just a little bit more unique than the rest. Plus, you could always mention it's paint to sample!
-Rob