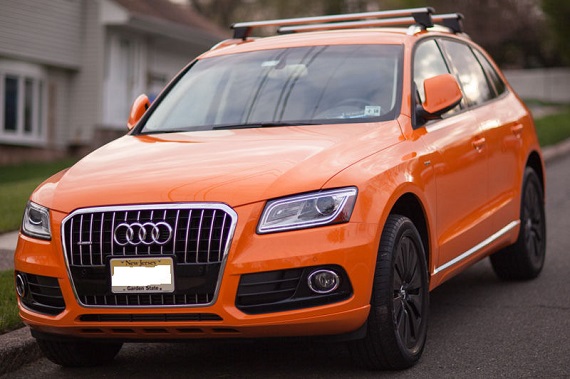 There is nothing wrong with your television set. Do not attempt to adjust the picture. We are controlling transmission. If we wish to make it louder, we will bring up the volume. If we wish to make it softer, we will tune it to a whisper. We will control the horizontal. We will control the vertical. We can roll the image, make it flutter. We can change the focus to a soft blur or sharpen it to crystal clarity. For the next hour, sit quietly and we will control all that you see and hear. We repeat: there is nothing wrong with your television set. You are about to participate in a great adventure. You are about to experience the awe and mystery which reaches from the inner mind to – The Outer Limits.
Alright, after a bit of a lengthy admission that we can't cover all German cars or even all that we're interested in, I'm going to present you with something a little different. SUVs scarcely come across these pages despite their popularity, but then hybrids also don't usually make it on to the GCFSB search criteria. So by a "little different", I mean a lot. A lot of weight, for starters, as this Q5 hybrid tips the scales with no passengers at a hefty 4,400 lbs. A lot of technology? Undoubtedly, the Ingolstadt engineers packed this car full of every gadget at their disposal, and then had at the engine to couple it with an electronic hybrid assist. A lot of color? That too, as the buyer of this Q5 hybrid took it to the next level and let Audi Exclusive paint it the interesting shade of Papaya Orange. That's sure a lot of a lot to take in….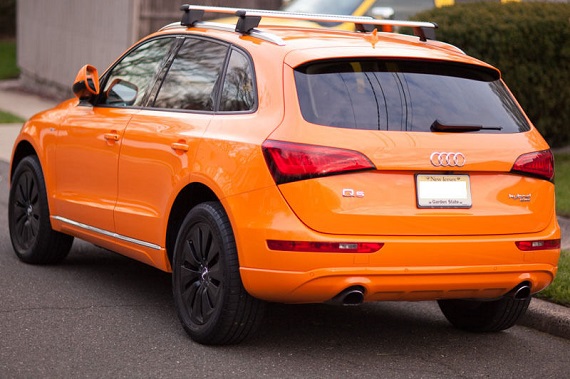 Year: 2013
Model: Q5 Hybrid
Engine: 2.0 liter turbocharged inline-4 with 1.3 kWh electric motor
Transmission: 8-speed automatic
Mileage: 36,073 mi
Price: $34,000 Buy It Now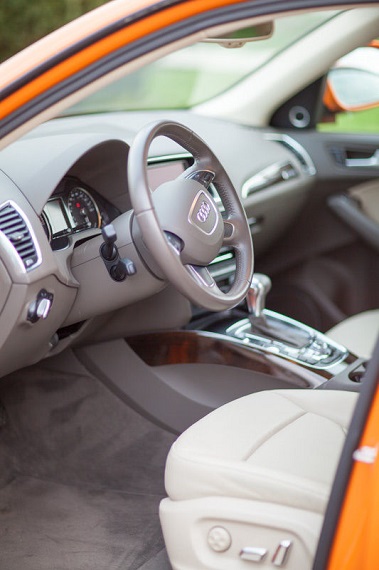 Vehicle is a one-of-a kind Audi Exclusive build Q5 Hybrid Prestige in Papaya Orange. Balance of factory warranty and has Audi Care. All service performed by Audi. Latest MMI firmware and Navigation Maps installed. Vehicle is in excellent shape ready for the next lucky owner. Vehicle is currently financed and has a lien – on purchase of vehicle, lien/title will be released for new buyer. I will not ship the vehicle, but will assist buyer with loading vehicle for shipping if required – buyer to make all arrangements.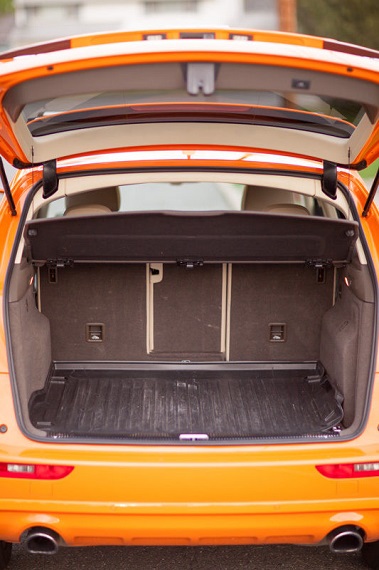 Does the 2.0T hybrid sound pretty boring and potentially overwhelmed by the sheer mass of the Q5? You'd think so, but the only more powerful version of the Q5 is the SQ5, as the combination of electric assist with the 2.0T results in 254 horsepower and 350 lb.ft of torque. That's more twist than the 3.0T packs stock, and leaves me wondering what would happen if you handed one of these over to a firm like APR who are capable of getting close to 300 horsepower through reflashing without the hybrid. That fury is channeled through the same 8-speed ZF automatic that pretty much every single car in the world is currently using, but it's a good transmission as automatics go. What's amazing is that the combination of electric hybrid technology, the small displacement turbo and the 8-speed box result in a reported 30 mpg for this giant A4-based SUV. The next question is the color – is it good, or is it just plain too much? I really like Papaya Orange, and generally speaking the Q5 is a relatively inoffensive shape as SUVs go, but in this case it ends up looking a bit like the highway safety chief's car to me. I applaud the original buyer for selecting a wild shade, and feel instinctively as though such thinking out of the box should be rewarded. But I can't really get on board with the Q5, the prospect of the hybrid breaking down the line is too much for me to contemplate, and the color ends up looking pretty garish overall. But looking at something different is a bit like eating something other than macaroni and cheese for my four-year old son; we can feel proud and accomplished that we tried something different, but it's okay to say we don't like it and don't want any more.
Now, back to our regularly scheduled lineup.
-Carter