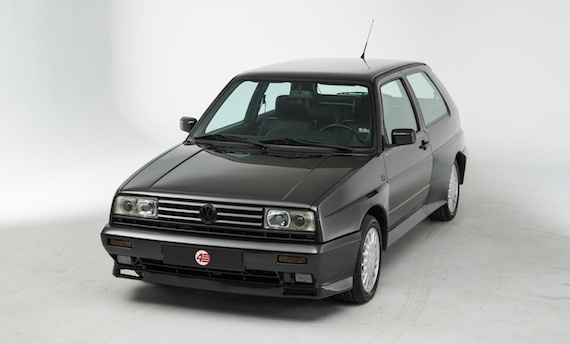 The Volkswagen Golf was never what you would call exotic, but sometimes the most pedestrian of cars makes for an interesting base for something a bit more special. Race homologation has brought us many great cars over the years, like the Porsche 959, Mercedes-Benz 190E 2.3-16 and Audi Sport Quattro. At double the price of a standard 8V GTI, the Rallye Golf was built so that Volkswagen could compete in the World Rally Championship. With Syncro four-wheel drive and a supercharged 1.8 liter, this car started a trend of ultimate Golfs and GTIs that we see up to the present day. This example for sale in England has been lightly used and a perfect piece for someone who is into the box flare style of the 1980s and early 1990s.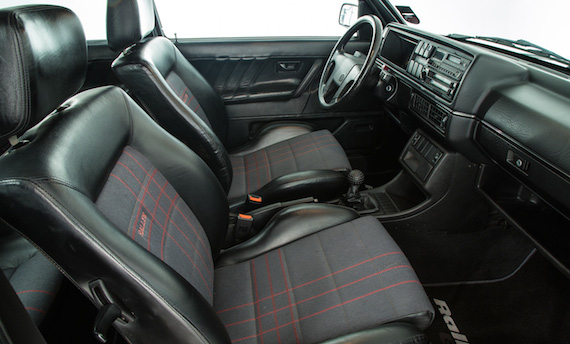 Year: 1990
Model: Rallye Golf
Engine: 1.8 liter supercharged inline-4
Transmission: 5-speed manual
Mileage: 45,414 mi
Price: £17,995 (~ $30,653 USD)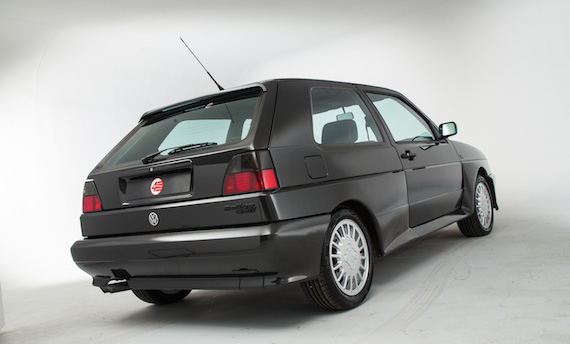 MODEL HISTORY
In 1989 Volkswagen created the Golf Rallye, the car featured four-wheel-drive with a heavily revised supercharged 1.8 engine. The Rallye has a top speed of 130 mph and 0-60 mph in 7.6 seconds. The engine produces 160 bhp at 5600 rpm due to the compression ratio of 8:1 and maximum supercharged boost pressure of 0.56 bar.

The Rallye sits on 6Jx15 multi-spoke alloy wheels, shod in 205/50VR-15 tyres. The car has a similar suspension set up to the 16-valve, except that the springs and shock absorbers have higher damping rates and stronger anti-roll bars. The bodywork was improved with redesigned front and rear bumpers with deaper aprons, the legendary steel box arches and rectangular head lights incorporated in a three-bar grille.

Only 5071 Rallyes were built and less than 70 were officially imported into the UK. Many on the Continent had basic GTI spec interiors, however most of the UK ones had 'Lux Specification' half-leather, electric windows and sunroof.

EQUIPMENT
Electric windows, Blaupunkt tape, ABS, Half Leather Interior, Power Steering, Golf Ball Gearknob.

EXTERIOR
The Rallye sports muscular box arches as many performance cars from the era. The paintwork is exceptional with a deep shine and no signs of the usual chips and scuffs and certainly no corrosion. All of the trims and seals are in fine order and the glass and lights are all free from chips or cracks. The vehicle has been fully inspected on our ramp and the underside is exceptionally clean and corrosion free.

INTERIOR
The Rallye embossed seats are in excellent order with soft unworn leather bolsters with red and grey unmarked checked cloth. The dash is perfect with no cracks, scratches or wear to any of the switch gear. The steering wheel and golf ball gear knob still retain their textured finish and the boot area has a perfect rear parcel shelf and the space saver and tools are neatly stored under the boot carpet. All the other carpets are immaculate and protected with a very nice set of Rallye overmats.

ENGINE & TRANSMISSION
The engine compartment is exceptionally clean with no signs of corrosion or any wear. The motor is in fine fettle and provides plenty of power through the excellent four wheel drive system.

WHEELS, TYRES & BRAKES
This Golf Rallye is currently sitting on the original 15″ alloy wheels, which have recently benefitted from a refurbishment and are shod in brand new matching set of Green Max tyres. All of the brake components are fresh and show minimal wear on the discs and pads.

HISTORY FILE
This Rallye was registered in 1990 and has lived most of its life in Italy. Recently imported to the UK it comes with a full service history with 11 stamps in the book, the last being done within the last 12 months.

This example has done 73,087 km which eqautes to 45,414 miles.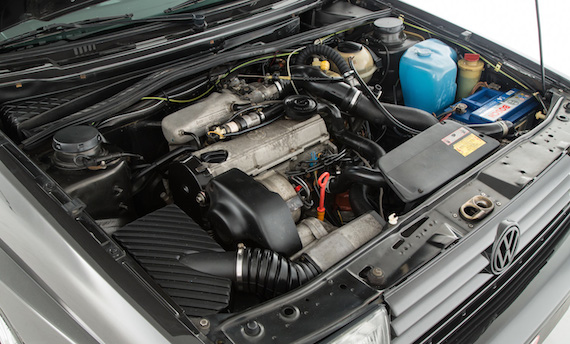 A handful of Rallye Golfs have made their way stateside, as they are now just approaching the 25 year mark. Those that have arrived do command quite a premium over your standard Mk2 Golf. Most that I have come across seem to fetch in the $15,000 to high $20,000 range depending on condition. This particular car is certainly for those seeking a no excuses example. Given all Rallye Golfs were produced in left-hand drive, the fact that it is for sale in the United Kingdom isn't a worry for those of us in non-LHD countries. With only 5,000 examples ever produced (and who knows how many are left), it is sure to keep the price and demand fairly high for these special Mk2s.
-Paul