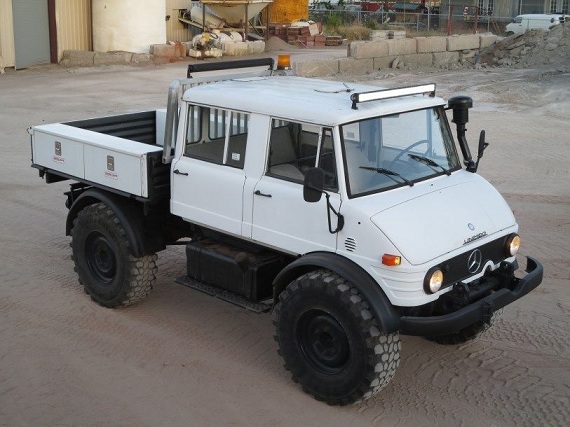 My wife and I have recently had discussions about what is the perfect Providence commuter vehicle once again, with mixed results. You see, we'd like to own something nice and high performance such as a E46 BMW M3. But there are several things counting against that; first, driving a low slung, high performance car around the "streets" of Providence is akin to entering a Group C prototype into the Dakar Rally. Second, you gain attention of the wrong characters in the city. Third, you can never realize the performance of the car in a city setting. Sure, it looks great parked, but why go through the bother? My wife's solution is something like the 250GD Nate wrote up yesterday. Indeed, it's the first car she's commented on in a long time in a positive manner. She likes the rugged simplicity of the G-Wagen, the understated aggression, and the upright, go anywhere, in your face attitude. "Just wait until tomorrow", I said, "I have something even better":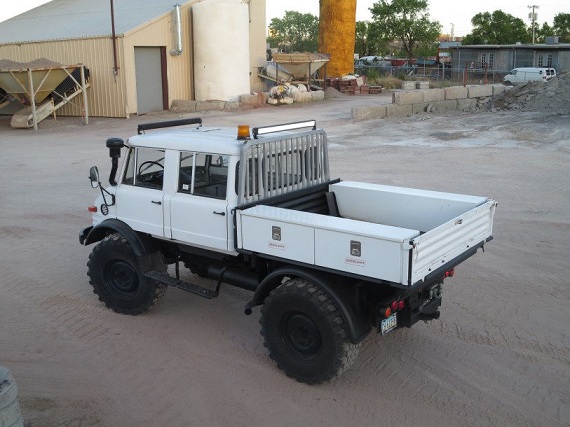 Year: 1982
Model: Unimog 416 Double Cab
Engine: 5.7 liter inline-6
Transmission: 6-speed manual
Mileage: 75,000 mi
Price: $49,500 Buy It Now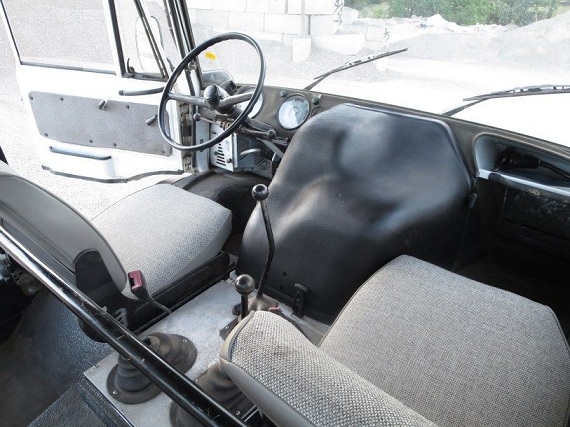 82 MERCEDES 416 UNIMOG DOKA
CREW CAB – LONG WHEEL BASE

One of the nicest examples in the world!

1982 416 Diesel DoKa. All original, Low Mile, Adult owned, 2 owners form New, Excellent mechanical condition, Huge 5.7 Litre 352 Mercedes 6 Cylinder Diesel (20mpg), 6 Speed, Highway Gears (60mph!), Power Steering, Power Air Brakes, loaded with all available options. PTO connection, Locking Differential, Seats 6 adults, 3-way Tilt Bed, Snorkel, Front & rear under chassis 15,000lbs winch, Premium Stereo Sound System and much more.

Stored indoors, professionally maintained, only used occasionally, loaded with the best options…
< Click Image to View Large Picture >

Scarce 1982 6 Cylinder Diesel Unimog 416 Doka Dual Cab.

Powered by the legendary Mercedes 5.7 Liter OM 352 6 Cylinder Fuel Injected Diesel Motor (125hp) getting 20mpg, Can run on many types of diesel & Bio Diesel, 6 Speed with upgraded "Fast Axels" — can go on Highway at speeds up to 60 mph. With Power Steering, Power Air Brakes, stored indoors Heated Facility majority of life. Paint is clean & original (slight fade). No Frame or body rust or damage (only minor fender dings and door edge paint chips expected for age and miles). Near Perfect body panels, doors, hood etc. Beautiful interior, a tweed wool cloth interior (Mint), Seats 6 adults, dual cab roof vents. Original Unimog 416 Mercedes Benz owners Instruction Manual.

One of the few 4 Door cabs in the USA. 2 owners form new. Extremely well maintained, excellent running condition. Just inspected, ready to enjoy.

Many exotic options for extreme conditions: Pneumatic locking hubs for 2, 4, or All Wheel Drive (locking differentials front & rear). Extra large 50 Gallon diesel fuel tank (long range). Excellent for high altitude, cold weather environments comes with extra rear Cab Heater (rare option). Yellow Emergency Rotating above Cab light. Huge LED Over Cab Driving -Rescue lights Front and rear, Tow hitch, back up light.

Plenty of tread on these upgraded larger All Terrain 14.5r20 Tires , Plus the Highway Gears, adds to 60mph top speed. Drives & Brakes straight as an arrow.

She comes with a useful, 3 way dump bed. It is fully tilt-able rear bed (see photos) Tilts in all 3 angles. Has a PTO adapter for other implements. The bed comes equipped with 4 lockable tool Boxes. Also with a working Snorkel, an Alloy headache rack with the bed.

This 416 DoKa will accept a large Cab Over Camper on her. Will accept many Campers that can sleep up to 6 adults.

If you are considering an "Overland" trip, this is the perfect extreme expedition vehicle to go around the world in. She have amazing interior space, unrivaled towing, and hauling capabilities. Commonly seen in driving through Africa or the Savanna.

This vehicle starts, runs, and crawls like new, ready for Around the world travel or your next Rescue Mission! Street Legal and wired for towing.

Comes with a US clear & open title, no taxes collected.

Listed locally, may end early, $2000.00 nonrefundable deposit within 48 hours of end of auction, vehicle release with full payment, can assist with wholesale transport anywhere in the US, Canada or abroad. Can arrange export to any country.

Contact me anytime 24/7: 1 (313) 414.3540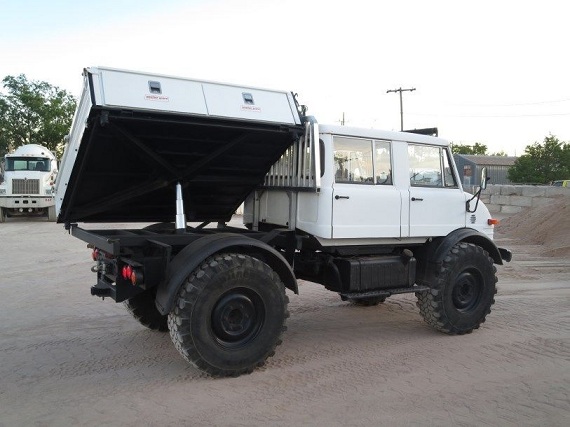 This Unimog is a pure state of awesomeness. When I showed it to my wife, she remarked "Is that a 'Hummer Truck' for people who have taste?" Why yes, it is. It's just a great example of how crazy and over the top the Germans can be when given the opportunity, and I love it. Is there a downside? They're really pretty expensive in the grand scheme for a commuter car, but then you do get a pretty awesome vehicle out of the deal. Is it unnecessary? Sure, but then so isn't a M3? If the M3 is a weapon, so is the Unimog – but instead of for the track, you get a weapon that can be registered with the United Nations.
-Carter