After a 20 year hiatus, Mercedes-Benz reintroduced the four seat cabriolet in late 1991 with the introduction of the W124 E Class Cabriolet. This was a wonderfully engineered piece, with a significantly strengthened chassis and innovative roll hoops that could be manually, or, in the case of an accident, automatically deployed. These open roofed E classes were much admired and this is reflected in their strong resale value to this day. In the 1980s, however, if you wanted an open roofed Mercedes, the R107 was your sole choice from the factory. That didn't stop coachbuilders from setting their sights on the C126 SEC coupe. One of the most famous coachbuilders to behead this flagship touring vehicle was Richard Straman Coachworks of Newport Beach, California. From the Honda CRX to the Avanti, Straman was known for his high quality conversions.
This 500SEC Straman Convertible comes from our reader Mitchell of Dr. Eurocar in Delray Beach, Florida. Unlike a lot of chop jobs, this SEC retains a lot of stock interior trim and has a top which folds rather neatly for an aftermarket roof, leaving one to ponder why Mercedes-Benz never brought one of these to market themselves.
1984 Mercedes-Benz 500SEC Straman Convertible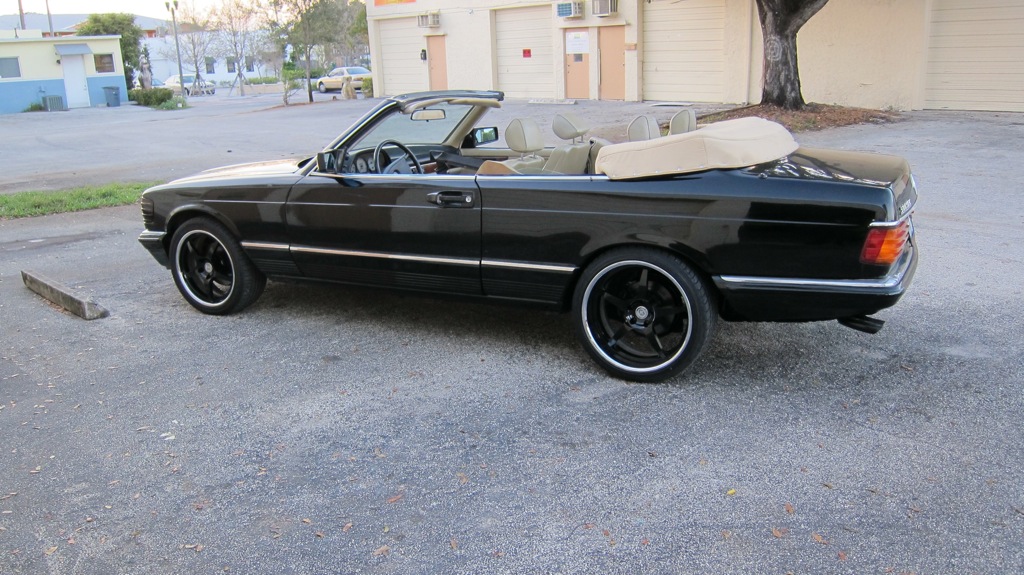 1984 Mercedes Benz 500SEC European specifications imported to California in 1985. In 2010 after rebuilding drivetrain I used it between Los Angeles, CA and Seattle, WA. Currently in Delray Beach, FL, still has Washington State license plates & title. Cylinder heads rebuilt in 2010 along with transmission, timing chain & tensioners replaced at the same time. Front suspension completely redone in 2011 including shocks, strut rods, sway bar bushings, Bilstein shocks tie rods, drag link, steering dampner, gear box rebuilt. Rear Bilstein shocks also redone.

Front brake calipers, rotors, pads,sensors, wheel bearing & seals replaced in 2011. Exhaust system is a straight pipe with new Mercedes Benz rear muffler. This is an R.Straman convertible with fully reinforced frame, under fenders straight through rockers to under quarter panels is a 4×4 steel beam. Power top, German Haartz canvas top in good condition, except rear window in not clear and right side above passenger head has a small rip that has been patched. True Cabriolet top similiar to W124 E320 Cabriolet with headliner.

Interior is very good condition except for dash has about three cracks. Driver seat bolster has some wear. Wood around shifter is not as nice as rest of car. Has lots of options, rear Headrests, front center console glove box, rear center console storage box, heated front seats, power front seats, arm rest, burlwood on dash refinsihed looks great. Hand painted gauges picked up in Germany (smoke gray color). 1991 560SEL door panels with speakers in doors. CD/DVD player with auxilary input. Eight speaker stereo system in all factory opening. Two 10 inch subwoofers in trunk with pioneer amp. Factory tool kit.

Paint has scratches, chips, dings (NO DENTS) polishes and looks great but definately would be on another level with a new paint job. HRE 20×10.5 rear wheels THREE piece-chrome lips with black face 265/35/Zr20 Dunlop tires. HRE 18×9 front wheels Threer Piece chrome lips with black face 245/40/zr20 Bridgestone tires. Front turn signal lens ordered from Germany (smoked with orange shining true) looks stunning in person. Of Course European engine, bumpers, headlights, options.

Two things does not work. Headlight self leveling and vacuum locks. AC is cold converted to R134a. This is a truly rare car with some neat options. Mind you its a 28 year old car, but a modern classic that is often used daily. 147,000 miles and mechanically mint.

626-316-8320. Can view Mon-Friday in Delray Beach,FL 33444. $8500.00 even truly insulting offers considered.

DR.EUROCAR
358 NE 4th Street # F
Delray Beach, FL 33444
(561) 907-1636 office/Appt.
www.doctoreurocar.com
mitchell@doctoreurocar.com

European Car Service & Forensic Diagnosis, ASE Certified & Factory Trained
Normally I'm not a big fan of vehicles that have undergone a conversion, but with Straman conversions, I make an exception. In this classic black on tan color combination, this makes for quite a unique and stylish open tourer at a reasonable cost of entry.
-Paul