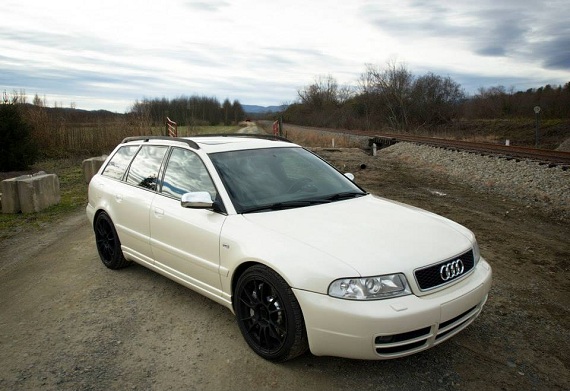 If you never saw the television show "Are you faster than a Redneck", allow me to save you the agony of suffering through it. It was horrible. Truly, truly horrible. I could go on a pretty lengthy rant about the atrocity that became Speed, but I'd really rather focus on a bright point. That bright point is one of the stars that was on that show; or rather, the car that won one particular episode. I will admit I did tune into the particular episode featuring a modified B5 Audi S4 Avant because…well, because it was an Avant, and I like looking at them. Full of predictably low-brow commentary, the show's antagonist "Rednecks" were scripted to be shocked that the grocery getter could beat their 'Merican muscle, but to fans of the S4 Avant it wasn't too much of a surprise, especially when you see the spec sheet on this particular Pearlesant White S4 Avant:
Year: 2001.5
Model: S4 Avant
Engine: 2.7 liter twin-turbocharged V6
Transmission: 6-speed manual
Mileage: 126,777 mi
Price: $19,500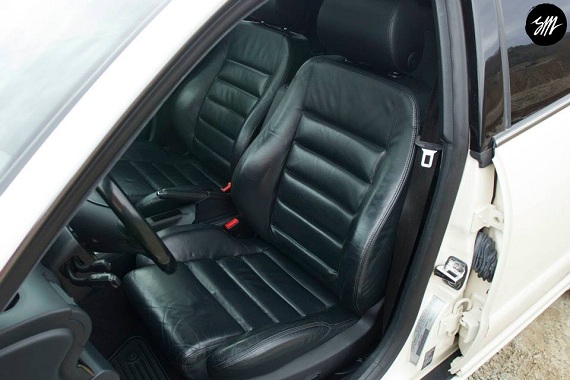 2001.5 Audi S4 Avant
Mileage – 126,777
Pearl White/Black
6-speed manual transmission

Interior
Cold weather package
Premium package: moonroof/sunshade
Piano black interior trim
Pioneer Avic-D3 touchscreen head unit w/ ipod interface, Sirius radio, and navigation
PODI boost gauge
Rebuilt gauge cluster w/ OEM display
Bose surround sound premium speakers

Exterior
OEM RS4 Grille
OEM RS4 Mirrors
Ecode conversion headlights
HID foglight conversion
18″ OZ Racing Ultraleggera Wheels
(4) New Kumho Ecsta 4X tires

Braking
Porsche Cayenne S Front calipers w/ JH motorsports lightweight rotors
Hawk street ceramic pads
New rear rotors w/pads

Chassis/Suspension
Complete front control arm kit w/ Bilstein sport struts @ 120k
Vogtland lowering springs F/R
APR snub mount
AWE tuning subframe brace

Engine/Exhaust
OEM RS4 Turbochargers
OEM RS4 Intercoolers
3″ Downpipes
Custom 2.5″ exhaust w/ high-flow cats
Twin 2in-2out highflow mufflers
Aluminum charge air line w/ 034 motorsports hoses
Autospeed performance 85mm MAF housing
OEM RS4 Accordion hose
OEM 225 Audi TT diverter valves
Autospeed performance fueling kit w/ Bosch 044 fuel pump
Autospeed performance tune @ 24psi
Autospeed performance clutch kit
Swepco 201 performance gear oil
034 Motorsports throttle body boot

Full service and top end re-seal @120K:
Gates Racing Timing belt
OEM Water pump
OEM tensioner and damper
OEM rollers
OEM cam tensioner seals
OEM cam plugs
OEM cam seals
OEM valve cover gaskets
NGK Iridium Spark Plugs
OEM Cam chain tensioners *BRAND NEW
OEM Coolant reservoir
All fluids have been serviced @120k
Engine oil just serviced w/ Motul 8100x-cess 5W-40 and Mahle Filter

Asking $19,500

Call 828-698-0698 for more information or visit Facebook.com/Eurotechnik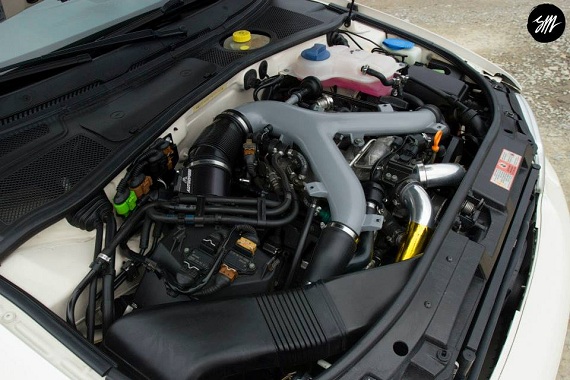 Though horsepower figures aren't supplied, figure this stage 3 avant is in the 400ish range running RS4 gear. That makes this car comfortably fast enough to keep up with just about anything you can toss at it in a straight line, and the Porsche brakes and suspension upgrades help keep that speed in check with things aren't quite as straight. Further that with a few OEM+ upgrades and this is one sweet looking ride. Were it mine, I'd probably change the color on the wheels to a light graphite, but otherwise this car looks pretty sweet and in great condition. Mileage is average and to want to pay the price you'll have to want all the modifications that are present; but it's pretty tastefully done without going overboard and well maintained. Plus, what's the price of stardom?
-Carter