Despite a love for reading Stephen King novels in elementary school, I refused to watch or read "It." Whether it was this refusal, a general lack of exposure, or just a stroke of luck, I never harbored the visceral terror that clowns inspire in many people. When it comes to cars, I'm actually far to the other side of the spectrum, as I am inextricably drawn to clown-shoe cars. Be it the Ferrari Breadvan, Volvo P1800 wagon, Jensen FF or copycat Ferrari FF, the 2-door shooting brake style gets me going. The ultimate expression of this funky/sporty/useful design is the first generation BMW M Coupe. It added a whole new dimension to the otherwise-forgettable Z3 form and earned BMW all kinds of props from car enthusiasts pleased with a manufacturer willing to get weird.
On the topic of getting weird, however, we have today's M Coupe in Texas. If you dig a little, you'll find a well put-together and loved car that must be a blast to drive. If you judge the book by its cover though, it's all scary clown. I count at least 5 overwrought aero bits that give me that uncomfortable laughing/terrified feeling. With just one owner and a $20k Buy-It-Now, however, it may be worth your time to strip away the honking nose and extreme clothes, revealing a simpler, kickass clown shoe.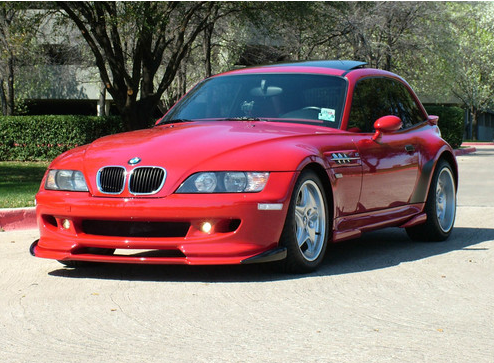 From the seller:
1999 BMW Z3 M COUPE / DINAN / HAMANN / ONE OWNER, RARE AND METICULOUSLY MAINTAINED.
This is a very rare, one owner, meticulously maintained vehicle. Less than 2300 of these cars were produced in the world. Having to sell due to health reasons.
This vehicle has been maintained to the extreme, have all records and I am the original owner. You won't find a nicer M Coupe out there.
EXTERIOR: Imola Red, INTERIOR: Imola Red and Black Leather Interior, BMW HK Premium Sound System w/ in dash CD and 6 disc changer in cargo area, Moon roof / Sun roof, BMW OEM European Headlights and tail lights.
ENGINE MODIFICATIONS:
DINAN Stage 4 Engine Software, DINAN Carbon Fiber Cold Air Intake
DINAN High Flow Air Sensor, DINAN High Flow Air Meter, DINAN Oil Cooler System
DINAN Stainless Steel Exhaust System, DINAN Carbon Fiber Fuel Rail Cover and DINAN Carbon Fiber Engine Cover

SUSPENSION MODIFICATIONS:
DINAN Stage 4 Suspension System – NEW DINAN KONI'S Front and Rear, DINAN Shock Tower Brace
ROGUE ENGINEERING Rear Shock Mounts, UUC Short Throw Shift Kit
BREMBO Drilled and Slotted Rotors – Front and Rear

AERODYNAMICS:
HAMANN Front Bumper / Spoiler w/ DE Projector Driving / Fog Lights
HAMANN Carbon Fiber Front Spoiler Splitters
HAMANN Side Skirt Splitters, HAMANN Rear Diffuser, HAMANN Roof Spoiler, BMW OEM Hatch Spoiler

INTERIOR MODIFICATIONS:
HAMANN Aluminum Pedal Set, HAMANN E-Brake Handle, HAMANN Pistol Grip Shift Knob
Z-LEATHER A-Pillar Pod w/ VDO Oil Pressure Gauge

RECENT MAINTENANCE PERFORMED:
Clutch Assembly, Rotors and Brake Pads, Tie Rods, Dinan-Koni's (front and rear), POWERFLEX Polyurethane Bushings, Oil & Filter (Royal Purple Every 3,000 Miles),
New Radiator With Complete Update of Cooling System, New Tires on Rear (TOYO TR-1'S), And BMW Inspection II Completed.
This car is a multi-show winner and in 2006 was Best of Show at The Texas Driver Magazine's Oktoberfest All German Car Show.
The attention to detail and work under the skin by the single owner are definite pluses, and I'm even a fan of these rear fender stoneguards. While slightly lower-mileage and similarly-modified examples have gone in the low $20ks, the price still seems a tad high when you could keep hunting for an S54 version and be instantly faster. Something around $18k sounds right to me, but the thin market makes it hard to say. If you like scaring children or adults with bad childhood memories though, this is definitely the clown shoe for you.
-NR