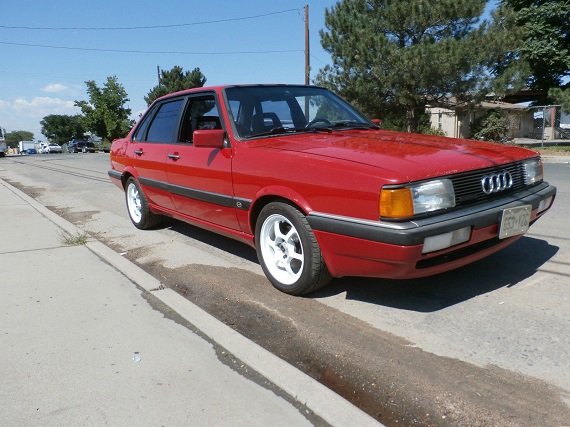 The Audi 4000 quattro was like a Sherpa to thousands of European car enthusiasts; a steadfast winter standby with slick styling and Rally-bred sure-footedness. On paper, looking back today the 4000 was probably a bit dull; nearly 2,900 lbs of brick-on-brick design with a measly 115 horsepower motivation. But numbers don't tell the whole story of the B2 Audi, because in any configuration it's a great handling car. The quattro, however, had some special features that would have been headline items for any sports sedan until very recently; four wheel independent suspension with a large front sway bar and four wheel disc brakes. Couple that with the first all-wheel drive system fitted to a small car, sprinkle some luxury items in and cut the price of the exotic Quattro in half, and it didn't matter that it wasn't particularly fast. What the 4000 quattro was, though, was one solid all-around performer. The subtle changes from the front-drive sedan resulted in a car that felt more grown-up and refined, yet still pushed you to do silly Hoonigan things. 4000 quattro owners that I've talked to almost always have the same proud story; the time that they managed to get their 4000 quattro stuck. Normally, that would be a cause for embarrassment, but such was the grip of the plow-through-anything small sedan that it became a badge of honor when you outdid the car's twin-locking differentials. The secret, of course, was just to make sure all four wheels were in the air! But because of this type of sillyness inducing competence amongst dropping residual value and a second or third tier of ownership that didn't always repair or maintain the cars, few are left in good condition. However, I managed to scratch together a trio of three-quarters of the U.S. bound production years, all in the fetching shade of Tornado Red. We'll start with the end of the run: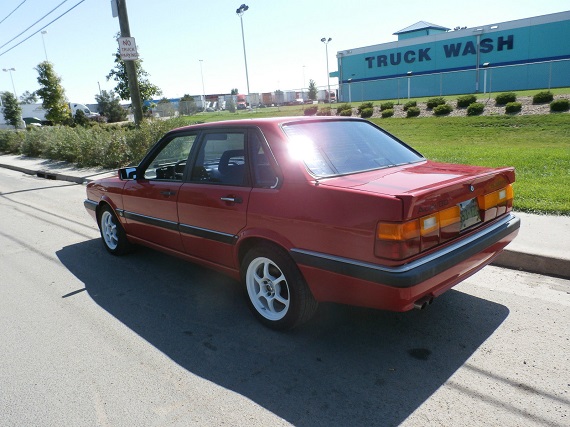 Year: 1987
Model: 4000CS quattro
Engine: 2.2 liter inline-5
Transmission: 5-speed manual
Mileage: 190,500 mi
Price: Reserve Auction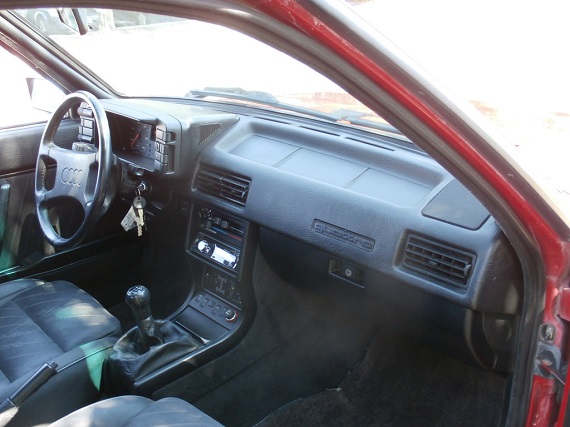 From our collection of classic car's a 1987 Audi 4000CS Quattro @ low reserve!

It is Tornado red with factory black Quattro interior both in very nice-to-beautiful condition.

This car has been in Colorado's dry climate for the past 25+ years of it's existence and is well preserved !

The factory paint is in very good condition w/typical rock chips on the leading edge of the hood, there's no rust on the car. The interior has only minor wear on the edge of the drivers seat which can be seen in the pictures. Mechanically, the car starts, runs and drives exceptionally well. The clutch operate with good pressure and transmission shift between gears smoothly as it should. It is equipped with the 5 cylinder engine, Quattro all wheel drive, manual transmission, air conditioning, sun-roof, power windows, power door locks, AM/FM stereo w/CD player, factory air conditioning and it has upgraded white wheels that gives it a much sportier look, I think. I have the original wheels that go with the car if the new owner so desires. If you are into the 80's Audi Quattro's, which is very collectible & fun to drive, This is one to consider.

I have posted 30-40 pictures of the car, inside/out to give you an idea as to how nice the car is.

No dissapointments here. Especially for the price we have it listed for.

This car is sold AS_IS where is. No warranty is expressed or implied. Please ask your questions early on so that we have a chance get an answer to you. Don't wait until the last hour of the auction as I may be out and not get your message in time.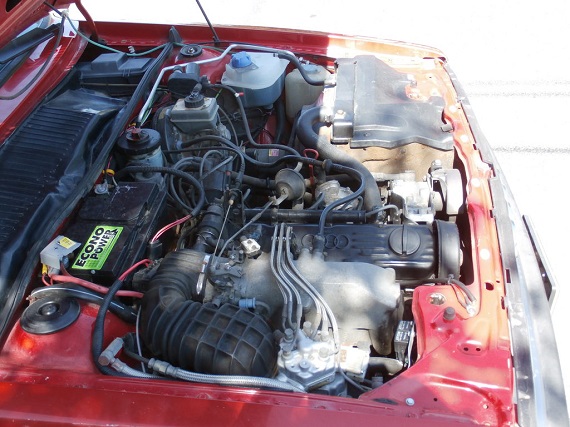 This is the second time that this 1987 has passed through these pages; back in November 2013 I wrote it up. Then it was on offer for $3,500 and was sold by one of our readers. If you're interested, he can probably chime in on some of the work he performed, but it doesn't seem that the condition has changed much. Interestingly, the mileage also hasn't really changed in over a year. This car features the fan-favorite heated quattro-script seats and a trip computer; two of the few options available. The wheels are love or hate, but could easily be replaced. This car is currently offered on reserve, so I'd expect the seller is hoping to recoup at least what they paid for the car and is perhaps expecting a bit more. Overall, it looks like a solid example in the $3,000 range.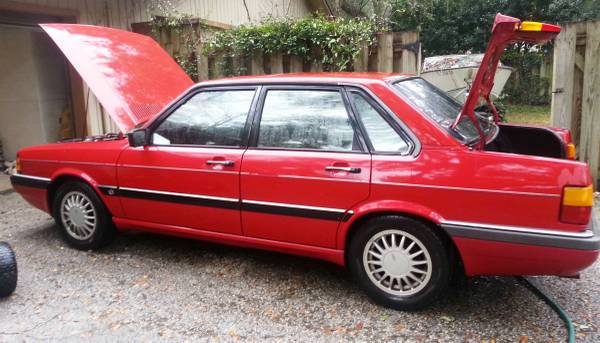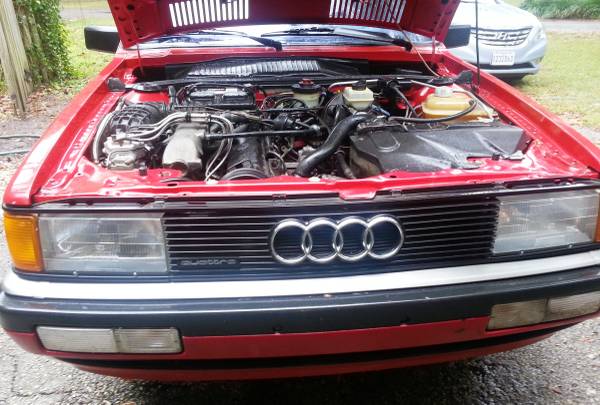 Year: 1985
Model: 4000S quattro
Engine: 2.2 liter inline-5
Transmission: 5-speed manual
Mileage: 132,000 mi
Price: $2,700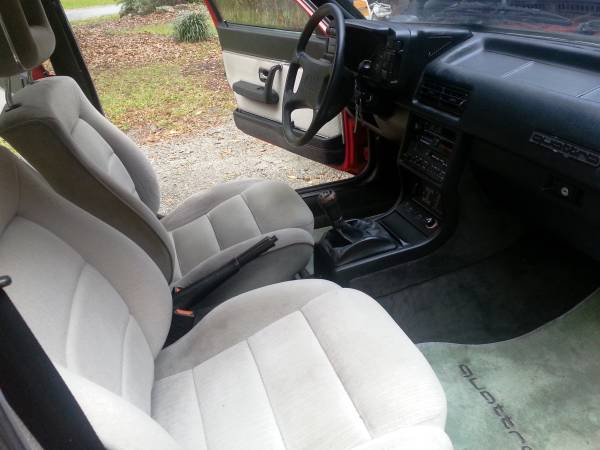 I am the second owner of this 1985 Audi 4000s Quattro. I bought it in 1990, and it now has 132,000 miles. It has: 5 cylinder, fuel injection, all-wheel drive — with electronic locking differentials for both the rear and front axels. It has power windows and locks, power sunroof and mirrors, and factory equipped trip computer. It has been garage kept, the interior is good and there is no rust. It has not been started, or taken out of the garage since 2008. It is all factory original and has never been in an accident.
It needs a clutch slave cylinder, which I have, but have not been able to install because the old one is stuck in the housing and I think the only way to get it out is to pull the transmission / transfer case. It has always been my intention to get it on the road again, but I haven't had the time. Now I would like the garage space for my "new" 1992 Suzuki Samaria.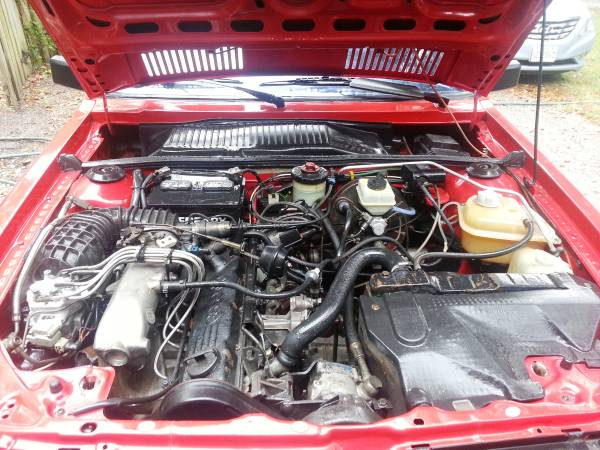 Overall condition on this 1985 looks to be pretty impressive outside of the non-driving condition. Working on the transmission will be a bit pricey, since if you pull the gearbox out you might as well do the clutch and driveshaft bearings while you're there, along with mounts for the engine. It's a lot of labor and is made much easier with a lift. But notably this example looks to be worth the investment; solid and clean, even the original mats look to be in good shape. The seller describes the differentials as electronically locking, but they are vacuum operated. This car also has a trip computer but instead has the more common to see Quartz Grey velour. Other small items that were different on the '85 4000S versus the 86/87 4000CS (besides the C) were the lack of 3rd brake light which became compulsory in 1986, and properly '85 models should have the black center dust caps on the Ronal R8 wheels rather than the '86/'87 flush caps. It's a minor point though, and overall at $2,700 this lower mile and relatively clean example is perhaps slightly high, but it's also worth considering that they don't often come along in this condition.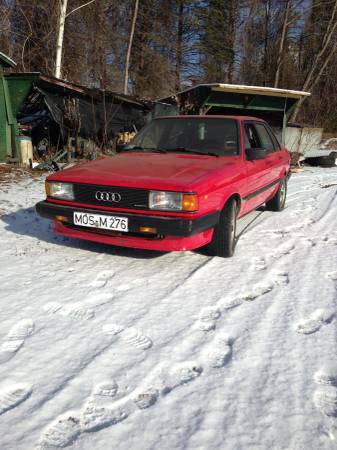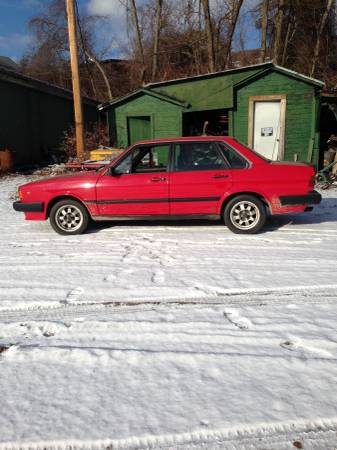 Year: 1984
Model: 4000S quattro
Engine: 2.2 liter inline-5
Transmission: 5-speed manual
Mileage: 127,949 mi
Price: $1,600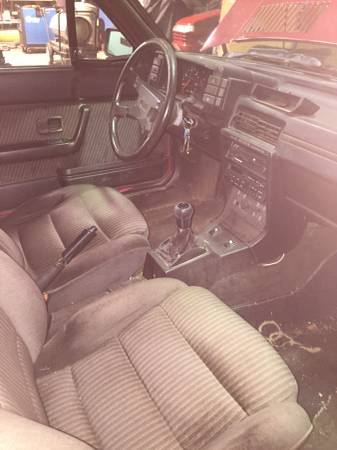 1984 Audi 4000S Quattro

127,949 miles, 5 speed standard transmission.

This is a rare combination of the 4000S and Quattro. On top of it the color red. This is the beginning of the all-wheel drive sport sedans that made Audi a front runner.

The original red paint still shines with no dents or major damage, the interior is in good condition , always garaged.

The good: runs good with recent tune up, oil change and front brakes. No leaks. Tires are good condition mounted on Porsche wheels. The front headlights were changed to euro lights. Very good overall condition not beat up, very respectful condition but not showroom condition.

The not so good: the rear driver side door will not open, I believe there is a problem with the door linkage behind the door panel. The elec. moon roof will not open but does not leak. The interior panels in the trunk are missing. The air conditioner needs to be charged, a piece of molding needs to be reinstalled on the passenger side. Needs a good cleaning and TLC.

The first $1,600 CASH takes it home, NO DEPOSITS – NO SHIPPING – NO EMAILS
clean title, can be seen in Westfield, MA. 01085
NO EMAILS Text or call 413-4 seven 8-three 456 with questions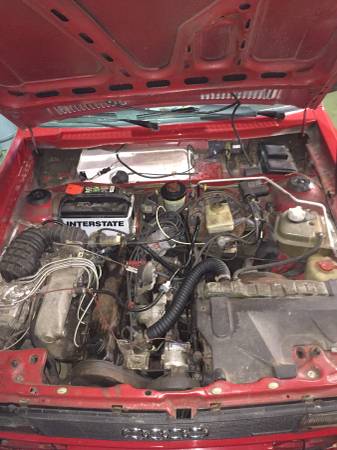 The '84 model was considerably different in many ways than the revised '85-'87 models. The drivetrain was the same, but the body was quite different with unique bumpers, valances, windows and other minor differences along with a completely different interior. This particular example is sporting early 924 "Tarantula" wheels and European lights, as well as the Brazil Brown velour interior. Overall condition appears to be pretty good and these models are particularly sought in their own way; I prefer the later cars, but many really like the one-year only '84 car which was slightly lighter and a bit more unique in the styling. At $1,600, there's a lot you could overlook but you'll spend some time and money getting this example to be right.
Any of these cars, though, offers the '80s experience in a very different way than the typical small-BMW crowd. They offer their own take on performance, looks and European style and are in many ways a dying breed. You have to want a 4000 quattro to buy one, but you will be rewarded with plenty of smiles and some good stories to reminisce about down the road less traveled.
-Carter