Warning!
This post is in our archives. Links in this post may have been updated to point to similar cars available to bid on eBay.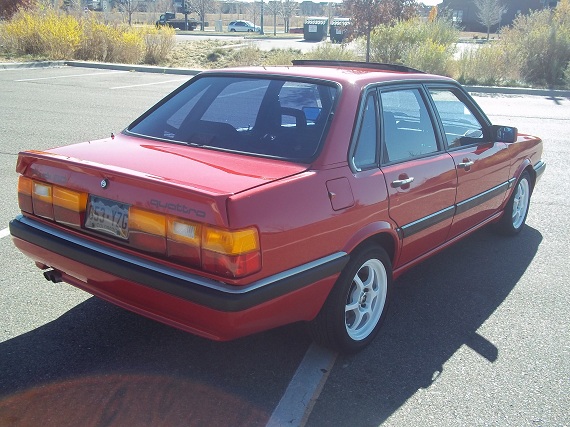 If yesterday's lower-mile but high price 4000CS Quattro got you excited to see an older Audi quattro model, today's double take should take you to the next level! It's pretty rare to find 4000 Quattros in a good state these days, and Paul's example was one of the best that's popped up in a while it was really priced well outside of the market for these cars. Today, though, we have two pretty good examples of 4000CS Quattros that can be had with a reasonable budget – one Tornado Red like yesterday's example and the other in the quite rare shade of Oceanic Blue Metallic. Let's start with the Tornado Red 87: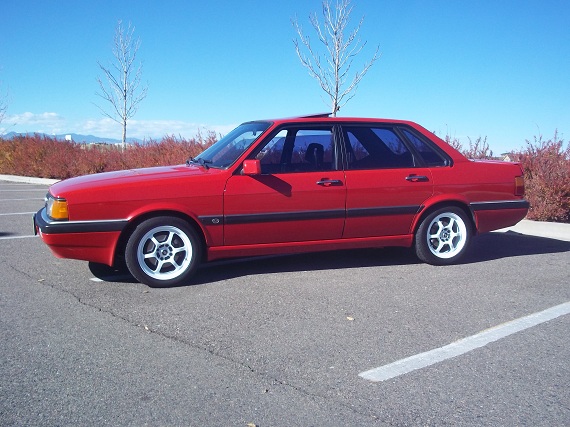 Year: 1987
Model: 4000CS Quattro
Engine: 2.2 liter inline-5
Transmission: 5-speed manual
Mileage: 190,000 mi
Price: $3,500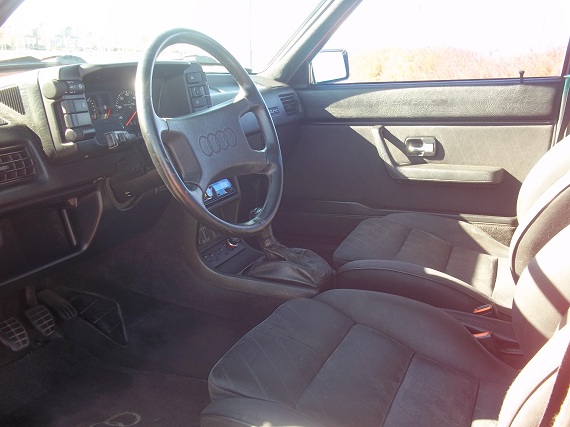 87 4000 Quattro, 190,000

Tornado Red
Heated Quattro Script seats. Both work, no rips or tears.
Trip computer

Work done in fall 2012
Full engine tune up Plugs, cap, rotor, wires, air and fuel filters, all Bosch
New pads and rotors front and rear
15×7 Motegi Track Lite 2 forged wheels with new Hancook Ventus V2 Concept tires 205 50 15
New Trunk struts
Replaced door handle gaskets
New windshield
New battery
New expansion tank

Spring 2013
New Ansa rear muffler assembly
Headlights relayed
Fuel pump relayed
Transmission oil changed with Audi fluid
Rear diff oil changed
Sunroof seal replaced, frame cleaned and lubed, sunroof tilts and slides
Front door outer window seals/scrapers replaced with new clips all from Audi Tradition.

Summer 2013
Transmission mounts replaced
Coupe Quattro red H&R springs
Ur-q OE strut mounts on all 4 corners
Bilstien Sport rear struts
Sachs Advantage front struts
Front and rear ball joints replaced
Right front CV axle rebuilt
Both rear wheel bearings and left front wheel bearing replaced
Front tie rod assemblies replaced
Roof, drivers door, lower rocker panels and trim painted. Roof due to clear coat peel, drivers door was keyed at some point, and the lower rocker trim was faded.

I've driven the car on 2 separate 1800 mile road trips with zero issues. The diff locks work, the cruise works, the AC worked up until July I think the service valves are leaking. The only things it really needs are rear diff mounts.

I am in Denver, CO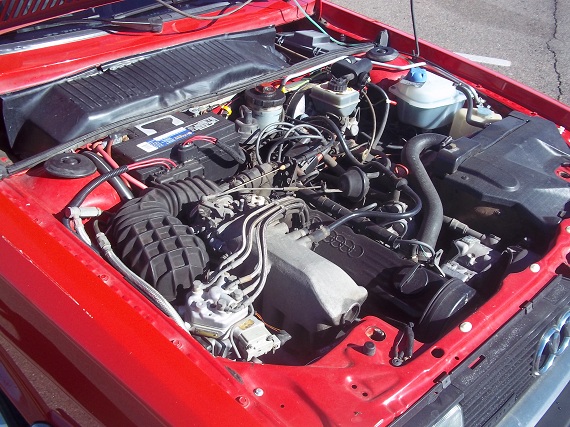 This car looks nearly as perfect as yesterday's car but at only a quarter of the price. Major mechanical service has been completed and it's all of the things that you'd want changed over on one of these older cars. The suspension has been upgraded to later and stiffer Coupe Quattro items giving the car a better ride in the twisties while not being incredibly low. This car also features the popular "Quattro script" heated cloth interior and all of the trim looks in good shape – including those front reflectors and grills, a typically gone or destroyed item on 4000s. There are some light modifications including some rally inspired super light white Motegi wheels, light window tint and the OEM badges have been replaced by some Ur-quattro inspired stickers – really, nothing that isn't reversible if you don't like it. Mileage is pretty much par for the course on these well loved quattros at 190,000, but anyone that has owned one – I have – will tell you they wear like granite, especially if well maintained like this. Looking for a bit more of a project in a rare color? How about this rare to see Oceanic Blue Metallic model?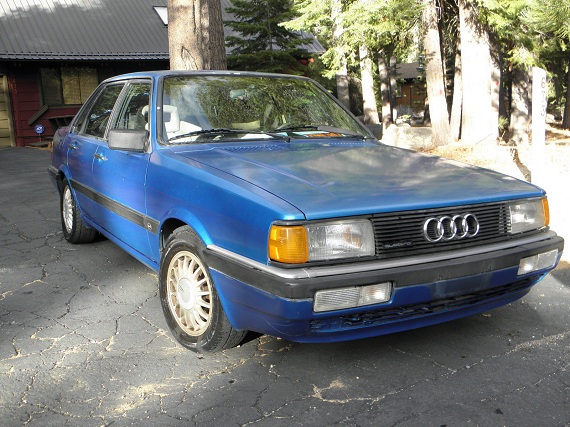 Oceanic Blue Metallic is a color near and dear to me, as I owned two Coupe GTs in this shade. My cousin also learned to drive on a model just about identical to this and it was the first 4-wheel burnout I've ever seen – who says 4000s are underpowered?!?! It's a neat color that is rare to find. Unfortunately, this particular car has been resprayed about 10 years ago and to me it doesn't look like they got the mix just right – but it is pretty close. It's odd that they had the car resprayed but didn't paint the spoiler as it should have been. The original wheels are there but look a bit tired, though the seller claims newer tires.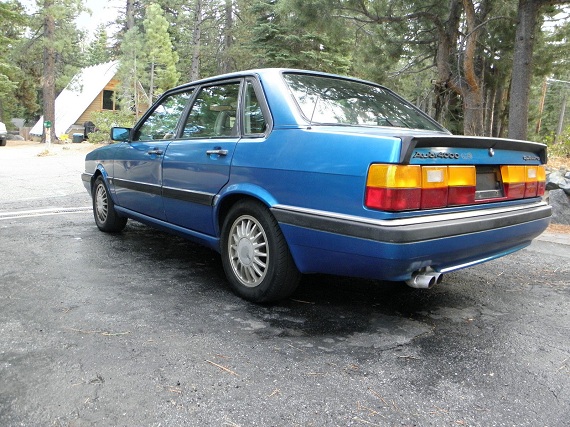 Year: 1986
Model: 4000CS Quattro
Engine: 2.2 liter inline-5
Transmission: 5-speed manual
Mileage: 220,000 mi
Price: $2,700 Buy It Now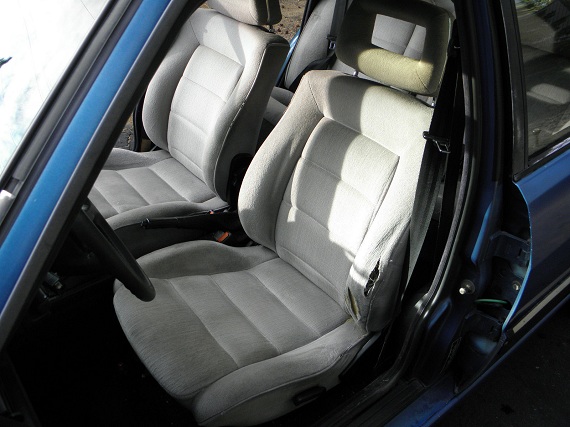 1986 Audi 4000 S Quattro. The Ultimate snow car. Drives great and tight. Clutch good. Brakes good. New struts.

Instrument cluster replace with 220k.

No rust. Painted by Earl Scheib '03. Paint OK. Medium sized dents in LF fender/ door. Smaller dent RR door. Glass all around good. Windshield in excellent condition. Some water spots on glass. Sunroof needs some attention. Will vent. Rear spoiler OK. All lenses good for an '86. Front reflectors and blinkers perfect. Drivers headlight cracked. Have a replacement set of headlights. All trim there. Door trim typical for the age. All SS trim in good shape.

Interior OK. Heated front seats work. Drivers seat has bolster wear. Rear seats good, but welting is coming out. Dash cracked. Door panels excellent. Both front doors have pockets in place. Power windows work. D.Rear window operates only at door.

Solid car! Newer tires! Drives as a 4000 should. Excellent car for a restoration. Or drive as is.

Please ask questions as needed!

Car located in South Lake Tahoe, CA and for sale locally. May be sold prior to Auction end.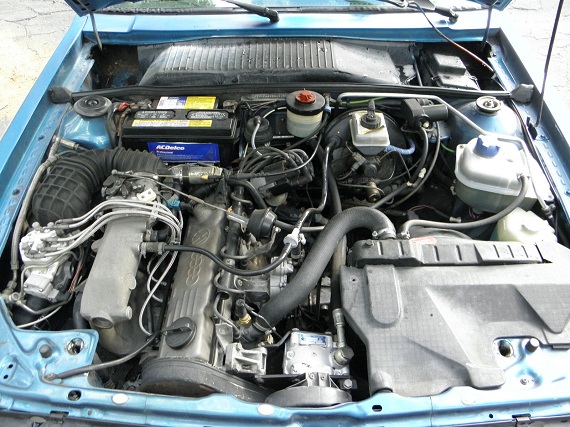 This car is definitely in need of some love and attention if you want a nice driver, but overall it's in pretty decent shape. Rust-free is key as a starting platform, and while there is a fair amount of wear present it doesn't look like anything that couldn't be overcome with some attention and the assistance of the active community that supports these cars. This car is priced pretty appropriately at the lower end of the market on 4000CS Quattros.
Were it my money, the Tornado Red car is the one to get. For a few hundred dollars more than the Oceanic model you couldn't replicate the amount of work and condition difference between the two. As Paul said in his post, though the Ur-Quattro gets most of the attention from this time period, the 4000 gives you most of the thrills on a much better budget. These are two great examples of just that; well priced, solid platforms of cars that you could drive and enjoy for years to come and a great alternative to the rapidly-appreciating E30!
-Carter