Warning!
This post is in our archives. Links in this post have been updated to point to similar cars available to bid on eBay.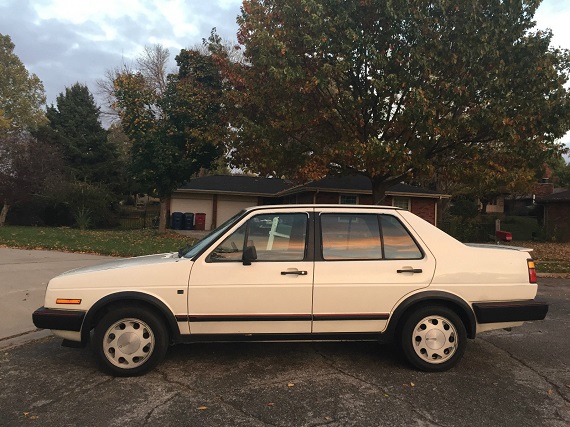 With the exception of the short-lived Jetta TDi Cup Edition, Volkswagen has denied U.S. fans something that it's offered in Europe for several generations – the sporty versions of its diesel products. They go as far back as the mid-1980s and made lots of sense in European countries were greater fuel economy trumped the need for speed. But that lack of importation hasn't stopped some from creating their own anti-sleepers. What started life here as an early Jetta GLi 16V has gone through a unique swap to an equally if not more rare Ecodiesel-spec 1.6 turbo motor. You get the sporty look and interior from the GLi with all the clatter and fuel economy of the diesel: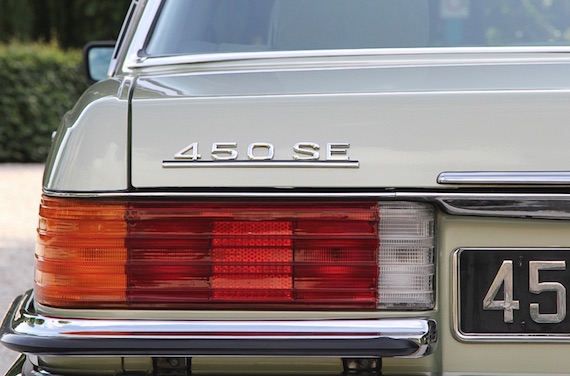 Year: 1987
Model: Jetta GLi 16V Ecodiesel
Engine: 1.6 liter turbocharged inline-4
Transmission: 5-speed manual
Mileage: 147,000 mi
Price: No Reserve Auction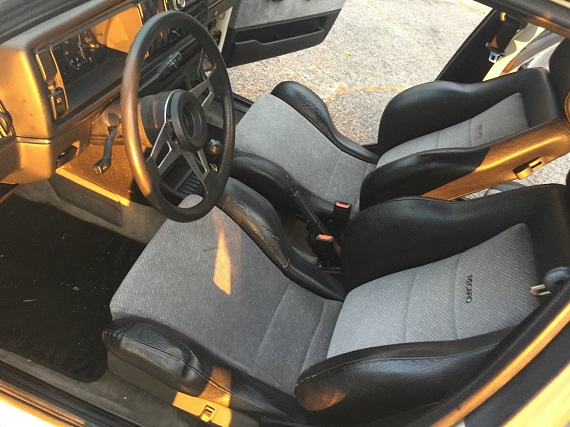 1987 Volkswagen Jetta 1.6 Turbo diesel GLI

1987 Vw Jetta turbo diesel ( swapped )
Title is listed as a 16v Jetta GLI
1.6 Eco-Diesel Turbo Swap by previous owner
Diesel odometer says 147,000 –
ACH 5 speed manual transmission
Clean Texas car ( been in Nebraska.8-9 months was NOT driven this winter up here )
Recaro trophy seats / matching door panels
Non-sunroof
Ac equipped but not swapped over to function
Great tires on tear drop rims
Manual Windows
Aux input aftermarket CD player with upgraded speakers. Noticed amp wiring under driver seat but no amp
Starts right up and goes.

As of March 1st, 2016 –

New timing belt , water pump and housing. New Rebuild Giles injection pump ( factory rebuild not an upgrade rebuild )
New heater core – installed a different dash that is alot nicer than the one that was in the car. Replaced the lower webbing on the driver Recaro seat now it sits FIRM.

Known Issues:
At 45 mph there is a noise from front passenger side or driver side. Previous owner thought an axle I think possibly Wheel bearing.
Heater blower motor fuse blows – i have a used blower motor and resistor included just have not installed it yet

The Engine picture on this ad is the original Eco Diesel injection pump pictured – it now has Giles Rebuilt Turbo Diesel Injection pump which looks slightly different. The Jetta runs MUCH better with this Turbo Diesel injection pump – stop light to stop light – its much more enjoyable to drive before the turbo spools.

Friend bought this Texas last spring / summer. Flew down to buy Miata. Miata was junk ended buying this and drove it back to Nebraska. He drove it for a few months while fixing his other car then i bought it last October planning to fix all the little things. I ended up going a little over board – spending over $1000 repairing stuff , replacing stuff. I didnt want to ruin the car with Nebraska Salt – so it sat all Winter – December – March 1st , it was not driven. We have had unseasonably warm temps here in Nebraska and i have been busy fixing this up and it is finally ready for a new owner. I daily drive a 1998 VW Jetta TDI – I want a Rabbit Pick Up Truck so i am selling this Mk2 to fund a rabbit truck.

This car last week was featured on Jalopnik's Crack Price or Right Price – with 3300 Votes my asking price of $3000 was 52% the Right price.
I have it listed for sale locally and nationally via forums / craigslist. Auction could end at any time.

Only rust spot I found was driver door sill… ( very last picture ) I was going to repair it but i didnt want to " hide " the only bad spot on the car so i left it alone so the new owner can have it repaired. Its very very minor – inside the driver front door jam.

402-671-0355. Text is best

Located Lincoln Nebraska. 68516 In my driveway Sold as is where is. $500 deposit due with in 24 hours. Balance due 72 hours after auction ends – Jetta must be picked up with in 7 days.

On Mar-13-16 at 13:02:41 PDT, seller added the following information:

Edit: Today Sunday March 13th 2016 – nice day so i went out and tested the blower motor issues and replaced the blower motor itself and now it seems to be working just fine without popping the fuse…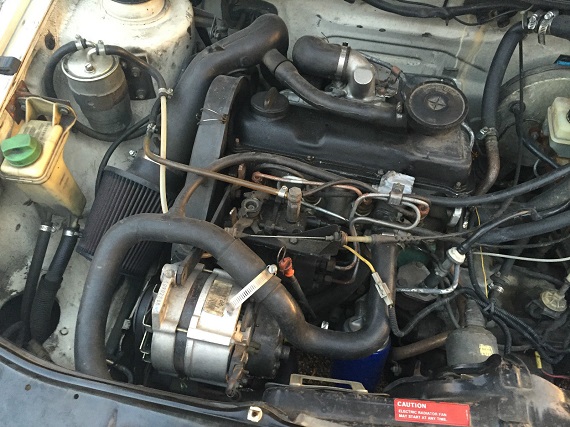 I wonder if the front of the car encountered something along the way, as it's missing both the signature rectangular lights and dual-brake duct deeper lip spoiler that the GLi 16V came with. The single round headlight looks neat though and otherwise the car appears just as you'd expect a reasonable GLi to appear. Inside has upgraded Trophy seats over the standard sport seats GLis came with, and this car was either interestingly equipped or modded – usually the GLis were pretty loaded, but this one is missing power windows and a sunroof, which is somewhat unusual, but had air conditioning. Also interesting is the swap to what appears to be a first generation Scirocco steering wheel. Regardless, it's a pretty clean and special Mk.2 Jetta for not much money – current bidding with two days left has it priced below $1,500 on the no-reserve auction. I don't think you can get any more Volkswagen for your money and if you sort a few details this could be a really neat commuter package.
-Carter