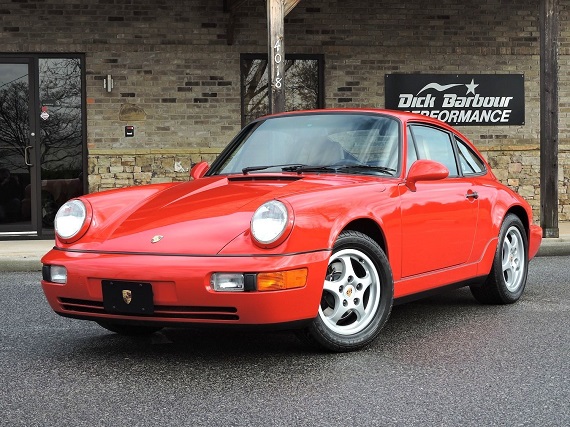 I mentioned in yesterday's post the relative difficulty in finding interesting 911 Coupes and that difficulty becomes even more pronounced when looking at the 964. We don't see a lot of 964s in general compared with other models and a good Coupe is even more rare. The one we see here, a Guards Red 1994 Porsche 911 Carrera 2 Coupe with Tan leather interior, I think is well worth our consideration. 1994 marked the end of the 964's run as we began to see the much-heralded debut of the 993. As we've mentioned before when discussing the 964, they led a tumultuous existence, never really beloved by 911 fans and to my mind in a constant state of flux; there's such a wide diversity of models that it almost seems as if Porsche was restless. Perhaps that was in response to the 964's muted reception, perhaps there were engineering factors, as we know with the 964 Turbo. Regardless of what went on while the 964 was new, the model has seen somewhat of a resurgence in recent years and excellent examples have begun to garner a good deal more appeal. We witnessed this last week when Seinfeld's Polar Silver '94 Turbo S Flatnose sold for over $1M. Those are exceedingly rare and special machines, but such numbers do speak to the increasing popularity of the model and even the standard cars are seeing greater values. This one should stretch just how far the market is willing to go.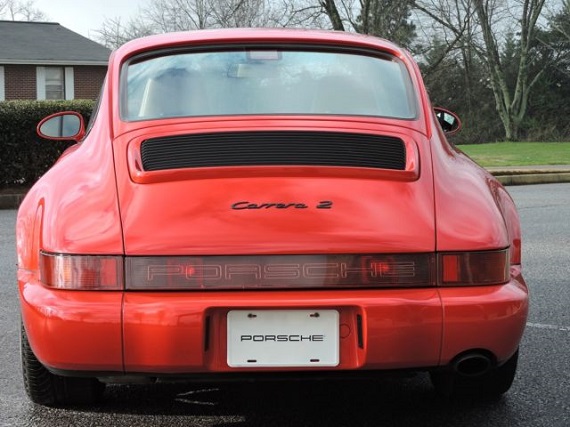 Year: 1994
Model: 911 Carrera 2
Engine: 3.6 liter flat-6
Transmission: 5-speed manual
Mileage: 39,589 mi
Price: $79,900 Buy It Now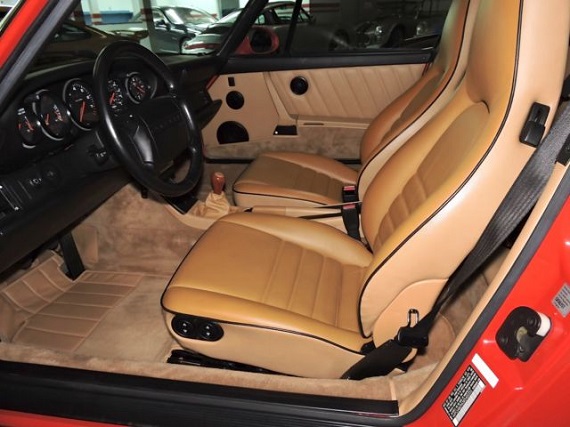 This absolutely gorgeous, and fully documented 1994 Porsche 911 Carrera 2 is quite a rare car. Only 200 of these 964s have been imported to the United States, which also included the C4 models.
The car was purchased in April, 1994, by a gentlemen from Minnesota. He kept the car up quite well, with the first service record starting in July, 1994. In 2003, he sold the car to a gentlemen from Georgia, who continued servicing the car at an authorized Porsche dealership. In the span of his 13 year ownership, he added an Alpine Compact 6 Disc CD changer, and XM satellite radio. Both can be very easily removed.
The overall condition of this 39,589 mile car is quite remarkable. The Guards Red paint is in great shape and all the rubber seals and trimmings are fresh. The interior is close to flawless, and everything has been greatly preserved and maintained. All the electronic instruments and gadgets work, and the AC blows cold. The underside is very clean, and of course, rust free.
Performance wise, this Carrera 2 is absolutely a splendid car to drive. The engine pulls strong and the shifting is smooth. Everything properly engages and the car drives as a solid 964 should.
Upon receiving the vehicle, the car underwent the removing and replacing of the chain cases. Also all gaskets and seals involved were replaced, including valve cover gaskets.
Here are inserts from the latest service and other maintenance through out the years:
39,570 – Valve cover gaskets
– Cam retainer gaskets
– Camshaft o-rings
– Chaincase base gaskets
– Timing cover gaskets and grommets
– Front main seal
– Intermediate shaft cover seal
– Chain tensioner gaskets
– Crossover pipe o-rings
– New rear deck lid struts
– Adjusting drive belts
– Oil service
08/15 – New battery
38,252 – Oil service, new belts
34,930 – New tires, oil service
32,742 – New blower fan, new belt tensioner
32,135 – Oil service
29,146 – 30k mile service
27,441 – Oil service
24,821 – All new V-Belts
Option/build codes for this car:
XC8 – Light Rootwood shift knob
XD4 – Wheel caps with colored Porsche crest
454 – Automatic speed control
494 – Additional amplifier
650 – Sun/moon roof
691 – CD/Radio Alpine Porsche CD-2
Overall, this Porsche is simply a collector's dream. Very low production numbers, low miles, fully documented, and in stunning shape. The car also comes with a clean Carfax, tools, manuals, custom fit Noah car cover, front Porsche bra, and both keys.
Collector car financing available at competitive rates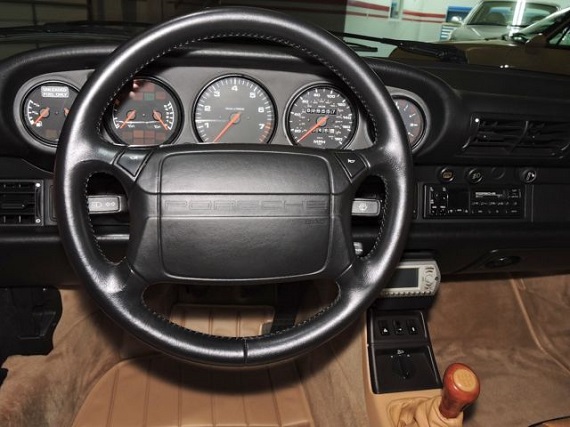 At first glance, the asking price here struck me as much too high. But given the difficulties I've discussed in coming across these sorts of examples perhaps it isn't as far-fetched as I initially considered. I still think it's high, but it's probably at least worth a discussion. This 964 itself presents quite well. I imagine the interior is going to provoke a small amount of consternation for some. I know for my tastes I could do without the contrasting piping on the seats and I certainly am not a fan of the shift knob. Many people enjoy a wooden shift knob though so it's probably not a deal-breaker for most (and wouldn't be for me either). The history sounds to be reasonably documented with a good deal of recent service history to at least provide some sense of its current condition. This looks to be a very nice final-year 964 Coupe and should attract a good deal of notice, but I do think the price will need to come down.
-Rob