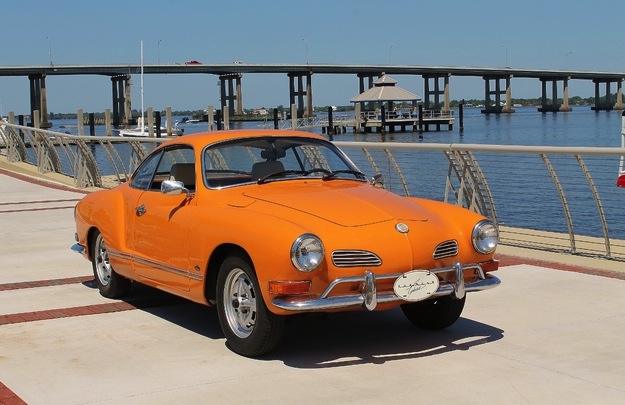 Years ago, when my mother was buying her first car, she had her heart set on a Volkswagen Karmann Ghia. However, my grandfather thought it was too impractical and forced her hand into buying a Super Beetle instead. He still referred to the Beetle as a coffin on wheels, but this was coming from a man who ran a 1972 Ford LTD Country Squire as the family car. It was rather surprising that ten years later, my grandfather would buy a 1982 Honda Accord sedan. Perhaps it was the fuel economy that changed his mind, or it could have the monumental task of keeping this sucker in one lane along the elevated section of I-95 through Philadelphia. Imagine riding a unicycle through a china shop without knocking anything over…after bolting down about five gin and tonics.
Designed as a sports car with common sense in mind, the Karmann Ghia lived a long life from the late 1950s into the early 1970s. This Karmann Ghia for sale in Florida mirrors the color of the fruit the state is famous for and offers a lot of character for the collector on a budget.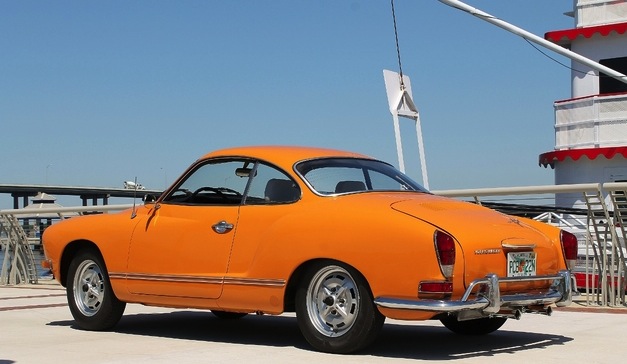 Year: 1971
Model: Karmann Ghia
Engine: 1.6 liter flat four
Transmission: 4-speed manual
Mileage: 19,598 mi
Price: $9,000 Buy It Now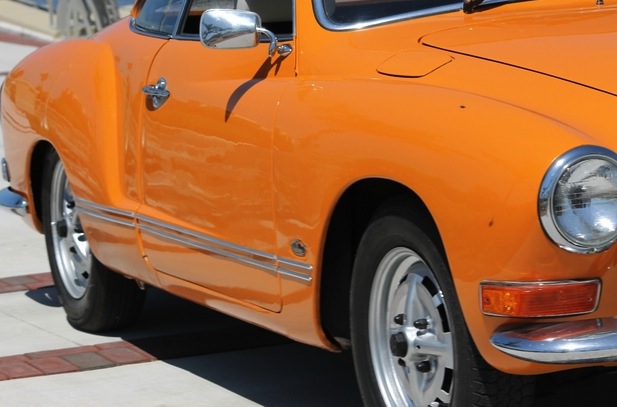 Take a close look at this Ghia and we think you will agree it has got to be one of the best. The wow factor begins with the stunning orange paint accented by the light sand leatherette interior. Extra clean all the way around. A well maintained Florida car belonging to the same family since new. Professionally maintained by a repair shop specializing in air-cooled VW's. Not only does this beautiful little car look great, it runs great, too. The engine is the very dependable 1600 c.c. dual port. Transmission, four speed manual. The floor pans are solid and not needing any repair. Recently serviced including a new muffler and battery. The original radio does not work, however. Show or go, you are sure to smile about this special car.

We are currently taking offers at our showroom and may end the listing at any time. If you would like to make an offer on this car or any of our other cars please call (239)313-5408 so we can discuss it.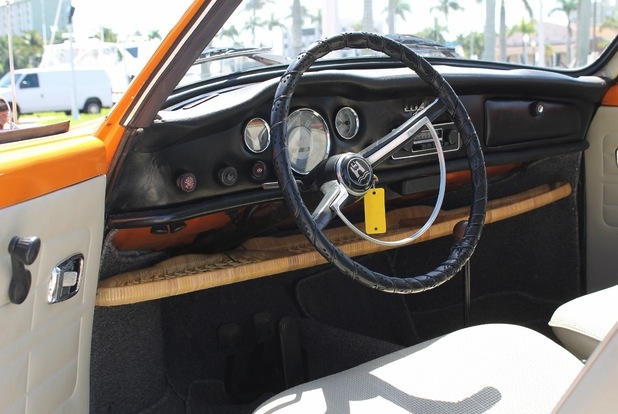 While the seller states that the car has been owned by the same family since new, there is no mention of whether this car has had a partial or full restoration. It certainly looks almost too clean to be original, but such cars do exist. If this car is as good as it looks with no major mechanical defects, the price is fair, considering most Karmann Ghia coupes fetch between $7,000 and $12,000 in good condition.
-Paul