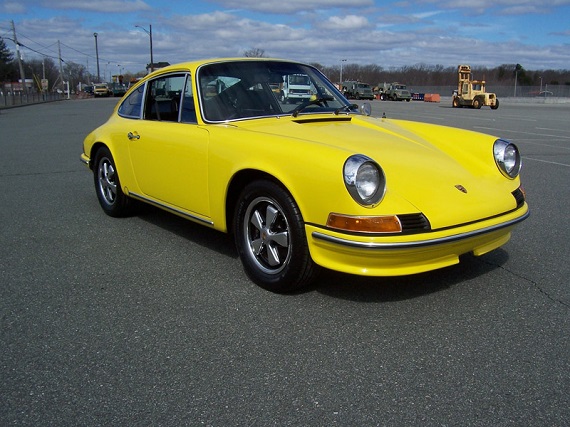 We've shown a few examples of the 911T over the past weeks and we always enjoy featuring these early entry-level 911s for their (at least on a relative scale) less costly asking prices that still retain that vintage 911 style and feel. They do tend to get caught in the general craze surrounding long-hood 911s with asking prices that are too high for their condition, but we can forgive sellers for attempting to extract the most from their cars. No one is going to give these away. In that regard the 911T can be a tough sell; even a good one is destined to command far less than a 911S so collectors remain less enamored with them, but values are high enough that as a driver it really takes a buyer with a strong nostalgic desire for an early 911 for the purchase to make much sense. The example we see here falls into that driver category and given the asking price will probably be another tough sell, but it's incredibly striking and appears to have been shown a high degree of care. Here we have a Yellow 1971 Porsche 911T, located in Massachusetts, that's traveled 171,785 miles over the course of its life. From the pictures it hardly looks it!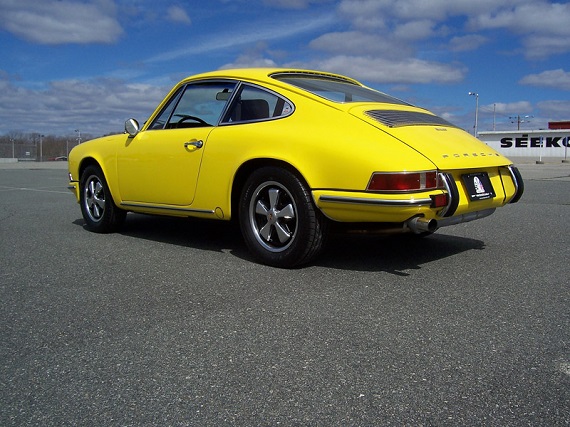 Year: 1971
Model: 911T
Engine: 2.2 liter flat-6
Transmission: 5-speed manual
Mileage: 171,785 mi
Price: $79,900 Buy It Now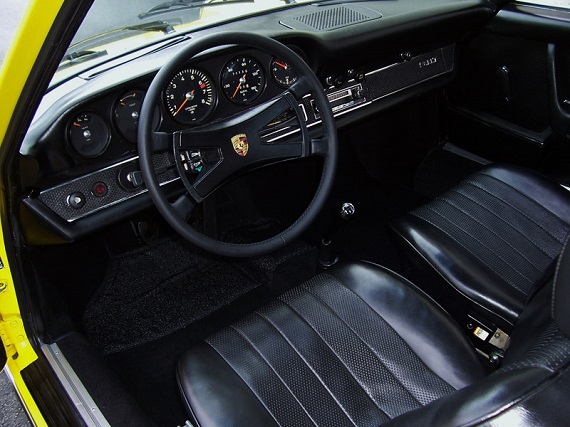 1971 Porsche 911T Karmann Coupe

***PORSCHE CERTIFICATE OF AUTHENTICITY INCLUDED***

***MATCHING NUMBERS ENGINE***

***THIS CAR HAS HUGE EYEBALLS WITH THE COLOR SCHEME***

I purchased this car from an older gentleman who owned it for almost 20 years. He purchased it on 10-20-1995. A copy of the title that documents this is pictured below!
He had this car restored in stages over the years starting first with the mechanics. In 2010 the body and paint was all redone. It has been driven very little since!

MS CLASSIC CARS recently invested over $10,000 in this car from top to bottom. A copy of the invoice is pictured below documenting all the work!

This is one of the nicest 1971 Porsche 911T's on the market for sale!
The exterior body is very straight and the gaps are very nice all around!
The car originally was Light Ivory but was changed to a gorgeous Yellow. The paint quality is beautiful and show quality. The paint is virtually flawless!

Everything on the exterior has been restored or replaced including such items as the front and rear glass, stainless trim, door handles, bumpers, rubbers, lights, etc!

The car sits on brand new reproduction 15" Fuch style wheels with BF-Goodrich Advantage TA's. MS CLASSIC CARS spent almost $2000.00 on the set!

The interior was restored in the original Black leatherette. The interior is also beautiful and compliments the exterior perfectly!

Mostly everything in the interior has been restored or replaced including such items as the headliner, steering wheel, seat tracks, shifter, carpet, etc!

The trunk compartment is very clean and houses the spare tire. The trunk liner was replaced!

The engine compartment is nicely detailed and home to the matching numbers 2.2L 6cyl engine with dual carburetors!

The engine was completely professionally rebuilt roughly 45,000 miles ago with many upgrades. The clutch was also replaced at the same time. This car runs and drives beautifully!

It has a new Dansk stainless steel exhaust system that sounds sweet!

The undercarriage is also nicely detailed front to back. All of the parts were restored or replaced. MS CLASSIC CARS recently freshened it!

MS CLASSIC CARS has completely detailed this car from top to bottom which is valued at $500.00!

***PLEASE CALL ME DIRECTLY AT #508-557-0152 FOR A MORE***

As my website indicates I've been focused more on collecting American made classic vehicles. Over the years many friends and clients have wanted me to start collecting European classic vehicles. I should've listened because the European classic vehicle market has become red hot over the last couple of years. I finally decided to start learning these vehicles and begin collecting them. I did a ton of research and learned a lot over the last couple of months. One of the things I learned is there aren't many really nice classic Porsches out there. Most of the late 60's and early 70's Porsches on the market for sale are in very rough in condition. Most people just don't restore them to the quality of the American classic vehicles. I've also learned that the collectors don't want them to be over restored. I truly believe the 1971 Porsche 911T Karmann Coupe your about to witness below is one of the nicest I've seen and I've looked at hundreds. This car has many things going for it including such things as the Porsche Certificate of Authenticity, mostly original sheet metal, the original engine and a sweet color combination. This is one very special car that is total eye candy!

Breakdown of the VIN #9111121030
911 = Type 911
1= 1971
1= 911T
2= Coupe
1030 = Serial number
Original paint color/code: Light Ivory
Interior material color/type: Black Leatherette
Engine number: #6115229
Optional Equipment:
Bumper horns F/R
Blaupunkt radio
Leather steering wheel
Tinted windshield

As I mentioned above I purchased this car from an older gentleman who owned it for almost 20 years. He purchased it on 10-20-1995. A copy of the title that documents this is pictured below. This car was one of his prized possessions and he enjoyed it for many years. Matter of fact when I called and spoke to him about the car he said, "I'd take this car to California, it runs so good"!

It retains most of the original sheet metal with exception of the front pan, side rockers and rear pan. The body is very straight and it has great panel fitment. The hood, doors and deck lid open and close with no issues. The paint was starting to show its age so in 2010 it was sent to a reputable body shop where it was completely stripped and repainted. This is when the undercarriage body work was completed. All of the glass, chrome rubber body moldings, doors, hood and deck lid were removed prior to painting. They decided not to paint it the original boring Light Ivory color and went with a beautiful Yellow. This color is stunning and is has the serious 'Pop Factor" I always refer too. The car wasn't driven much after the paint job. The paint is in excellent condition and is show quality. The paint is virtually flawless. The exterior has been buffed to a show quality shine!

Everything on the exterior has been restored or replaced including such items as the front and rear glass, glass trim, wipers, door handles, bumpers, lights, emblems, etc. I actually had my shop remove the front and rear windshield so we could redo the headliner. During this process we replaced the rubber around the windows and all the trim around both pieces of glass in the front and back. I also ordered a new set of 15" Fush reproduction wheels with BF-Goodrich Advantage TA's. The cost was almost $2000.00 for everything. The black/silver wheels compliment the yellow exterior perfectly!

The Black leatherette interior was all original when I purchased the car and in overall very nice condition. I wanted to keep the interior as original as possible so decided just to replace some items. This car has many interior features such as an 8K tach, leather steering wheel, 2-speed wipers, 3-speed heater, reclining bucket seats, fold down rear seats and rear window defroster. I had my shop replace some items such as the steering wheel, shift knob, complete carpets, rear seat cushions, door sills, etc. I also had them restore some items as well such as the seat tracks, release switches, etc. I personally checked the headlights, hazard lights, turn signals, brake lights and gauges. The clock doesn't work. Even the red light on the knob came on when I turned on the heat and rear defroster. The windows roll up and down smoothly with no issues. Down the road the new owner might want to replace the front seat foam as their original. I invested over $10,000 in this car and had to stop somewhere.

The trunk compartment is nicely detailed including new carpet. Its home to the spare tire. During the exterior restoration an exact fit replacement fuel tank wasn't available so a later model 911 tank was substituted. The later model tanks fits just like the original except it requires a space saver spare tire. Everything in the trunk compartment was restored or replaced including a brand new Optima red top battery. Yes, the original dual battery system was converted to a single battery.

The engine compartment is also nicely detailed and is home to the original matching numbers 2.2L engine. I personally matched the numbers with the Porsche Certificate of Authenticity. The engine was professionally rebuilt prior to the exterior restoration roughly 45,000 miles ago. The rebuild included all new cylinders, pistons, bearings, timing chains, valves, valve springs, plus reground camshafts and cam followers. All valve guides were replaced with later model "Turbo" valve guides to make the engine more compatible with unleaded fuels. The original distributor ignition system was upgraded to a modern crank-trigger electronic system by Electromotive and Clewett Engineering. A new clutch was installed with the rebuild as well. I had my shop tune up the engine including changing the oil/filter, clean plugs, adjust carburetors, replace gaskets, replace hood pumps, paint fan shroud, add new air filter, etc. They also detailed the engine compartment which included restoring parts and replacing stickers, etc. This engine starts and runs great!

The undercarriage is very neat and clean. I had my shop completely redo the undercarriage from front to back. Some of the items they restored were the front and rear calipers, rotors and backing plates, sway bars, shocks and exhaust system. This baby is ready to rock and roll!

"Classic Porsches are becoming very collectable world-wide and are tough to find in nice overall condition. If you've been searching you understand exactly what I'm talking about. People advertise them as restored and they look like they still need a restoration. This 1971 Porsche 911T Karmann Coupe is truly a special classic car. It's documented with the Porsche Certificate of Authenticity and retains the most of the original sheet metal and original engine. This car has tons of character and gets a lot of attention. It's been beautifully restored and is the perfect car for someone who's looking for a show quality car that can also be enjoyed. Thousands of dollars were invested into this restoration over the years and it shows with the overall presentation. If you're searching for an investment grade classic Porsche that's sexy you've met your match right here, right now. Get it before someone else does!"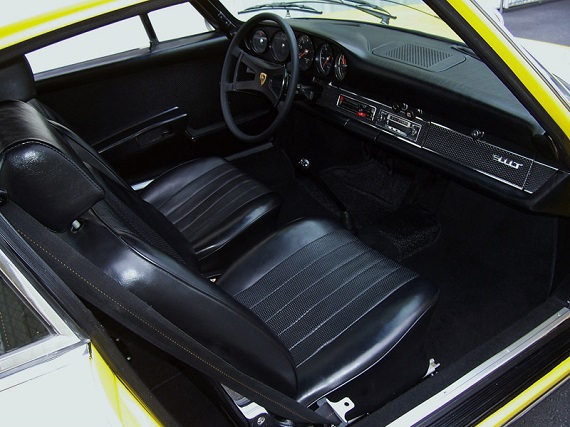 There are many cars we come across that are yellow, and then there are some that are YELLOW. Smack you in the face, turn every head, shower you with electricity yellow. This car wears just that sort of shade of yellow. This yellow isn't the original color of this 911T. It came from the factory painted Ivory White and we've come across a lot of early-911s whose original Ivory White paint has been changed to something else. Because, well, Ivory White isn't a terribly exciting color. Whether this yellow is even one of the various Porsche yellows (perhaps Lemon Yellow?) available at the time is left unstated. That probably makes some difference, though how much I'm not sure, but the fact it is not the original color is the key factor here when considering value. Overall this is a very nice looking 911T regardless of the paint's source, especially given the age and mileage on this car. The color pops as it should and the interior looks in very nice shape. The restoration work appears to have been done well. This is a 911 that aesthetically has been taken from a little bit boring to quite a bit exciting. Given the effect the non-original paint has on the value I sort of wish they had gone a couple steps further with some engine and suspension work that would improve the dynamic capabilities of this 911 as well. Even so, as a driver this seems like it'd make for a wonderful machine, assuming you don't mind the attention-grabbing paint. Given that non-original color the price is on the high end, but in most other ways it looks in better shape than many 911Ts I've come across so the higher asking price shouldn't come as much surprise. All in all, a really cool example of the breed.
-Rob