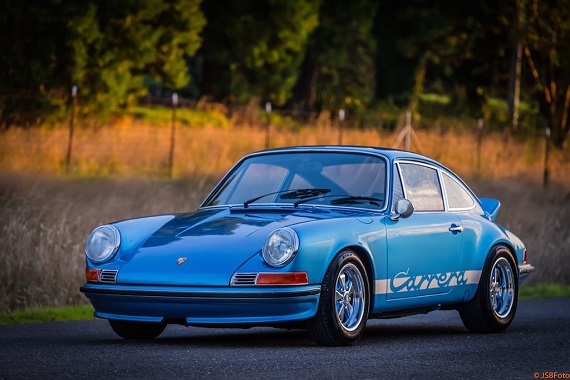 There are some cars I come across that are so visually arresting that I start thinking about featuring them before even delving much beyond the basic details of the car. I would say this is one such car. The color. The execution of the design. Everything about the overall aesthetic at work here is remarkably beautiful, but also properly conveys the sporting pretensions lying behind the car's genesis. As one of the most highly regarded 911s of all time the Carrera RS design has been mimicked by builders for many years and as values for an original RS have shot into the stratosphere the impetus for undertaking such projects has only increased. When executed well these RS recreations can themselves become highly sought after, though always for much less money than the original, with the added benefit that it is a car that can be driven and enjoyed as these cars were intended. This all brings us to the car we see here: a Gemini Blue 1971 Porsche 911T Coupe, located in Oregon, that has been built as a tribute to the great Carrera RS showcasing many of the exterior details of the original combined with a period-correct interior that leans toward performance.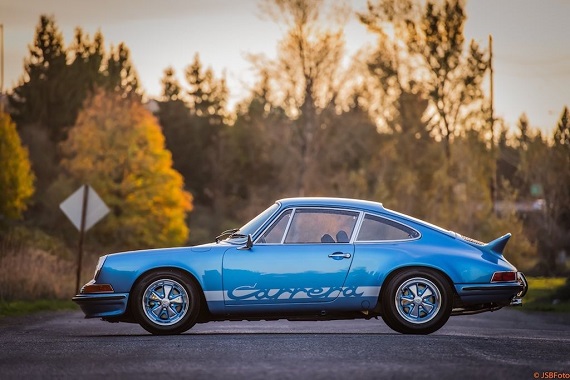 Year: 1971
Model: 911T
Engine: 2.2 liter flat-6
Transmission: 5-speed manual
Mileage: 95,583 mi
Price: Reserve auction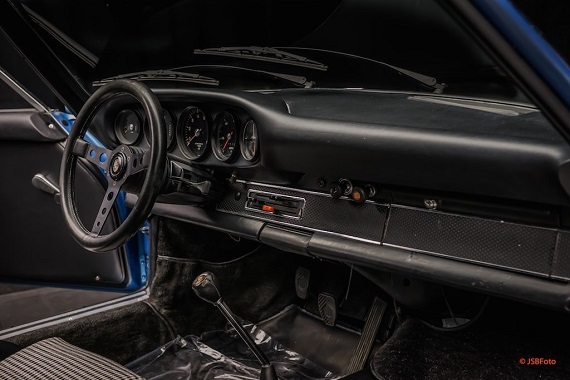 1971 Porsche 911T "RS" Tribute

R Gruppe Renn-Sport Hot-Rod COA Certified

Lucky number 13!

This is the 13th Porsche 911 produced in 1971 model year!

VIN – 9111100013

Motor – 6114040

Transmission – NA

Paint – Gemini Blue / 86

This pristine Porsche comes with Certificate of Authenticity for matching numbers and options.

It is the factory rare Gemini blue metallic paint that was recently applied from a bare metal, complete re-spray. The car is a rust free survivor that has been well cared for. No metal has been replaced or damaged. Even the underside floor pan has the original undercoating. The RS rear flares are steel and professionally done over 15 years ago. It also has a Getty RS Ducktail , an S-front bumper and moldings complete the exterior look. All new body seals were installed after the re-paint. With the RS Carrera script and H4 headlights this car is a real showstopper.

The interior has RS style door panels and pulls. The seats are GTS Classic "R" style with headrests and Peptide inserts on proper sliding tracks. All gauges function properly, as do the all the lights inside and out. A period correct Momo Prototipo steering wheel finishes the look and feel. Carpet is mostly the original German silver wool knit, and is in excellent condition. The engine is the original 2.2 with higher compression pistons. It is completely fresh with less than 100 miles on it. It was completely disassembled and every part inspected, cleaned and made like new. This was all professionally done by a well know local engine builder. It is completely sealed with Turbo valve covers, all new seal/gaskets, and Carrera oil fed tensioners. We also replaced the clutch and surfaced the flywheel. All engine tin was powder coated and the engine hardware gold zinc coated. Another performance upgrade is Italian Weber 40IDA with K/N water shield air filters. The distributor was rebuilt and checked for proper ignition curve. The exhaust is taken care of with new SSI stainless heat exchangers and MK GT3 style stainless muffler that sounds incredible. The transmission shifts smoothly through all gears. The shift linkage is tight with all new bushings and motor mounts. It is the perfect balance of performance, sound and visceral feel. All the suspension has been gone through with Bilstien Sport shocks and struts. All the brakes have been completely rebuilt with new seals and fresh gold zinc coatings. A new master cylinder, rotors and pads were done as well. The wheels are real Fuchs 7" and 8", that have been fully polished and painted to match. Brand new Falken 195 and 205 60 15 performance tires are mounted.

The car is set up with front sway bar, it has mounts for rear bar, but one is not installed at this time. After final assembly, a local Porsche marque specialist did a full suspension setup.

This car was built to drive and enjoy, nothing beats these classic long-hood early Porsche's!

We have spent a lot of time photo documenting this car. Please look through all 200 + images and watch the video as well. Many questions you may have can be answered by looking at the photos.

We specialize in early Porsche 911's and are happy to help out in any way with the purchase of this car, including assisting with international shipping.

We have several early 911's in stock in various stages of condition available.

We are also always looking for any Air Cooled Porsches.

We offer consignment services for vintage and exotic cars; feel free to inquire if you are looking to sell.

Be sure to watch the YouTube video of the car!

Call us a 503 475 8078 Josh or 503 819 9007 Matt

Good luck!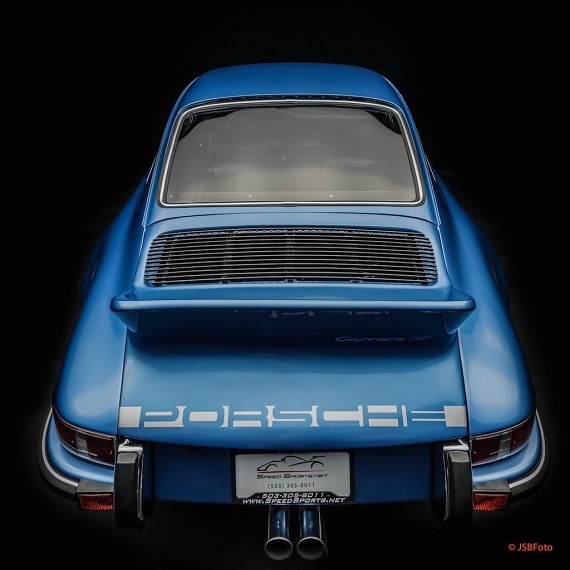 We previously have shown a few early 911s in Gemini Blue and I remain struck by the beauty of this shade. For my eye it is one of the best looking shades of blue Porsche, or perhaps any marque, has offered and for whatever reason it seems to fit the curves of the 911 very well. For what it's worth, it is also the original exterior color for the car, but given the modifications that point might be unnecessary. The rest of the car seems well thought out and executed and I can imagine any owner would be getting a fantastically enjoyable machine. Bidding currently sits at $51,011 with a couple days remaining and the reserve unmet. It's always difficult to have a good sense of where a car like this would be priced, so we'll have to keep an eye on how this auction ends.
-Rob