The year 1988 marked the end of the road for the E28 5 series. BMW sent this car off in style with a one year only special for North America, the M5. The rest, as they say, is history. For years, this moniker has come to symbolize the pinnacle of sports sedan performance. While the M5 was lighting up the streets (and press), the rather lowly 528e continued on into the final year of E28 production mostly unchanged. This was the economy model of the range, with a 2.7 liter inline six with smaller ports in the cylinder head and a revised cam. For 1988, BMW increased power by a modest 6 bhp by adding special pistons and the cylinder head from the 535i motor.
This 1988 528e for sale in California may not be the big dog M5, but it is in remarkable condition and has service records from the day it was purchased. In addition, the 5-speed manual gearbox would make this a good long distance cruiser or efficient commuter vehicle.
Year: 1988
Model: 528e
Engine: 2.7 liter inline six
Transmission: 5-speed manual
Mileage: 105,026
Price: Reserve auction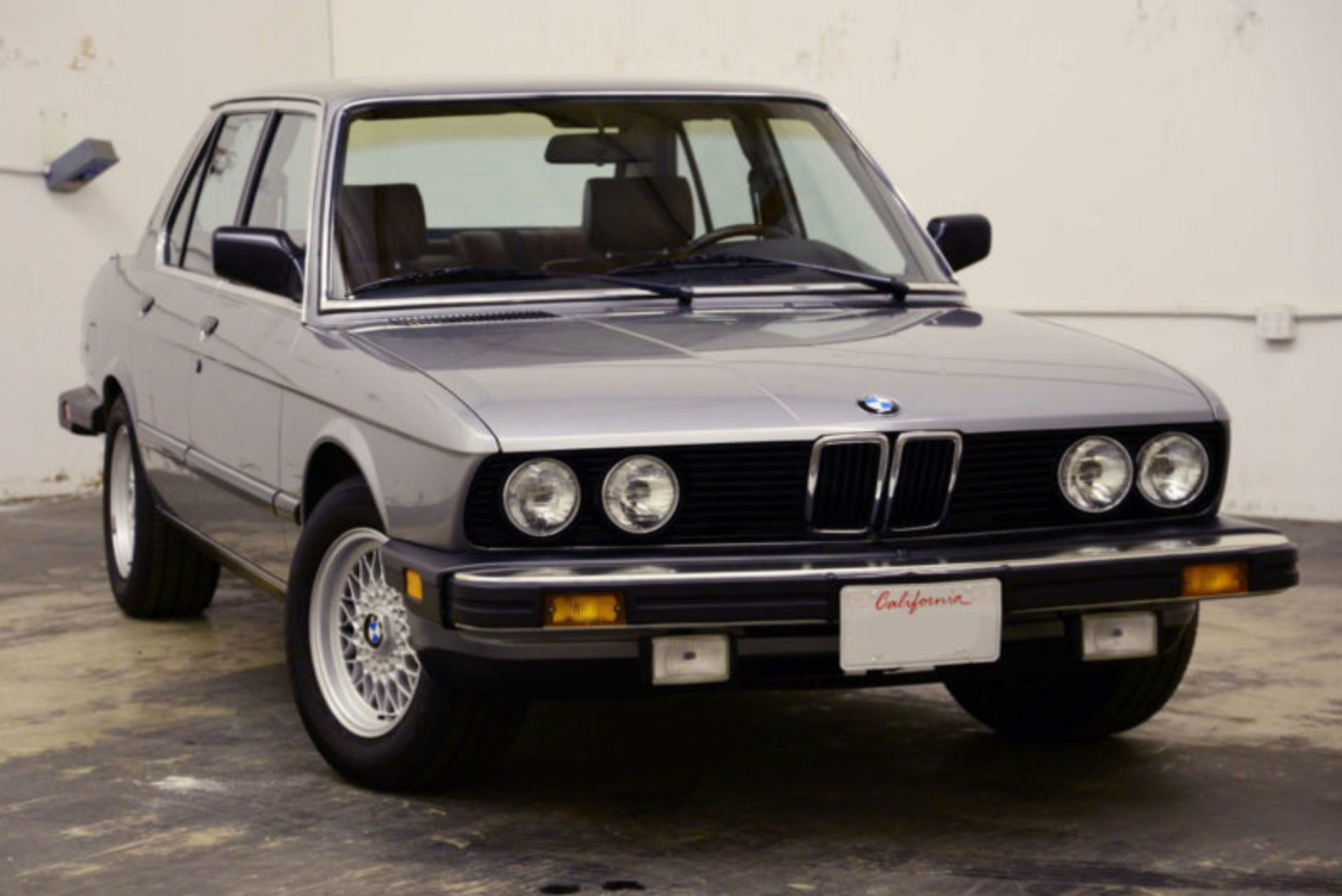 This is a 1988 BMW 528e with 5 speed manual transmission in original Salmon Silver and Burgundy interior. I am the second owner. I bought this car in 2001 from the original elderly owner who's wife drove it occasionally. He said she never liked the car because it was manual. When I purchased it it had 42,500 miles on it and was in a fantastic condition. The paint had faded a bit so I had it color-sanded and painted in original Salmon Silver. From 2001 to 2007, this was my daily driver. In 2007 I bought a new BMW and retired this 528e for occasional use only, always intending to keep it forever. The mileage at the semi-retirement was 91,000. Since then I have driven it for fun and to keep the fluids circulating. It now has 105,026 miles.

Throughout my ownership I have kept up with everything mechanically and cosmetically. The car is rust free. It has been serviced regularly by independent BMW specialists in West Los Angeles.

Major repairs include:
• Timing Belt replacement and service at 42500 and 82000 mi.
• Clutch replacement at 76000 mi.
• Water Pump replacement at 82300 mi.
• Rear shocks replacement at 91300 mi.
• Clutch Master Cylinder replacement at 95000 mi.
• Last front brake discs and pads replacement at 96000 mi.
• Last rear brake pad replacement at 95800 mi.
• Muffler replacement at 100200 mi.
* Air Conditioning service and recharge at 103900 mi.
• Oil was changed every 4 – 5000 miles.
• Several valve adjustments, cooling system flushes, brake fluid flushes during my ownership.

The car runs perfectly and strong. Steering is tight and responsive. Transmission shifts tightly and smoothly.

Exterior:
• It has always been garaged its entire life and the paint is still in excellent condition.
• There are minor rock chips that have been touched up. There are no dings or dents.
• The chrome parts are in good or excellent condition.
• All rubber parts are in good or excellent condition.
• The bumpers have been re-anodized at 75000mi.
• All lights work.
• Comes with later model 15″ BBS wheels. The tires have 25% treads left.

Engine compartment:
Engine compartment is clean but not detailed like a show car. The trunk is in excellent condition and comes with a full set of original tools, jack and a spare tire.

Interior:
• Never been smoked in.
• All the leather is in excellent condition. No rips/tears.
• The dash has a few cracks as shown in photo which is the only flaw I know of.
• Comes with Nardi Classic 390mm (15.25″) wood steering wheel with trim ring, BMW horn button, and hub adapter. The original steering wheel is included.
• All swithces work.
• Radio and cassette works. The Antenna works.

It has an alarm and has been upgraded to remote keyless entry using existing actuators. Comes with 3 original keys with 2 remotes and a master key.

All manual, all literature that came with the car are included.
Copies of ENTIRE service records dating back to when the car was purchased by the original owner are available.

More photos can been seen here: http://www.flickr.com/photos/typpo1/sets/72157632785878780/

If you have been looking for a first generation 5 Series BMW, you know what my car represents. I have loved this car, enjoyed it, and taken care of it like a treasure.

$500 deposit through Paypal is required immediately upon auction close. Balance payment in cashier check or wire transfer within 7 days. Local pick up in Culver City 90230 is more than welcome. Shipping is a sole responsibility of the buyer.
This 528e has had A LOT of bidding interest so far, rather remarkable for one of the lesser loved E28s. But, even though this car has the economy motor, I'd suspect we're going to see big numbers here. Last summer, we featured a 1988 535is with the Euro bumper conversion that fetched over $17,000. That car was certainly an outlier, but given the direction M5 prices are headed, I wouldn't doubt that there's an E28 enthusiast out there willing to pay around $10,000 or so for this tidy 5er.
-Paul