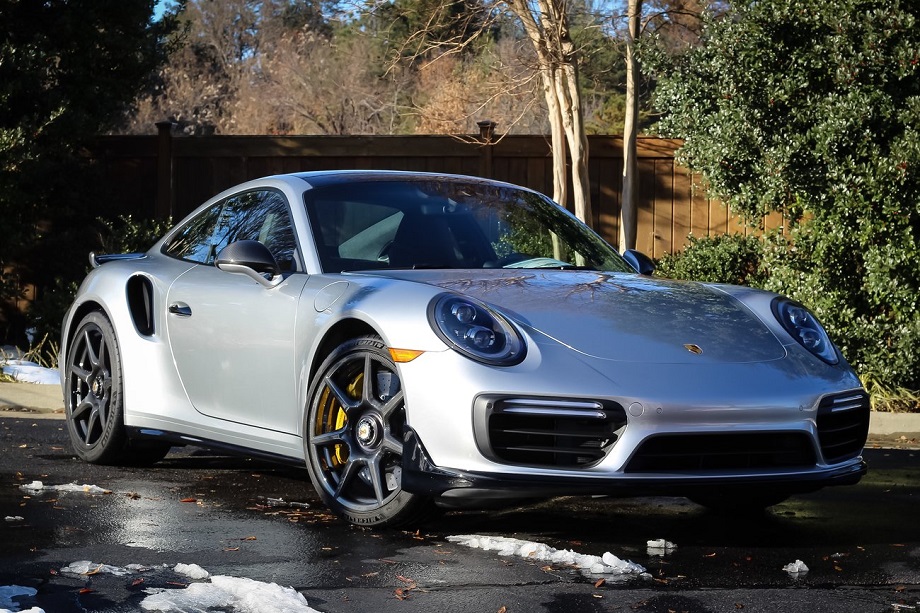 I feel like living a little lavishly today. Here we have a GT Silver Metallic 2019 Porsche 911 Turbo S. It's brand new and waiting to be purchased. The Turbo S itself combines the best of luxury and performance that Porsche can offer. It's supercar performance that ensconces you in leather and comfort. There's 580 hp directed to all four wheels. The dual-clutch 7-speed PDK transmission either can shift smooth and comfortably or put it in Sport Plus mode and it'll bang home shifts as quickly and ferociously as possible. Rear-axle steering, center-lock wheels, and massive 410 mm six-piston ceramic brakes keep everything under control. The Turbo S isn't quite the top of the luxury performance food chain since Porsche also offers the Turbo S Exclusive, but this will have to do for now.
This particular example has decided to turn the dial up just a little bit and that's the reason I'm interested in it. For starters, it has carbon fiber wheels. They'll set you back a mere $14,980. Please do not bump them into a curb. It's fitted with the Turbo Aerokit, which adds a little dynamism to the exterior because you wouldn't want passersby confusing this with a regular 911. The interior too receives a few carbon fiber accents helping to tie interior and exterior together. Also in that interior is the optional Burmester sound system. Frankly, if you're willing to spring for the carbon wheels, I'd be disappointed if you didn't also add the better sound.
All together I really like this Turbo S. I wish it wasn't Silver, but it does seem to be making the most of what these cars have to offer and in that regard it's a phenomenal example. And while not quite the Turbo S Exclusive it does come in around $50K less than one of those very limited models (and that's without factoring in ADM).