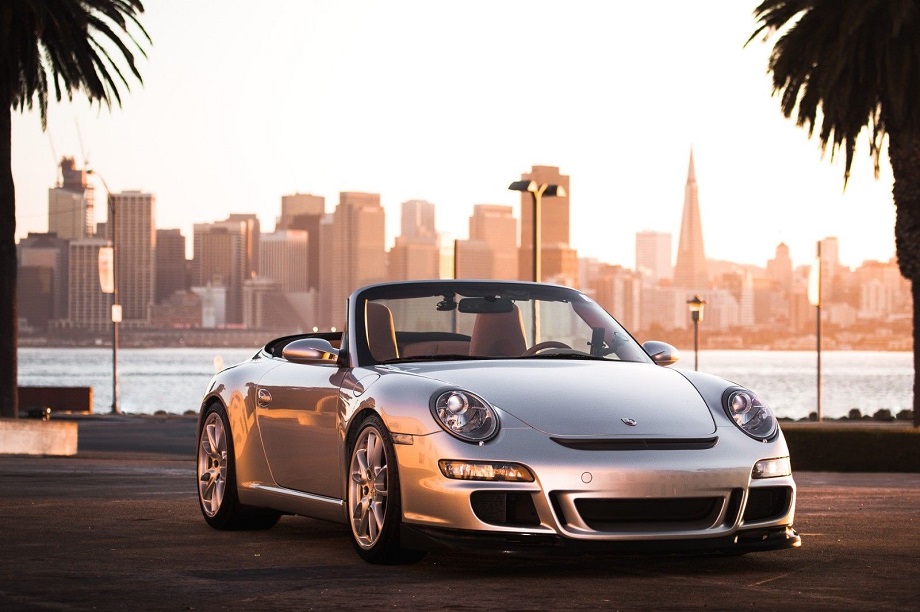 I post this mainly out of curiosity because that's pretty much what this 911 is: a curiosity. This is a 2005 Porsche 911 Carrera S Cabriolet. It's located in California, has an Arctic Silver Metallic exterior over a Sand Beige interior and has 77,243 miles on it. Nice car!
The current owner decided he wanted a little more out of his Cabriolet and has attempted in some regard to replicate both the appearance and performance of the 911 GT3. As I'm sure you are aware the GT3 does not exist as a Cabriolet. I don't imagine it ever will, nor do I imagine there is much desire for such a machine. But car enthusiasts being what they are, they tend to crave more performance even when the performance already is pretty good or even when they've chosen the model with somewhat compromised performance because the roof has been cut off. And I guess that's how we got to where this 911 is now.
I will say it does look great. The GT3 front always has looked better than that of the standard 911 and here juxtaposed with the Cabriolet rear it's a pretty attractive design. It's party in the front, business in the back. It's a reverse mullet. Personally I'd actually be satisfied with the alterations to its appearance, but this owner didn't want to stop there and put in a bit of effort to improve its overall performance. I doubt it's up to GT3 levels, especially given that I'm sure this Cabriolet still weighs a good bit more than a GT3 (according to Excellence a Carrera S Cabriolet weighs around 250 lbs more than a GT3), but performance should be elevated nonetheless. As I said, it's kind of a curiosity. I don't know that I'd ever think to do this to a 911 Cabriolet, but it's not a bad idea.