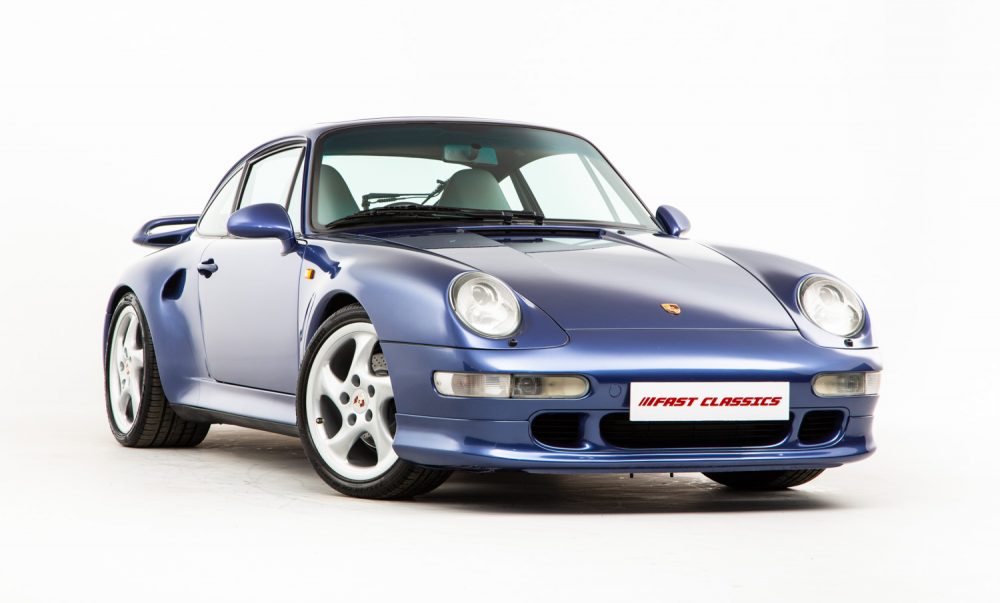 I suppose one of the great things about cars is there is always more to learn. Today's car is one of those moments where I was pleasantly surprised to learn something totally new. You might be looking at that photo above and saying "Yes, that is a 1997 911 Turbo S." I also as a reasonable person with Porsche knowledge jumping to that conclusion also. Why? All the 993 Turbo S cars have unique venting in the rear quarter panels I thought were only used on that model. Not even the standard 993 Turbo has it. Well, the car we are looking at today is a 1997 911 Carrera S. How did it get those vents in the front of the rear wheel arches? Apparently, it was a very rare option. If you ordered "X79 – Side air vents on rear wings" you could have those little vents, but considering this is the first non-Turbo S I've ever seen them on, I'd say they are pretty rare.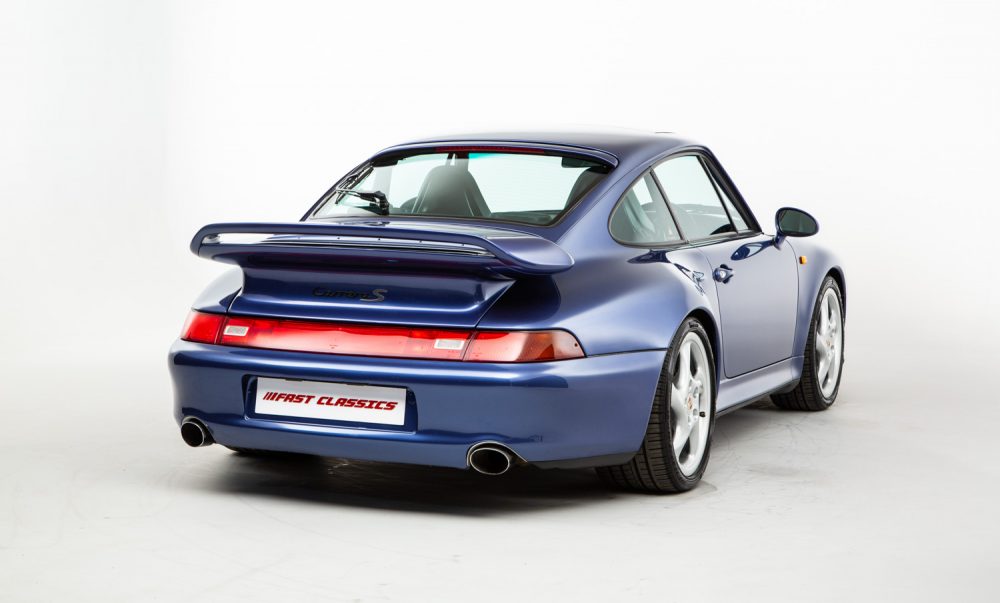 Year: 1997
Model: 911 Carrera S
VIN: N/A
Engine: 3.6 liter flat-6
Transmission: 6-speed manual
Mileage: 69,665 mi
Location: Rudgwick, England
Price: £119,995 ($147,252)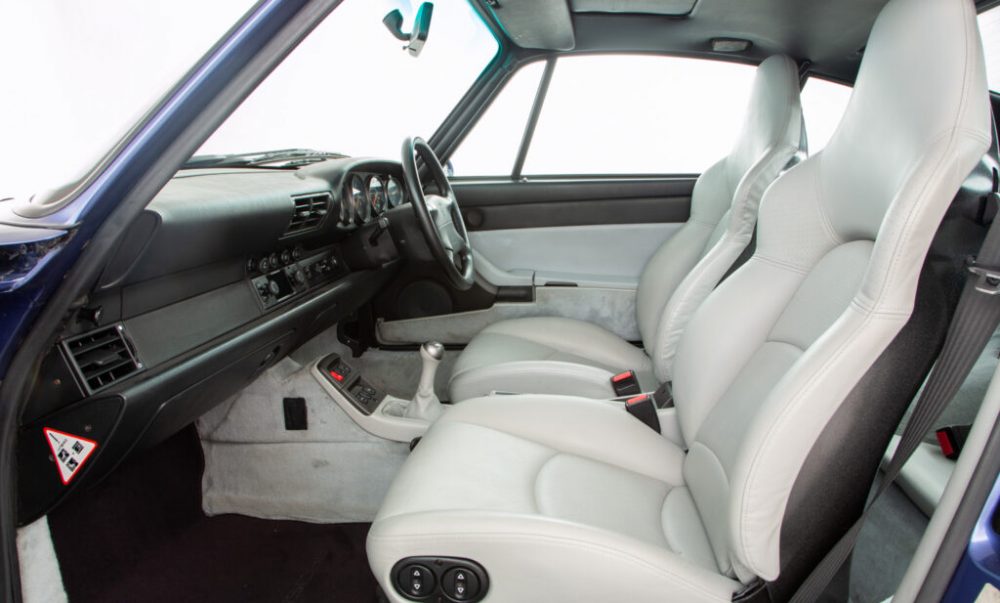 MODEL HISTORY
The 993 reinvigorated Porsche, but it also represented the end of an era with it being the last model to feature Porsches iconic air cooled flat six engine. When this third-generation 911 made its debut in 1995, it was the only car in Porsche's line-up. However, it was a strong seller and helped secure the brand's long-term future.

With wider and less rounded front wings, plus flatter headlamps, the 993 brought the biggest alteration in the 911's shape since the original was introduced. The rear wings were broader and blended into the tail in a more direct line. This overhaul was so radical that Porsche claimed only 20 per cent of parts were carried over from the previous generation. Today the 993 is considered by many enthusiasts to be "one of the sweetest spots in the 911′s half-century of existence and while more modern versions might be more dynamically capable, they're bloated behemoths in comparison to the lean 993".

The external design of the Porsche 993, penned by Englishman Toni Hatter, retained the basic bodyshell architecture of the 964 and other earlier 911 models, but with revised external panels, with much more flared wheel arches and a smoother front and rear bumper design, an enlarged retractable rear wing, teardrop mirrors, but keeping the doors and roof panels.

The 993 Carrera is powered by an air-cooled Porsche flat-six "boxer" engine using a Single Overhead Cam (SOHC) valvetrain. The M64/05(06) made 272 bhp through model year 1995. In 1995 Porsche switched to the VarioRam – equipped M64/21(22) engine. Varioram adjusts the length of the air intake ducts in line with the engine RPMs and the speed of the car, with this the power output is increased to 281 hp.

EQUIPMENT
Y75 – Aerokit Turbo II, X79 – Air Inlets in Rear side panels, 408 – 18 inch Technology wheels, 425 – Rear wiper, Sports seats, Porsche Classic Radio Nav system, AC, Electric steel sunroof, Roof spoiler with third brake light, Electric windows, Electric mirrors, Tinted windscreen, Tool kit, Jack, Porsche Immobiliser system, AC, 12v Socket.

EXTERIOR
This Carrera 2S looks particularly striking in Zenith blue; a truly complimentary colour to the elegant proportions of the last air cooled 911. With ultra rare factory fit options in Y75 Aerokit and X79 Air inlets, this C16 2S looks demonstrably more purposeful with front spoiler and fixed rear wing.

The satin like appearance of the bodywork has been carefully prepared and retains its deep glossy finish. The front end of the car is remarkably clean with only a few minimal stone chips to the front PU to report.

The mirrors and wider rear arches are in equally good order; displaying no major marks, just a light sprinkling of stone chips commensurate with its mileage. Lights remain crack and moisture free.

INTERIOR
The cabin of the 993 has a more refined approach to the positioning of the controls and switches compared with previous models. The plush interior is beautifully assembled; a familiar feeling of real quality and craftsmanship synonymous with Porsche design. The leather remains tight and extremely clean given it's light co;our with only the lightest signs of use to the drivers bolster.

A Porsche Classic Radio Nav offers a more contemporary driving aid and allied with the electric roof ensures all Grand Touring bases are covered. Carpet and mat set are in good order whilst door cards and dash fit retain excellent original integrity.

ENGINE & TRANSMISSION
The 3.6 litre has a perfectly elastic powertrain at both ends of the rev range and tractability is at the core of what makes the 993 so user-friendly. When you ignite the flat-six, it's turbine-smooth and surprisingly quiet at low revs. But push the floor-hinged throttle a little further and the familiar hollow air-cooled bark always raises a smile.

The engine bay presents dry and clean throughout, with the last service carried out by Porsche just over 1k miles ago.

WHEELS, TYRES & BRAKES
These Turbo Twist 'Technology' 18 inch wheels present very well with no curb marks or lacquer peel, wrapped in N Rated Pirelli P Zero rubber all round showing ample tread depth.

Brakes show plenty of life to both pad and disc and pull the car up quickly and smoothly.

HISTORY FILE
This C16 RHD C2S was supplied by Evans Halshaw, West Midlands in May of 1997. The original service book logs a total of 12 entries, with a majority of the cars mileage covered in the first 10 years, before a light recommissioning with Porsche Leeds in 2017. Over £6k was spent ensuring the car was as reliable as it is presentable, and with further follow up services in both '18 and '19 the car is in excellent mechanical health.

The last service was carried out by the Porsche main dealer in Feb of 2021 at 68,278 miles.

To find a manual 993 C2S with both the coveted Aerokit and Air Inlet option is extremely rare. With the combination of immaculate presentation and excellent mechanicals this air cooled special makes for a very interesting proposition.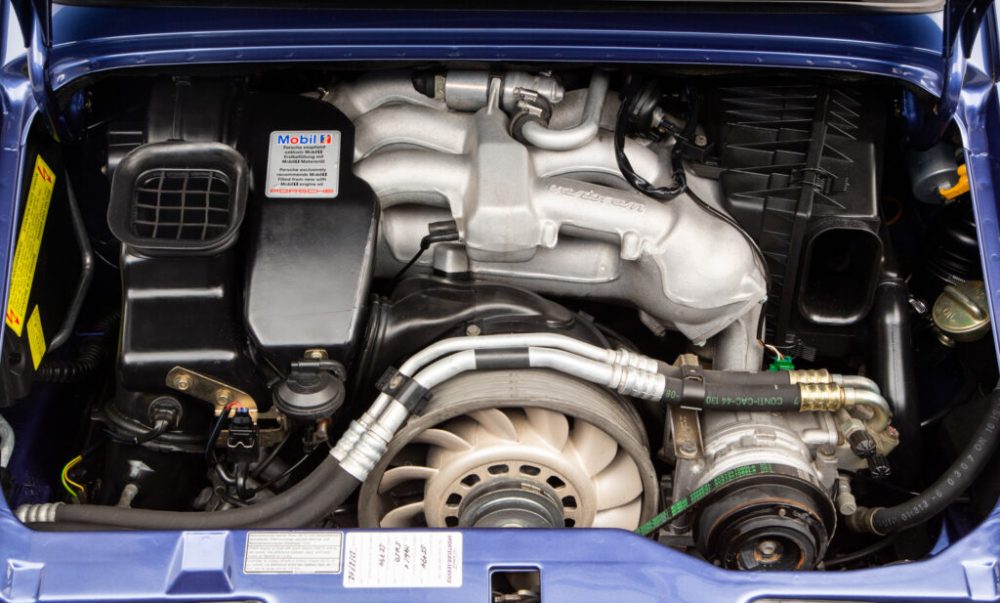 Outside of those neat little fender vents, this is a really great-looking example. It is a UK-spec car which is a major letdown given it is 25 years old now, but I can't knock a car for being built for how it is. Zenith Blue is an outstanding color, and they even went with the optional sport seats inside as well. A garage queen this one is not at 70,000 miles, but that doesn't mean this one is going to come cheap.
An asking price of nearly $150,000 is the norm now for really nice 993 C2S coupes and it can get even crazier. If this car had half the miles I would bet someone would pay another $50,000 for it given the color and the rare options. Really hard to say this won't be worth it considering what you are getting. Just make sure to tell everyone about your fender vents. The Porsche nerds will love it.
– Andrew