Introduced in 1968, the BMW E3, or "New Six" as it was called, helped bring visibility to the brand and for the first time, had US customers seriously considering a BMW as a luxury alternative. However, unlike other luxury cars, BMWs began to introduce the concept of adding a bit of sport to the mix in a luxury sedan. When the series began, there were two models, the 2500 and 2800, with 2.5 and 2.8 liter engines, respectively. A nomenclature change in 1972, along with an engine capacity increase, brought about the 3.0S, which had a 3.0 liter inline six mated to a four speed manual or three speed automatic. This particular 3.0S for sale in Mississippi is a bit rougher than some of the cars we feature here at GCFSB, but it would be a great candidate for the collector new to restoration, as a few minor fixes would make this a presentable driver.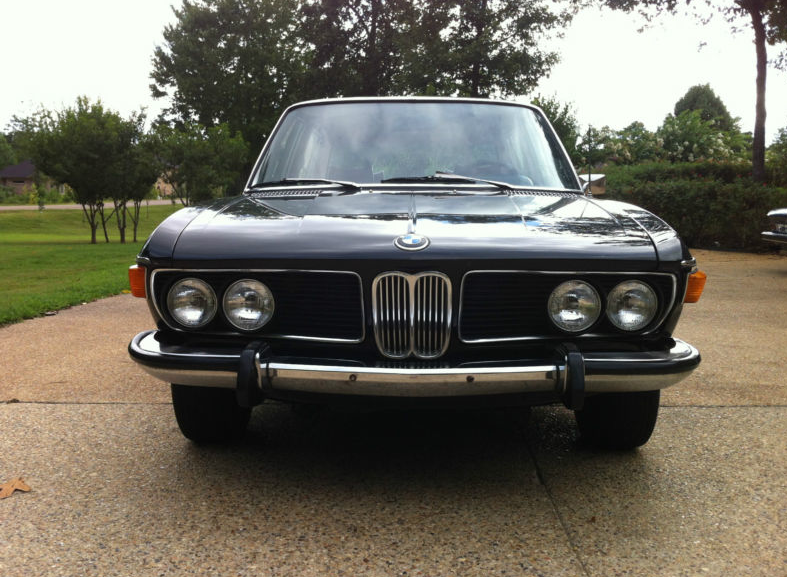 1973 BMW Bavaria 3.0 S Inline 6 cylinder Automatic sedan with an all original interior in great shape. I purchased this car in February 2011 for $6900 and has since been in storage, driven only occasionally. I had full intentions to restore this car and really take it to the next level. This car is worthy of restoring. I have too many projects going and will be taking delivery of a new F10 M5 in the coming months and need the garage space. So, the Bavaria has to go. Also, my fully restored 3.0CS and 2002 will soon be going to new home. I will be putting them on eBay soon.

Mechanicals: Easy turn key car seems to start every time and the engine once warmed runs great. The longer it runs seems like the better it runs, I was impressed with the smooth running abilities of this BMW despite of the 38 years of use. I gave it a thumbs up how it runs and the performance of the transmission. Very smooth shifting, sometimes don't even feel like it shifted. The steering was good drove straight and did not pull, the brakes performed well and stopped when it was requested to do so without delay. Idle is a little rough, the carburetors could use some adjusting. It has been sitting, probably just needs to be driven. 85-90 mph is the sweet spot for interstate driving.

Exterior Body: The paint is in poor condition and it needs to be repainted. There are dents/scratches. From far away, the car looks great, but up close the imperfections are obvious. The paint does appear to be old, and I would say the car was painted somewhere within the past 15 years. There are two small rust spots each about the size of your thumb located on the lower drivers side and I think can easily be taken care of at this point. The rear chrome bumper center bottom portion has some surface rust. Overall it is very solid and I think in good shape in comparison that it has survived so well after 38 years. Shock towers and area around windshield look great. Undercarriage looks to be in okay shape for its age. If you need pics, please ask and I will email them to you.

Interior: Seems to be all original and in very good shape. All the leather looks very well without any issues, the dashboard is crisp and clean, no cracks. Driver seat shows wear. All the gauges work and look very clean and clear. All the plastic looks to be in very good used condition. The headliner is in great condition and the rugs & mats are in good original condition. The interior wood trim is in really good shape. Windows work but are slow. I have two new cranks in the trunk, and come with the car. The new owner can have those installed. A/C does not work, needs new compressor. Original Becker radio works as it should.

The speedometer works fine, however I want to point out the Odometer does not increase so I am not sure of the exact mileage. For this reason, it is being sold as a 79k mile car, but actual miles are unknown. Based on the originality and the condition of the interior I don't think it could be much more than this. I bought an speedometer off eBay and it comes with the car. Between the two, you should be able to get the odometer fixed. The trunk compartment has all its covering boards, the tool kit is not present. The wheels look to be in fairly good condition alloy has some scuffs but for the age they appear to be in very good condition also along with the rubber tires look good as well, but I would recommend getting new tires. I don't see why you couldn't simply start this car up and drive straight home, wherever home maybe.

This is a very decent car that I think it is a good find and could prove to be a good buy, but don't take my word for it, feel free to come take a look for yourself, you are welcome to do so, in fact I encourage it. I am neither a salesman nor a photographer by profession, just a BMW enthusiast passing my car's on to another BMW enthusiast. I like to sleep in peace and have no intention to mislead or misrepresent. Please ask for additional pictures/information and make a sound decision before bidding.

Starting the bidding off at $4000 no reserve. I believe this is a fair price and will allow the buyer make the needed repairs and improvements. Great chance to buy BMW history. Thanks for looking and good luck bidding. Selling AS-IS. Buyer is responsible for shipping.
I can't remember ever seeing a 3.0S in black, but it suits this sedan very well. The opening bid of $4,000 is a reasonable opening price, but I wouldn't go much beyond $5,500 to $6,000 for this car. Any 3.0S nearing $10k should be a good runner with no faults mechanical faults and but a few cosmetic flaws, if any. With the various fixes needed, such as a potential respray and A/C compressor, one needs to take into account those repairs. Still, this E3 is very worthy of a refresh and is an intriguing alternative to a period S class Mercedes-Benz.
-Paul