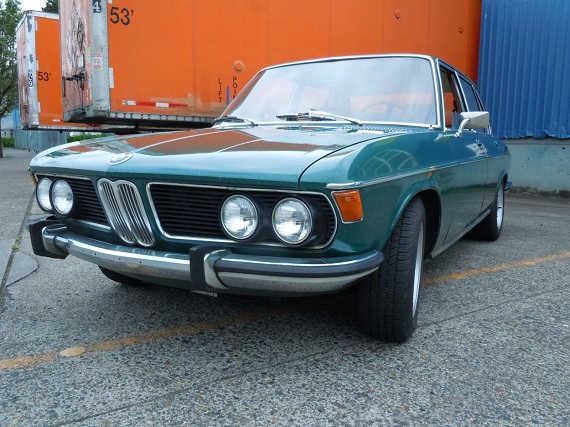 Do you need a show car? We often write up very clean, fully restored and consequently very expensive examples of cars that are desirable, but there are many more than exist below pristine level. Generally if we post one of these cars there's a large amount of feedback pointing out the flaws. Yesterday, a few of the GCFSB authors went to a local open house in our old – and flawed – cars. None of them are perfect; all have plenty of character from being driven over the years. They have stories about how they got various battle scars, strange modifications and unorthodox thinking to get around a problem or previous owner's work. Despite this, driver quality cars have a charm that makes them desirable in their own right. Do I love perfect examples of older cars? Yes, absolutely – they're awesome to see. But so are well presented drivers: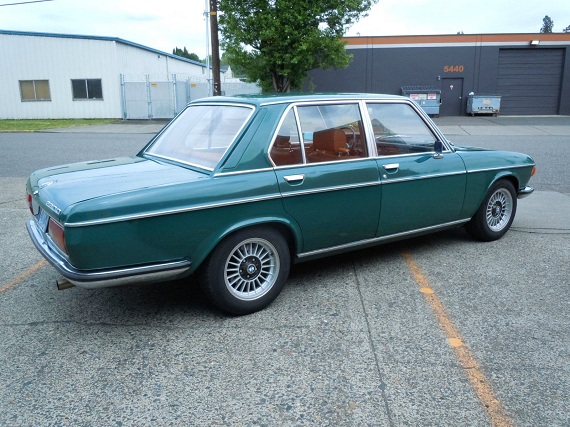 Year: 1972
Model: 2800
Engine: 2.8 liter inline-6
Transmission: 4-speed manual
Mileage: 144,000 mi
Price: Reserve Auction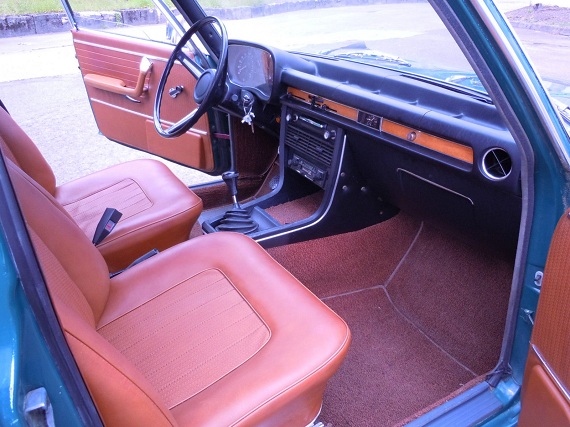 BMW Euro E3 2800

This is a true euro spec 2800 with the high compression 2800 six, no side maker lights, euro gauge cluster, no rear bumper overiders , no power steering, no AC, factory seat belt delete (now has factory seat belts front and rear), Hirschmann retractable aerial with original key (very cool) and locking BMW gas cap also with original key.

The car has had five owners and been a very well kept car.

This is not a show car by any stretch of the imagination! The Agave Green paint is a combination of original and touch up and though it looks great from 50 feet it has tons of flaws of every type up close, including: chips, scratches, small dings, color variations etc. Some might call it great patina but others might just say in needs a respray. Both views would be accurate! I've driven this to BMW shows with the survivor look and it attracts attention regardless! The car has very little rust (small amount on the trunk lid and at the bottom corners of the windshield – very light) and the under carriage has virtually none (as seen in the pictures).

The interior (probably my favorite part) is very nice and in amazing original condition with the exception of several small cracks in the dash pad. The headliner is perfect the carpets excellent as are the door cards. The seats are also excellent with the exception of the driver's seat that has one pulled seam in the bottom seat cushion and some nicks at the back edge. I polished and cleaned all the glass and the true "greenhouse" of these cars comes out when driving. Very cool! (I've tired to show those accurately in the pictures)

All lights, heater controls, horn and ancillaries function, as they should. Currently the clock has stopped but I have an original working spare (very rare item).

Now for the cool part. This car was previously owned by Nameless Performance in the PNW and used as a test mule to develop performance parts for the e3 sedans. It has an amazing number of rare and one-off performance enhancements including:

Suspension:
Full suspension rebuild with Eibach lowering springs, Koni and Bilstein shocks
Front and rear custom strut braces
Front and rear oversize sway bars and new OEM rear diff bushing etc.
All front suspension and steering components are new OEM including lower control arms, center link and tie rod ends.
The car rides on beautiful Alpina rims with new BF Goodrich Touring TA 195/65/15 tires.

Brakes:
4 wheel disc brakes
The Front brakes have been upgraded to later 5 series vented discs with custom fabricated stainless steal lines for the calipers.

Exhaust:
This car posses the most beautiful custom mandrel formed Stainless Steel exhaust that you will ever see. It is a work of art and sounds fantastic with two Magnaflow Stainless steel mufflers. The craftsmanship is impeccable.

Engine:
The cooling system is also modified with a later BMW large capacity radiator and cooling fan. The car runs cool always.

Many of the modifications are featured on Nameless Performance's web page and can be found on the blog link on their home page.

Around town it is still compliant and offers a very nice ride.

Survivor Condition:
The car is not without some flaws. The previous owner sorted many issues since, but there are still some needs.
The issues that I know of are as follows:

Currently the power brake booster is being bypassed. The brakes are still fantastic but are not boosted. The booster is euro specific, but I do have a Bavaria unit if one wanted to swap it out.

The car will leave two drops on the garage floor, one oil leak and one transmission leak. The oil leak may be coming from the oil pressure sensor at the back of the engine and looks to be minor. The transmission leak is typical of these old Getrags as the seams in the casting start to leak, however, I believe this one to just needs a new main shaft seal. Not much work at all to pull the tranny and reseal it. I don't believe these are anything unexpected of a car that is original and 42yrs old. 🙂

On occasion and only in reverse there is a driveline sound. We've not been able to figured out what it is and have had it on the lift and checked for anything obvious, nothing stands out. I do have two good spare drive axles that will go with the car.

Right before I purchased the car, it was professionally tuned at Burback Motors here in Portland. The original Zenith INAT carburetors were serviced and new plugs installed. The car is running and driving great.

** INCLUDED IN THE PURCHASE **
197something Bavaria parts car (possessing a nice 2nd set of trim, 6 doors, 3.0L engine, and spare interior pieces incl. a dash with 3 tiny cracks). Its very stripped otherwise, but has great parts that can serve as backups. PARTS CAR HAS A CLEAN TITLE!

Car also comes with a collection of NOS tune-up parts and hoses.

As evidenced by the photos: See (https://www.flickr.com/photos/123731172@N02/) this is a very honest car with tons of performance modifications yet still stock in appearance.

Any question at all, please feel free to ask!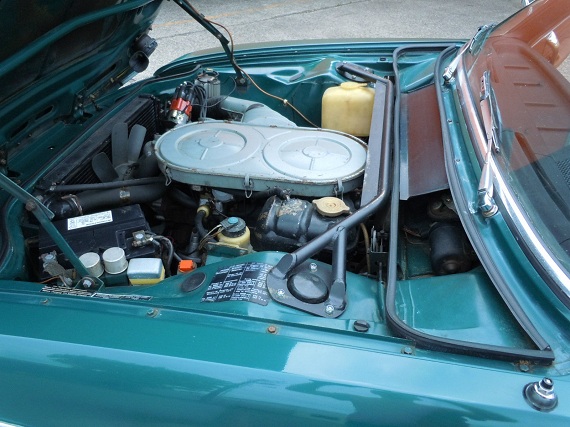 This car really strikes me as a great starting point if you want a unique early big BMW. The modifications look great and really keep the period feel of the car. Considering this 2800 is now 42 years old, I think it shows its character well – the exterior is a bit rough and ready, but the wheels are a perfect fit and the stance is spot on. Inside the car looks great, and with a full parts car and plenty of parts – along with a rare assortment of options on this car (how about the seat belt delete option!), this car is really neat. Because it's not a highly sought or perfect condition model, it's also affordable; bidding is around $5,000 as of writing and the reserve is still on, but I'd guess this car should stay fairly low. As an affordable, unique driver with character, I'd love to drive something like this 2800!
-Carter