Modifying a vintage car can be risky business. Sometimes the results are better than others. The BMW E9 coupes is an interesting study in that modified versions with engine upgrades and 5-speed gearboxes seem to be valued more than the original survivors out there. Perhaps it's a testament to BMW's engineering prowess that with a few updates the E9 can be acceptable for everyday driving duties. In addition to the ever popular 5-speed gearbox conversion, this 1973 3.0 CS for sale in California has had a whole host of modifications, the most obvious being the M6 engine swap, which was done in the late 1980s.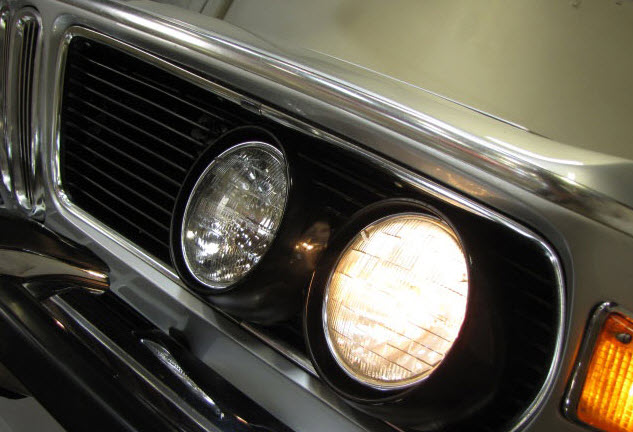 This 1973 BMW 3.0 CS/M6 "Hotrod" has only 25k original miles from new, with no rust ever! Silver exterior with blue leather. This 2 owner California car is the most amazing 3.0 CS you could ever imagine. Owner #1 bought new in Mill Valley, California from Mellow Motors the authorised dealer of the day, he sold the car to owner #2 in 1982 and he has owned ever since! The story regarding the conversion is that owner #2 was out for a spirited drive one sunny California day and had a BMW 2002 Tii pass him and leave him behind, he loved his CS but was unwilling to think he would be beaten again by a lesser vehicle so started to formulate a plan to gain the much needed HP he was looking for. After agonizing over this dilemma for quite some time, he opened a car magazine one day in 1987 only to see that BMW had launched the new for 1988 M6 coupe. He knew this was the answer to his problem so he set out looking for a motor/gearbox for this brand new model. It didn't take him long to find an M6 that had an accident and he purchased the car post haste.

All records of the build are available and the car is equipped as follows:

1988 "Euro" spec M6 engine
1988 "Euro" spec 5 speed transmission
BMW M6 aluminum radiator
3.45 limited slip rear end
M3 (E36) brake rotors
C5 (Corvette) brake calipers
EBC brake pads
535i BMW brake master cylinder with hydralic boost
Suspension Techniques 28mm front sway bar
Suspension Techniques 22mm rear sway bar
Suspension Techniques springs
Bilstein struts
Dinomax Ultra free flow stainless muffler
"Ireland" battery relocation kit for trunk
Custom aluminum stress bar across front shock towers
Custom hydralic hood struts
1988 BMW/BBS 16 x 8 rims (from 750il)
BF Goodrich Comp TA 205/55 R16 front tires
BF Goodrich Comp TA 255/55 R16 rear tires
Signed Nardi steering wheel
VDO competition tachometer with shift light
VDO gauges for water temp,battery,oil pressure
Autopower 5 point safety belts
CS front air dam
1″ metal flaired fenders
Aluminum race style fuel inlet
Removed side markers and trunk emblems
Recessed antenae

This car was built using all of the best components available in 1988, her owner had an unlimited budget and it shows everywhere you look. The car was built in 1988-89, was a complete frame up restoration/build. The car is rust free and has never had any accidents or damage of any kind. She has travelled 2500 miles since being built and shows like a much newer car than her 40 years would suggest.
I'm a bit perplexed by the market for the E9. There is no shortage of well kept examples out there, but prices seem to be all over the map. At the end of last year, Aaron featured a 1973 3.0 CS that was as original and a true survivor. That car had a $35,500 buy it now price. Then there was the modified 1973 3.0 CS we featured in April which had a 5 speed gearbox and updated alloys like this car. It was in much better shape and was advertised at $75,000.
This car is currently at $75,000 and has not met its reserve. While the M6 engine probably makes this car a hoot to drive, I'd rather limit the mods to the 5-speed box for better highway cruising and leave it at that. While this car isn't in bad shape, the leather interior could use a bit of attention and the aftermarket tachometer and updated gauges certainly don't do the car any favors. Certainly a good bit of money went into this car, but in the end, this car is worth probably somewhere in the neighborhood of $35,000 to $40,000. There have even been a few other similar, non-modified 3.0 CS coupes on eBay recently for under $20,000. These were not basket case cars, but good drivers with higher mileage and a few imperfections. Only the very best, museum quality 3.0 CS coupes are going to bring the big dollars.
-Paul